New program and reduced prices.

Prices from € 395 per person for at least 2 people and for 7 nights. For availability and reservations you can click on our accommodation links.
Also New! To rent for your birding holiday with us:
Telescope + tripod: 69 euros per week
Binoculars: 25 euros per week
During your 7 nights holiday you will stay in a holiday home on Monte Horizonte that is located on a 20 hectare site and where the energy supply comes for 100% of solar and wind energy. Around your house you can also experience great birding.
A few days you go out on yourself with detailed routes and locations description in hand. A half day you will set off with the Dutch guide in his off-road vehicle.

The half day (4 hours) excursion goes to the Lagoa of Santo André. Except for the excursion included in the price you are completely free to change the program or skip one or more suggested excursions.
Since it is your holiday you should enjoy this holiday the way you want. The guided excursion will be planned on the day of your arrival.
Example of a daily program of your individual birding holiday in the Alentejo region of Portugal:
Day 1: Drive from Faro or Lisbon airport to Monte Horizonte in Santiago do Cacém (duration respectively. Approx 2 or 1.5 hours). Watch out for the raptors such as Black-winged Kite and Red Kite and other birds such as the Azure-winged Magpie, White Stork and Cattle Egret. Upon arrival at Monte Horizonte you will receive a warm welcome by the Dutch owners Bert and Marianne and full explanation of the functioning of Monte Horizonte. They can tell you everything about the day trips, best places to eat, where you can do your shopping and help you with all your questions. You have the ability to immediately see many birds on the property. In the evening you can, depending on the season, enjoy the sound of the Scop's Owl and the Tawny Owl, the crickets and frogs.
Day 2: This morning you will go with a guide in his 4WD half a day to the lagoon of Santo André. A trip to this protected sanctuary offers in average between 30 and 50 different birds. Depending the season you can see the Glossy Ibis, Purple Swamphen, Flamingo, Spoonbill, Little Egret, Squacco Heron, Night Heron, Osprey, Great Reed Warbler, Savi's Warbler, Blue-winged Teal, Pochard, Marsh Harrier, Stone Curlew, Black-winged Kite, Tern, Cetti ' s Warbler, Red Knot, Black-winged Stilt, Godwit, Bar-tailed Godwit, Whimbrel and much more. In the afternoon, you can watch the birds on Monte Horizonte or explore the historic town of Santiago do Cacém.
Day 3: Today you go to the area of Sines. First to Ria de Moinhos, a small lagoon where you can see birds like the Black-necked Grebe, Hen Harrier, Common Tern and Reed Warbler. Lunch can be used in the only restaurant in Ria de Moinhos where typical Alentejo cuisine for very reasonable prices is served. Then it's on to the cliffs of Sines where you can watch the diving Gannet, the Yellow-legged Gull, Mediterranean Gull, Turnstone and sometimes the rare Balearic Sshearwater of which less than 2000 still exist. This is also an excellent place to see migratory birds coming from the far north on their way to southern Africa.
Day 4: Get up early because today is the steppe day inland. A long but exciting day awaits you. You will reach the best spots on the steppes at Castro Verde. You go in search of the Great Bustard, the Little Bustard, the Black-bellied Sandgrouse, the Stone Curlew, the Red Kite, the Black Kite, the Black-winged Kite, the Thekla Lark, the Calandra Lark, the Golden Eagle, the Spanish Imperial Eagle, the Griffon Vulture, the Black Vulture and much more. Depending on the season, in this sparsely populated part of Portugal you  also see the Cranes, the Montagu´s Harrier s and more summer and winter guests. The Rollers and Bee-eaters as well as the Lesser Kestrel only return to Portugal in the course of April. In short: this is a day where you see species that you will not encounter on the coast.
Day 5: Again early up because you go to the sanctuary of the River Sado. The national bird conservation states that on an average day 80 different birds can be seen here and on a good day even 100. The area is near the tidal River Sado and at low tide there are thousands of birds foraging. Watch out for the Red-breasted Merganser, Pipits, Bluethroat, Bonelli´s Warbler, Crested Lark, Whimbrel, Zitting Cisticola, Red-necked Nightjar, Quail, Red-throated Loon, Marsh Sandpiper, Pallid Sswift, Kingfisher, Black-headed Weaver and many species of ducks, waders and raptors.
Day 6: Today is a day full of variety. You go inland to a lake called Lagoa dos Patos. Near this lake is the large reservoir of Odivelas and another smaller lake. There are also rice fields that attract birds. The interesting thing about this day is that you can see steppe birds as well as waterfowl. The variation in species is high, so you can see the Hoopoe, Stone Curlew, Little Bustard, Montagu's Harrier, Roller as wel as Ringed Plover, Greenshank, several Larks and a variety of raptors. On this day, we recommend you to take a packed lunch. Pay particular attention during the trip up on the many special birds which can be seen as the Iberian Grey Shrike and Azure-winged Magpie.
Day 7: Today you have the choice to return to your favorite bird area again. You can return to the steppe birds and on the basis of a detailed route drive through the area, or return to the lagoon of Santo Andre, or the sanctuary of the River Sado or the cliffs and the lagoon near Sines. You can also choose to spend the day at Monte Hoizonte and relax by the pool to watch the birds. A beach walk is also an option. The Dutch owners can help you in your choice and can provide you with all the information.
Day 8: End of the holiday. By (rental) car drive in about 1.5 hours back to Lisbon or about 2 hours back to Faro.
Prices for the birding hoilday include a half day trip to the Santo André lagoon including transport and guide. Bookings for 1 or 2 persons will be staying at Casa Camelia, Casa Oliveira or Casa Mimosa. Bookings for 3 or 4 people will stay at Casa Borboleta, Casa Passaro or Casa Sobreiro. Bookings for more than 4 persons on request.
Pricelist including VAT:
Price per person per week in the period of 01.01 until 17.02

1 person 890 €

2 persons 495 €

3 persons 435 €

4 persons 348 €

Price per person per week in the period of 18.02 until 31.03

1 person 990 €

2 persons 545 €

3 persons 468 €

4 persons 373 €

Price per person per week in the period of 01.04 until 31.05

1 person 1.090 €

2 persons 595 €

3 persons 502 €

4 persons 398 €

Price per person per week in the period of 01.06 until 07.07

1 person 990 €

2 persons 545 €

3 persons 468 €

4 persons 373 €

Price per person per week in the period of 01.09 until 31.10

1 person 990 €

2 persons 545 €

3 persons 468 €

4 persons 373 €

Price per person per week in the period of 01.11 until 31.12

1 person 590 €

2 persons 495 €

3 persons 435 €

4 persons 348 €
About the accommodation: You will stay in a 1 or 2 bedroom house depending on the number of people of your booking. The holiday homes are self-catering and you can choose whether to cook your own meal eat at one of the many restaurants in Santiago do Cacém at only a 5 minute drive away, and where the prices of the meals compared to northern European standards are cheap. You can do your shopping in Santiago de Cacém in the supermarkets or local shops. Fresh bread can be delivered at your door every morning for a small fee. The holiday houses are surrounded by nature and have a lot of privacy and are fully equipped with kitchen, living room, bathroom and a terrace. From the terrace you can do some birding. On the TV are the free international channels. The use of the communal swimming pool is included. The Dutch owners who live on the estate can advise and assist you.
About the meals: Your stay on this trip is based on self catering. Meals are optional, ask the owners for details.
Included:
Gas, water, electricity and heating if necessary.
Detailed travel documents and maps.
Prices include a half day trip to the Santo André lagoon including transport and guide.
Not included:
Wood for the wood burner in the winter months October until April ( 35 euro per week ) if needed
Flight tickets
Car rental, fuel costs and toll
Insurance
Any entrances
If you have any questions please contact us. Bird Watching Holiday in Portugal, Enjoy and see a lot of birds with your private bird guide on our individual Birding Tours to Steppes, Lagoons, Ocean, Lakes, Estuary etc.
For any questions please contact us.
Great Bustard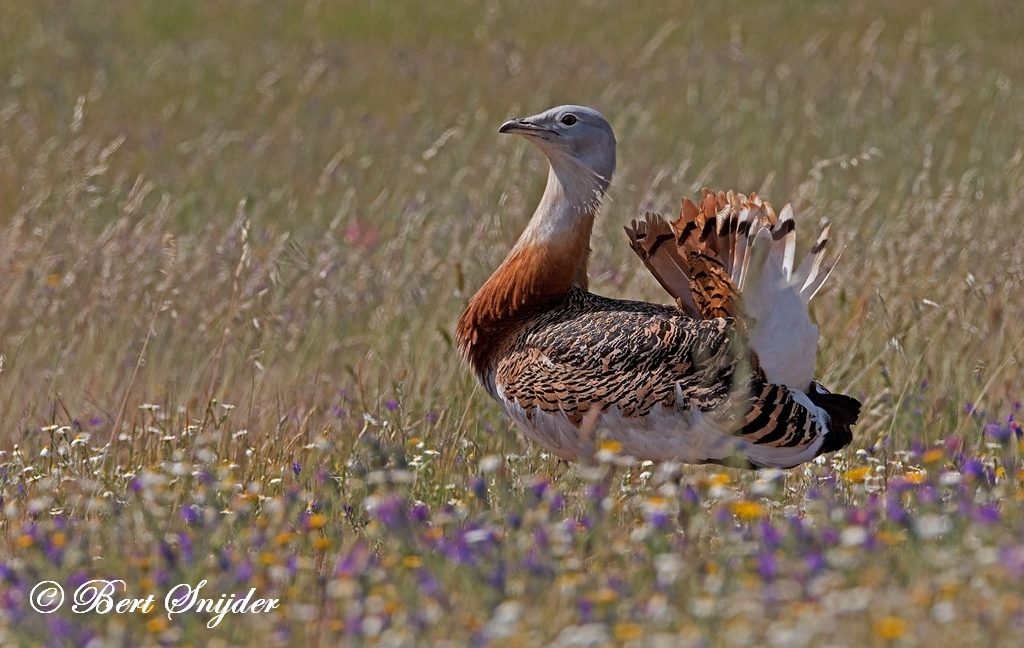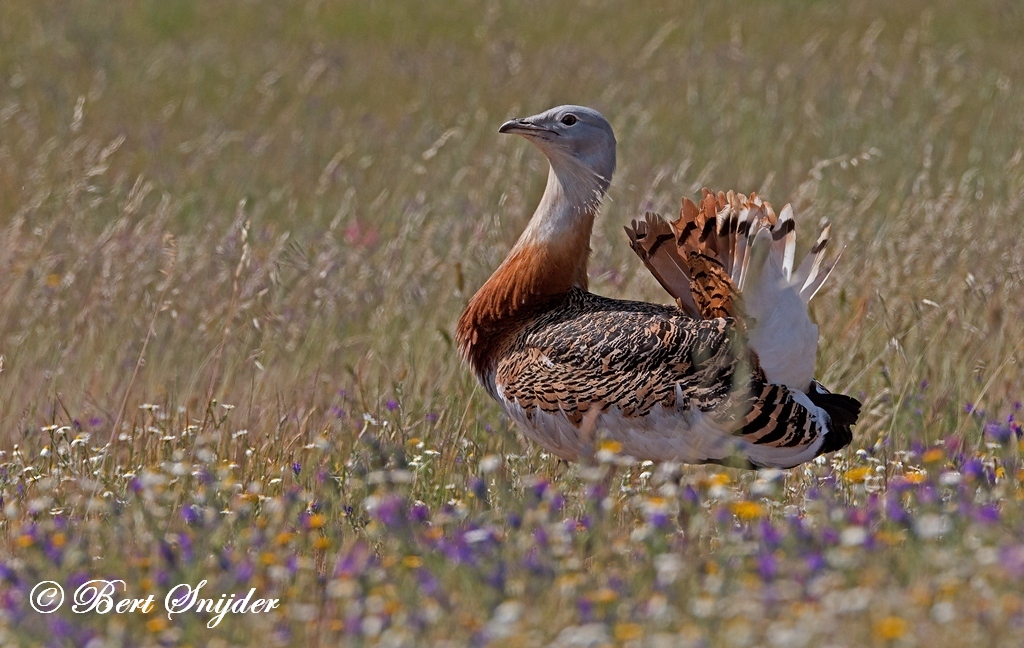 Birdwatching Alentejo Portugal Birding and Birdwatching Holiday for Birders, Birds, Bird Watching Tours, Bird Trips in Alentejo Portugal Bird Watching for Birders