Wood Sandpiper, Bosruiter, Bruchwasserlaufer, Maçarico-de-dorso-malhado, Andarrios Bastardo
Spotted near Sines in the Alentejo region of Portugal.                                                                   Wood Sandpiper sound
The Wood Sandpiper (Tringa glareola) is a small wader. This Eurasian species is the smallest of the shanks, which are mid-sized long-legged waders of the family Scolopacidae.
More photos at the bottom of this page.
It resembles a longer-legged and more delicate Green (T. ochropus) or Solitary Sandpiper (T. solitaria) with a short fine bill, brown back and longer yellowish legs. It differs from the first of those species in a smaller and less contrasting white rump patch, while the Solitary Sandpiper has no white rump patch at all.
However, it is not very closely related to these two species. Rather, its closest relative is the Common Redshank (T. totanus), and these two share a sister relationship with the Marsh Sandpiper (T. stagnatilis). These three species are a group of smallish shanks with red or yellowish legs, a breeding plumage that is generally subdued light brown above with some darker mottling and with a pattern of somewhat diffuse small brownish spots on the breast and neck.
The Wood Sandpiper breeds in subarctic wetlands from the Scottish Highlands across Europe and Asia. They migrate to Africa, Southern Asia, particularly India, and Australia. Vagrant birds have been seen as far into the Pacific as the Hawaiian Islands. In Micronesia it is a regular visitor to the Marianas Islands (where flocks of up to 32 birds are reported) and Palau; it is recorded on Kwajalein in the Marshall Islands about once per decade. This species is encountered in the western Pacific region between mid-October and mid-May. A slight westward expansion saw the establishment of a small but permanent breeding population in Scotland since the 1950s.
This bird is usually found on freshwater during migration and wintering. They forage by probing in shallow water or on wet mud, and mainly eat insects and similar small prey. T. glareola nests on the ground or uses an abandoned old tree nest of another bird, such as the Fieldfare (Turdus pilaris). Four pale green eggs are laid between March and May.
The Wood Sandpiper is one of the species to which the Agreement on the Conservation of African-Eurasian Migratory Waterbirds (AEWA) applies.
Widespread, it is considered a Species of Least Concern by the IUCN.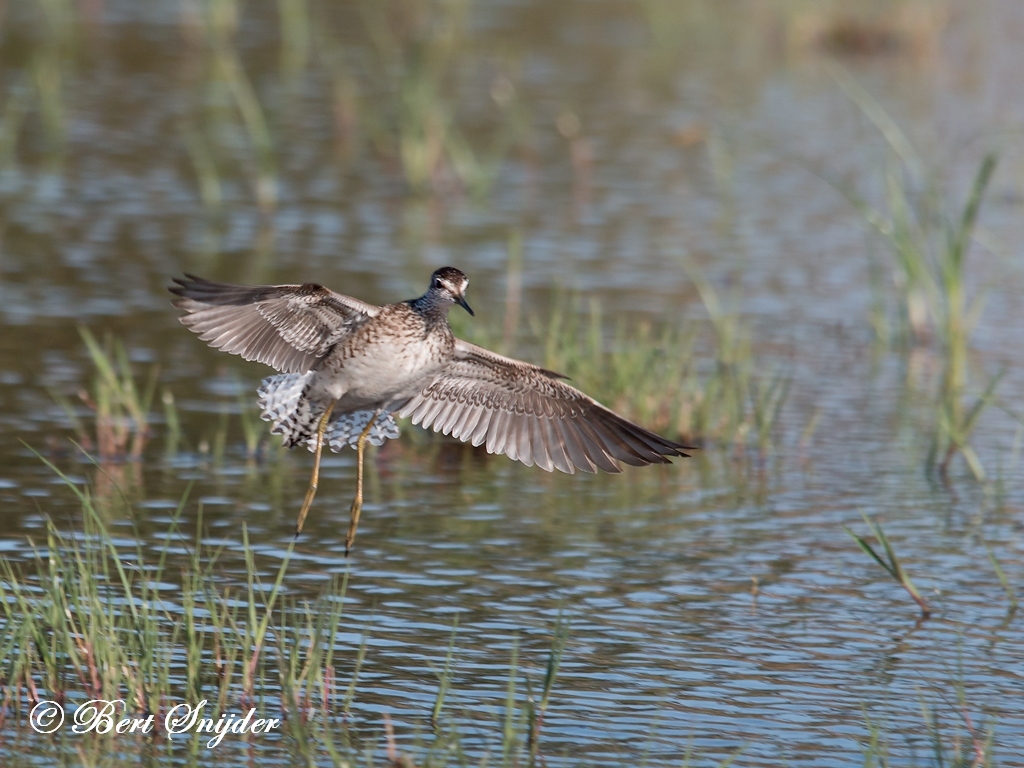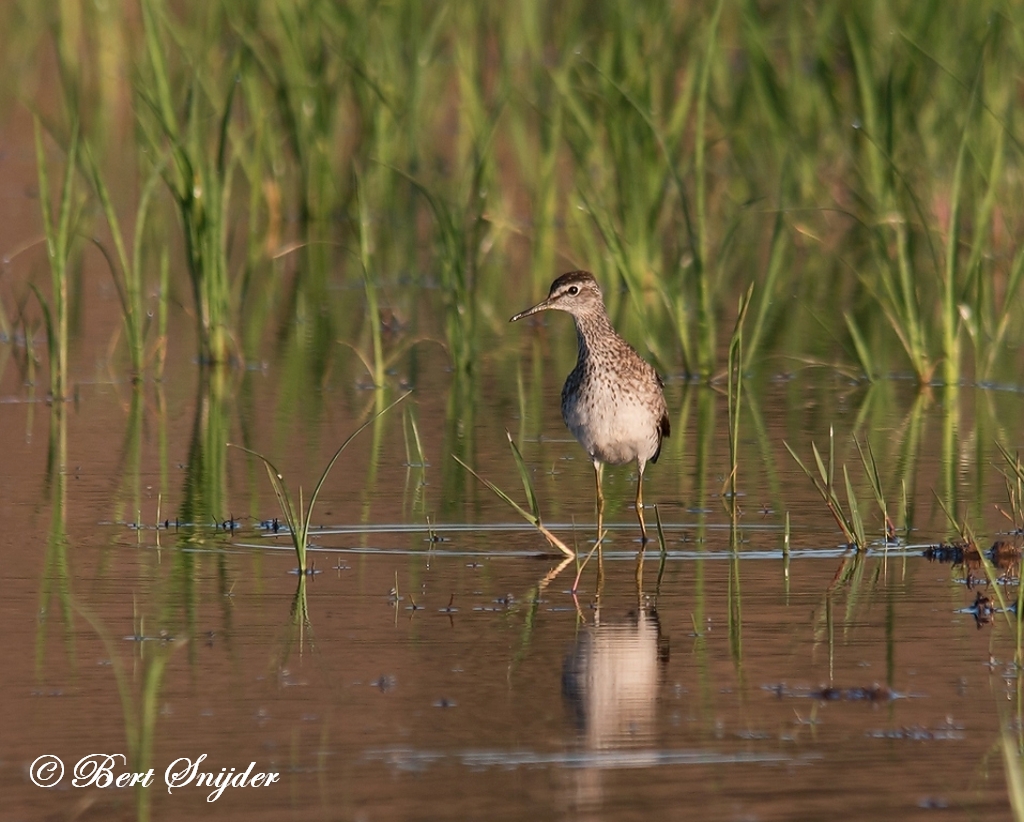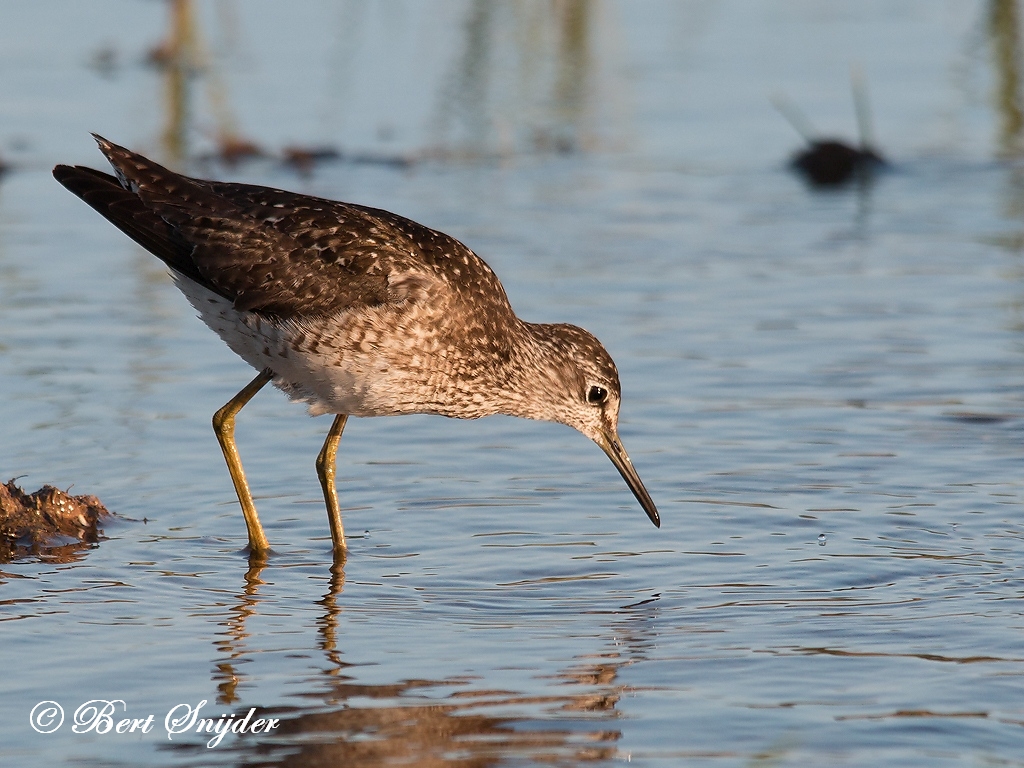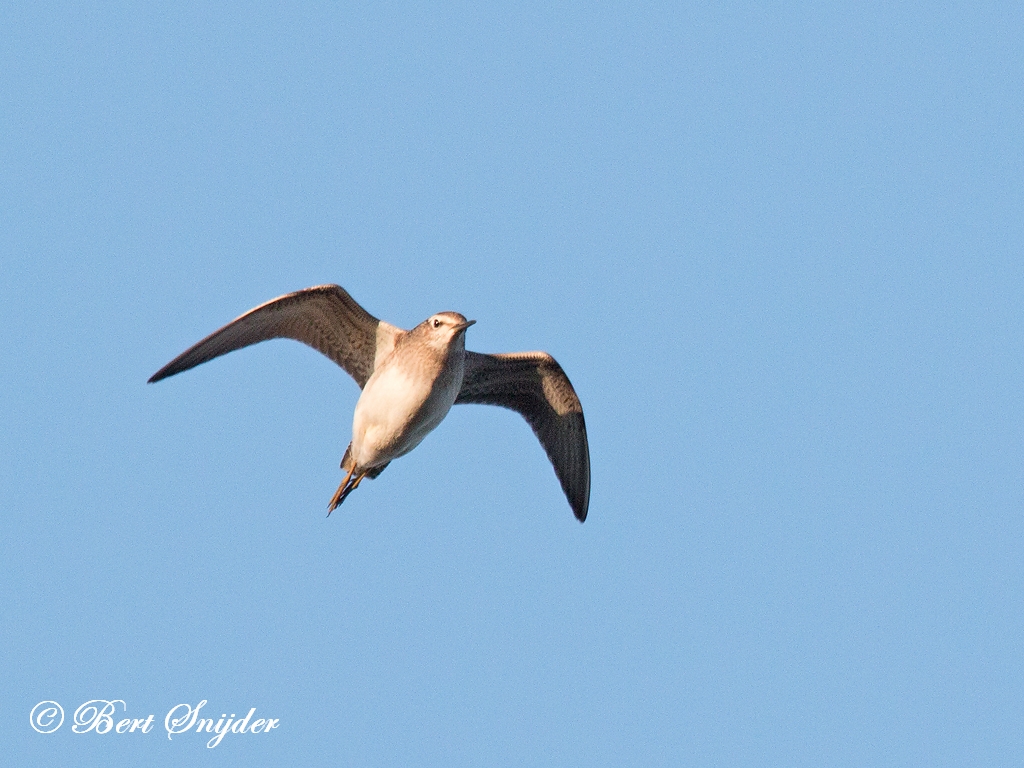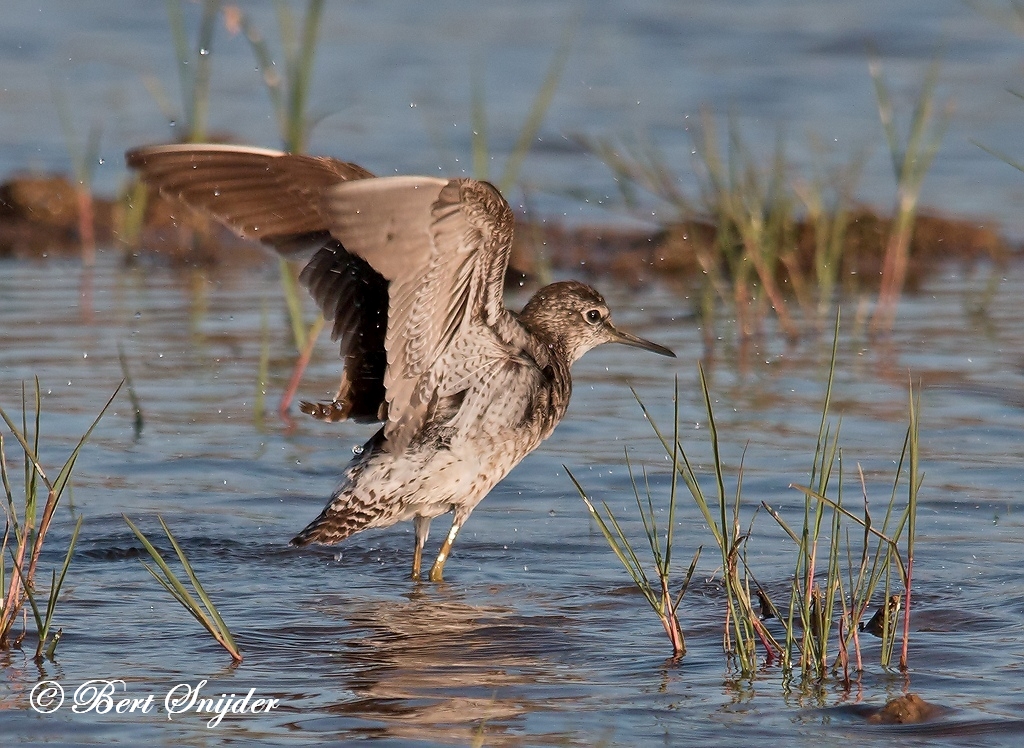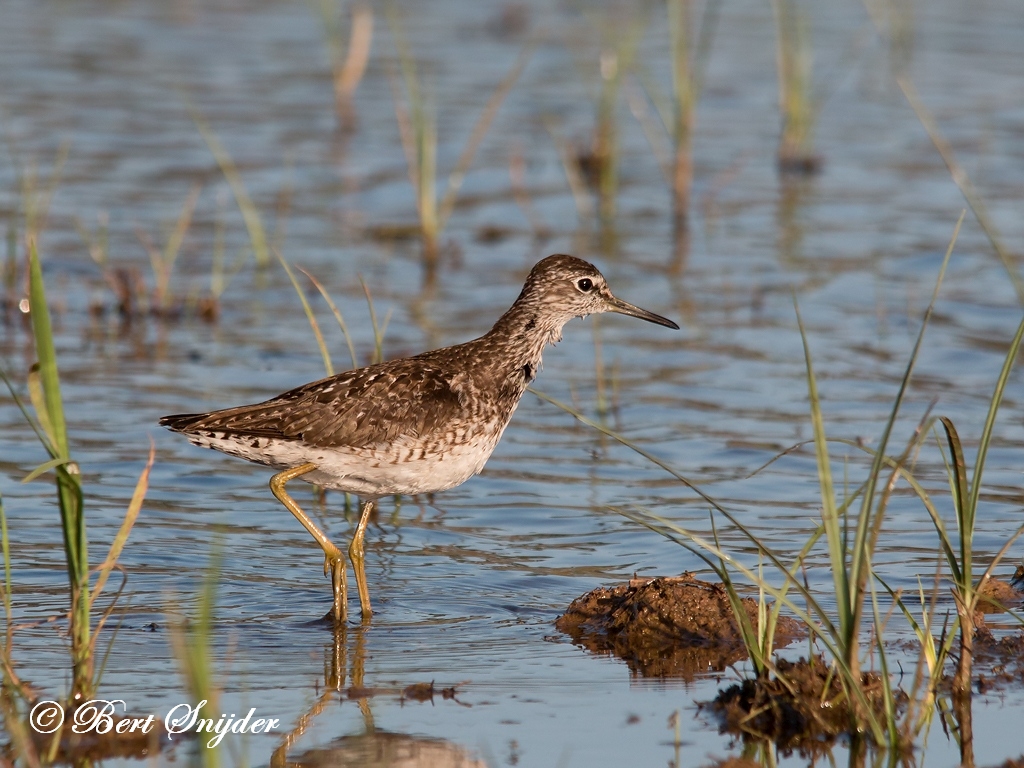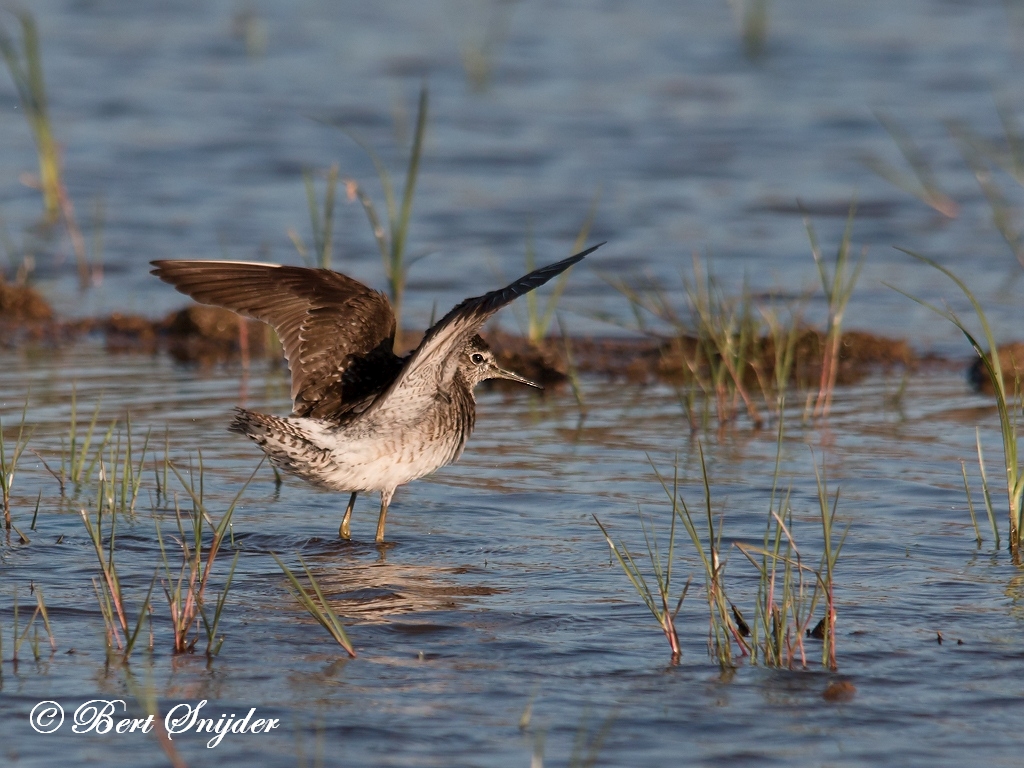 Other synonyms:
Afrikaans: Bosruiter
Asturian: Andarríu Pintu, Mazaricu Cardexu
Azerbaijani: Boz trinqa, Fifi
Breton: Ar strelleg-geun
Catalan: Valona, Xerlovita
Catalan (Balears): Valona
Valencian: Xerlovita
Czech: Vodouš bahenní
Welsh: Pibydd y graean
Danish: Tinksmed
German: Bruchwasserlaeufer, Bruchwasserläufer
English: Wood Sandpiper
Esperanto: brovtringo
Spanish: Andarrios bastardo, Andarríos Bastardo
Estonian: Mudatilder
Basque: Gobadán coille, Kuliska pikarta, Valona
Finnish: Liro
Faroese: Vaðstelkur
French: Chevalier sylvain
Irish: Gobadán Coille, Kuliska pikart
Gaelic: Luatharan Coille
Galician: Bilurico bastardo, Valona
Manx: Looyran ruy
Hindi: Kottan, Vaya ullan
Croatian: Prutka Migavica
Hungarian: Réti cankó
Indonesian: Kindu-kindu-bone, Trinil semak
Icelandic: Flóastelkur, Trjástelkur
Italian: Piro piro boschereccio, Piro-piro boschereccio
Japanese: takabushigi, Takabu-shigi
Cornish: Pyber cos
Latin: Rhyacophilus glareola, Tringa glareola
Lithuanian: Tekutis, Tikutis
Malay: Kedidi Kayu
Dutch: Bosruiter
Norwegian: Grønnbeinsnipe, Grønnstilk
Polish: Samotnik
Portuguese: maçarico bastardo, Maçarico-bastardo, Maçarico-de-dorso-malhado
Romansh: Trintga da palì
Russian: Fifi
Scots: Luatharan coille
Northern Sami: Ruonájuolcoavzzu
Slovenian: mocvirski martinec
Albanian: Qyrylyku i zallit
Serbian: prudnik migavac
Sotho, Southern: Koe-koe-lemao
Swedish: Grönbena
Swahili: Chamchanga-mtoni
Turkish: Orman düdükçünü
Tsonga: N'wantshekutsheku
Xhosa: Uthuthula
 
Travel Birdwatching Holiday Alentejo, Vacation Portugal for birders to see birds on your trip. Individual Guided Birding Excursions and Trips.