Rock Sparrow, Rotsmus, Steinsperling, Pardal-francês, Gorrión Chillón
Petronia petronia
Spotted in the Alentejo region of Portugal.                                        Rock Sparrow sound
The Rock Sparrow (Petronia petronia) is a small passerine bird. This sparrow breeds on barren rocky hills from the Iberian peninsula and western north Africa across southern Europe and through central Asia. It is largely resident in the west of its range, but Asian birds migrate to more southerly areas, or move down the mountains.
More photos at the bottom of this page.
It is a rare vagrant north of its breeding range. There is just a single record from Great Britain, at Cley, Norfolk on 14 June 1981.
This gregarious bird is also found in human settlements in suitable country. It nests in crevices in rocks or walls, laying 3–7 eggs.
This species is a large stocky sparrow, 15–17 cm in length, with a strong whitish supercilium and weaker crown stripe. It has a patterned brown back and wings, streaked underparts, and a diagnostic, but hard-to-see, yellow throat spot.
The Rock Sparrow's food is mainly seeds with some insects. This bird has a loud wheezy song.
The phylogeny has been obtained by Antonio Arnaiz-Villena et al.; it seems to be a parental species to the family Passeridae.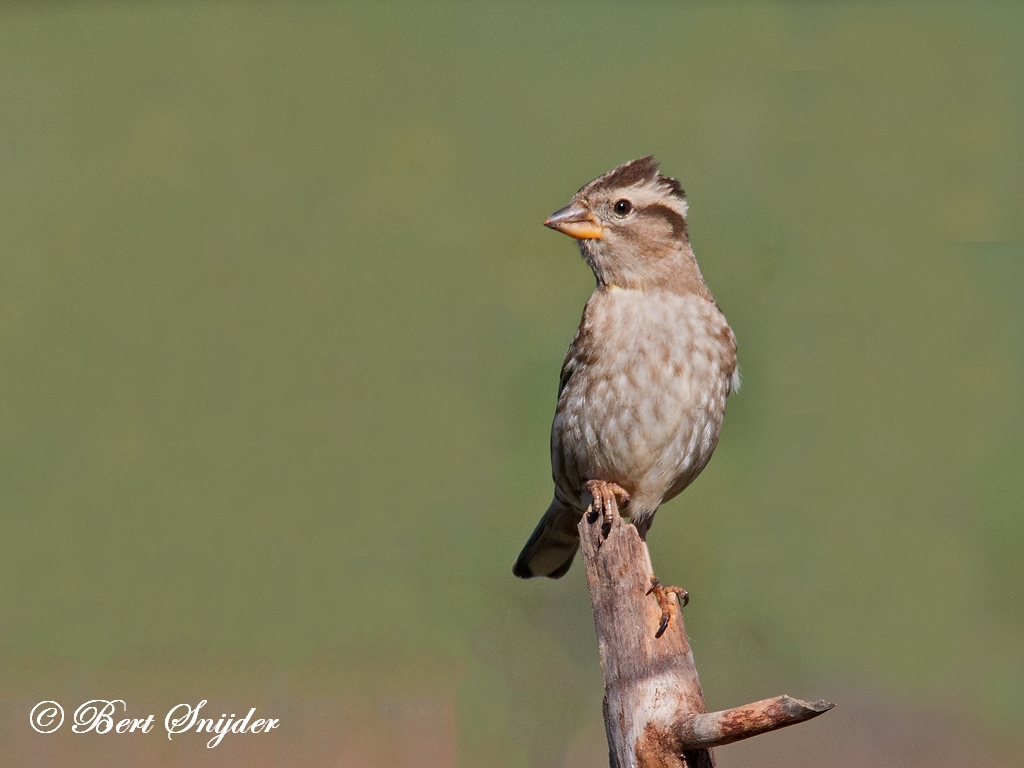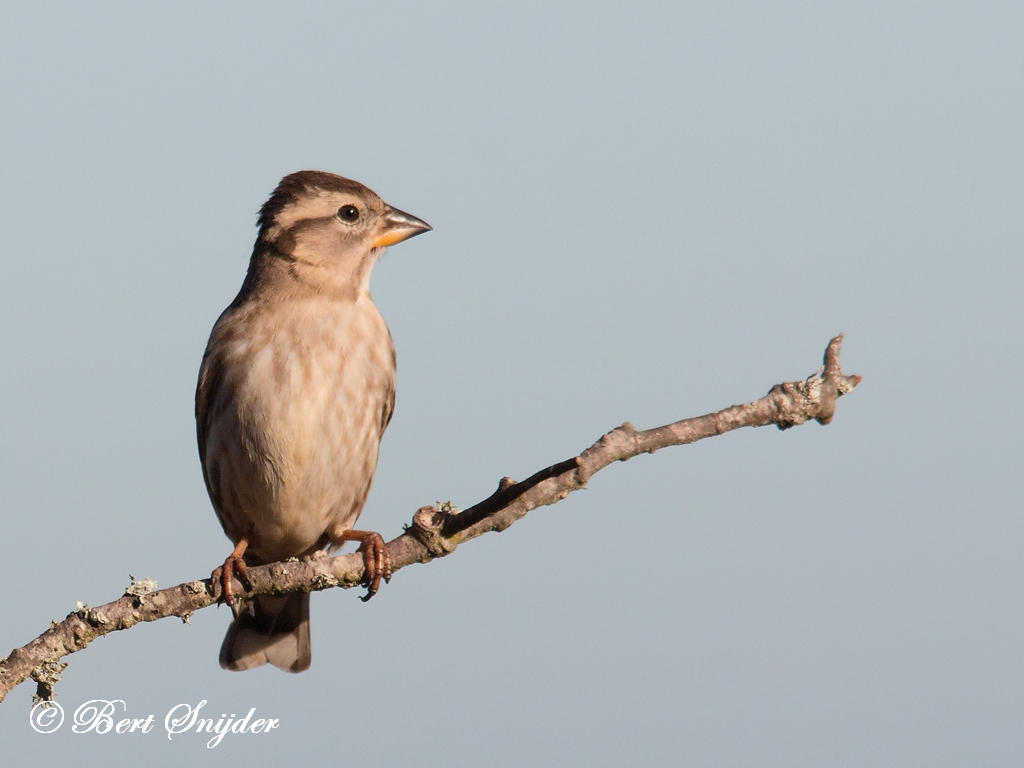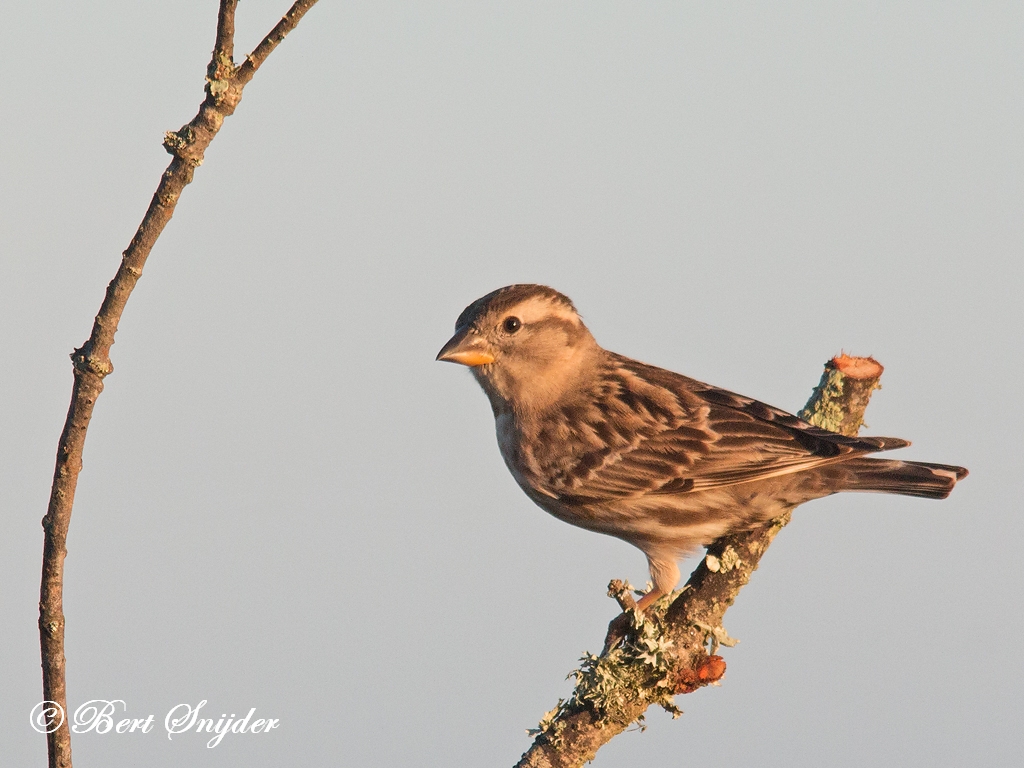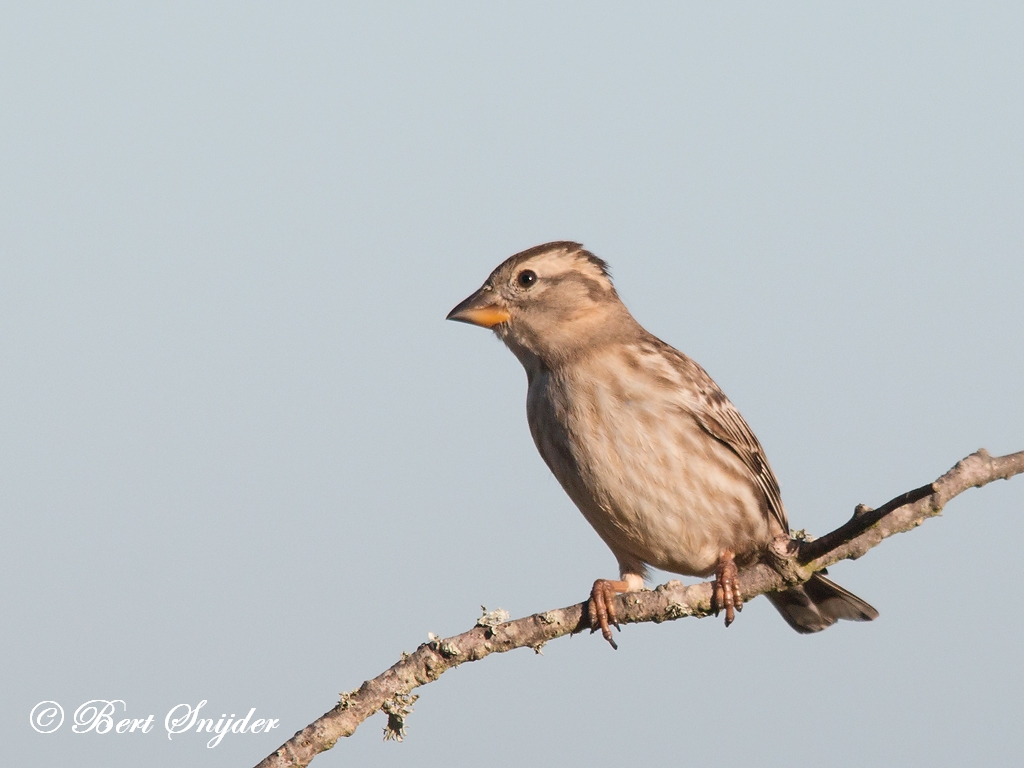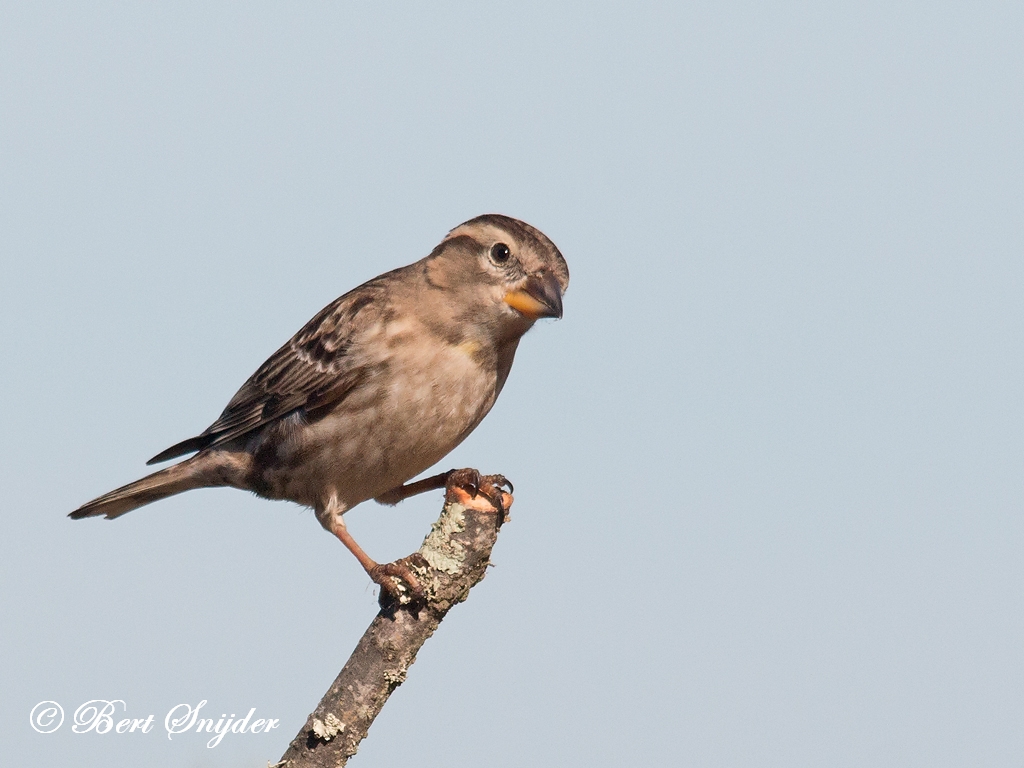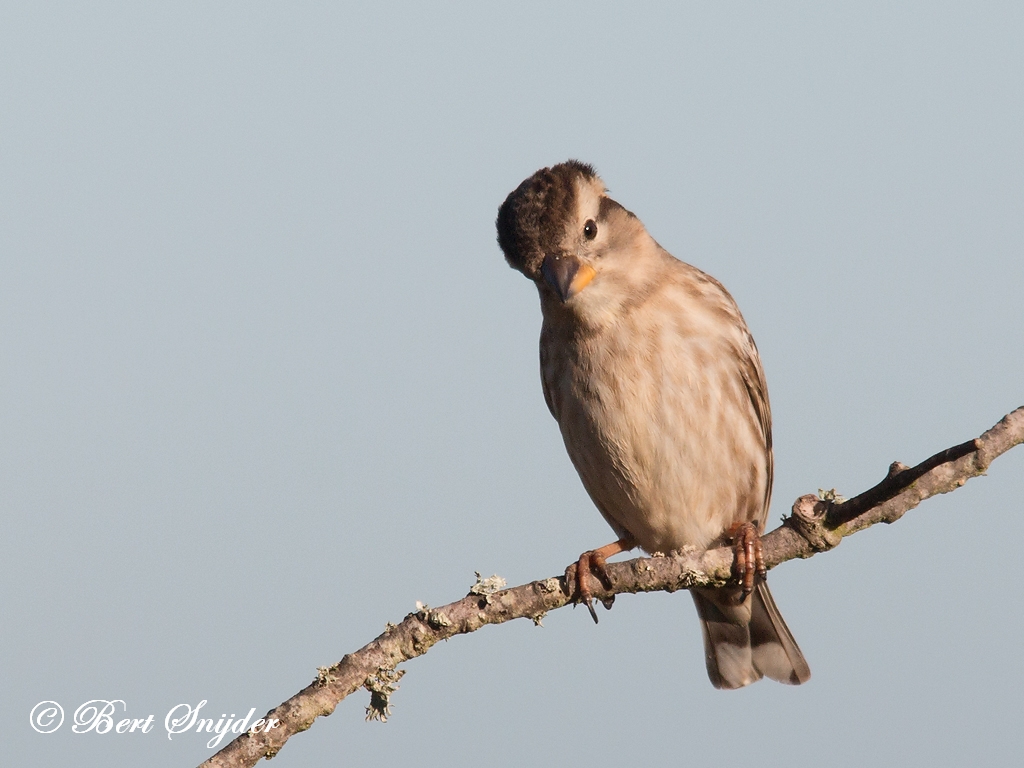 Other synonyms:
Asturian: Glayador, Gurrión Berizu
Catalan: Gorrió roquer, Pardal roquer, Teuladí
Catalan (Balears): Gorrió roquer
Valencian: Teuladí
Czech: Vrabec skalní
Welsh: Golfan y graig
Danish: Stenspurv
German: Steinsperling
English: Common Rock-sparrow, Eurasian Rock-Sparrow, European Rock-Sparrow, Rock Petronia, Rock Sparrow, Streaked Rock Sparrow, Streaked Rock-Sparrow
Spanish: Gorrion Chillon, Gorrión Chillón, Gorrión Chillón Rayado
Estonian: kaljuvarblane
Basque: Harkaitz-txolarre, Harkaitz-txolarrea, Pardal roquer
Finnish: Kalliovarpunen
French: Moineau soulcie
Galician: Pardal, Pardal común, Pardal das rochas, Pardal roquer
Croatian: Vrabac kamenjar
Hungarian: köviveréb
Icelandic: Steinspör
Italian: Passera lagia, Passera lagia striata
Japanese: iwasuzume, Iwa-suzume
Karelian: ?ivdžöi
Cornish: Golvan chi
Latin: Petronia petronia
Limburgish: Dakekrabber, Hoesmösj, Jiemel, Jiets, Kaorezeiker, Klöt, Korefeep, Meusj
Lithuanian: Akmenžvirblis
Malay: Burung Pipit
Dutch: Rotsmus
Norwegian: Steinspurv
Polish: wróbel skalny
Portuguese: Pardal, pardal francês, Pardal-franc, Pardal-francês
Portuguese (Brazil): Pardal
Romansh: Pasler da grip
Russian: Kamenny Vorobey
Slovak: skalník žltohrdlý, Vrabec skalný
Slovenian: skalni vrabec
Albanian: Harabeli i gurëve
Serbian: vrabac kamenjar
Swedish: Stensparv
Swahili: Kidosho
Turkmen: Öÿ serçe, Öÿ serçi
Turkish: Kaya serçesi

Travel Birdwatching Holiday Alentejo, Vacation Portugal for birders to see birds on your trip Guided Birdwatching Tours