Rock Bunting, Grijze Gors, Zippammer, Cia, Escribano Montesino
Spotted at Monte Horizonte in the Alentejo region of Portugal.                                       Rock Bunting sound  
The Rock Bunting (Emberiza cia) is a passerine bird in the bunting family Emberizidae, a group now separated by most modern authors from the finches, Fringillidae.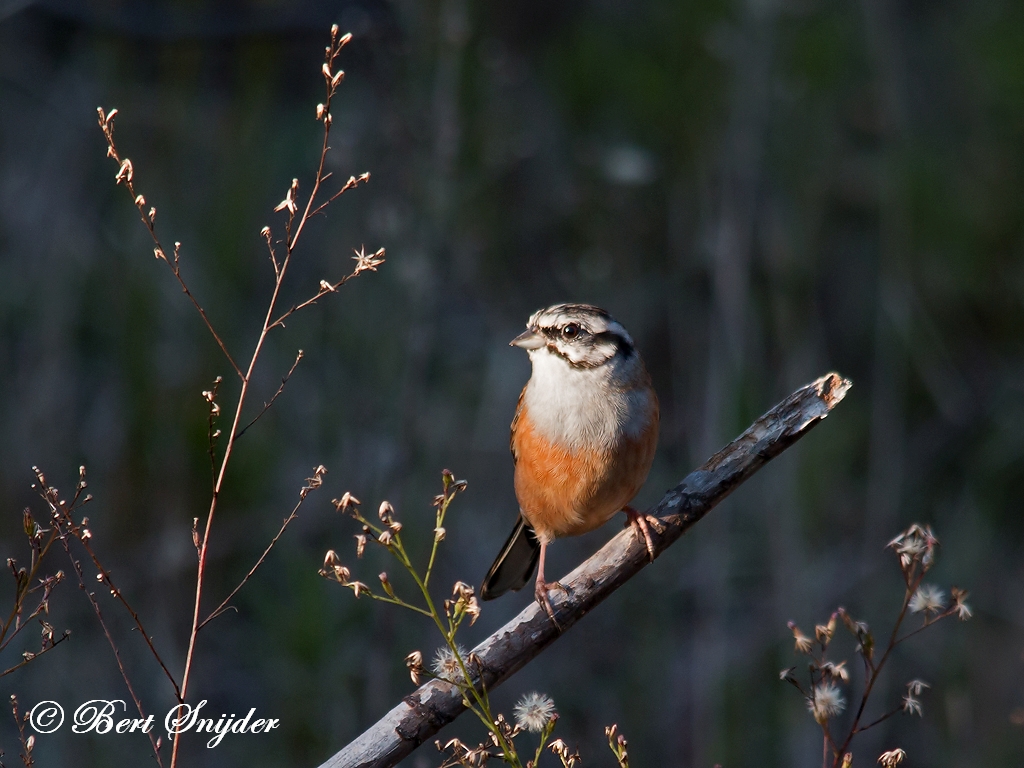 More photos at the bottom of this page.
It breeds in northwest Africa, southern Europe east to central Asia, and the Himalayas. It is partially migratory, with northern populations wintering further south, mainly within the breeding range of the resident southern populations. It is a rare wanderer to western Europe.
The Rock Bunting breeds in open dry rocky mountainous areas.
This bird is 16 cm in length. The breeding male has chestnut upperparts, unmarked deep buff underparts, and a pale grey head marked with black striping.
The female Rock Bunting is a washed-out version of the male, with paler underparts, a grey-brown back and a less contrasted head. The juvenile is similar to the female, but with a streaked head.
There are four races differing mainly in the plumage shades, although the subspecies which breeds in Europe, Africa and western Turkey is the only one to show white wing bars.
It lays 3-5 greyish eggs in a lined nest on the ground or occasionally in a low bush. Its natural food consists of insects when feeding young, and otherwise seeds.
The call is a sharp tseee, and the song is a twittering churrrr-chirrriiii-itt.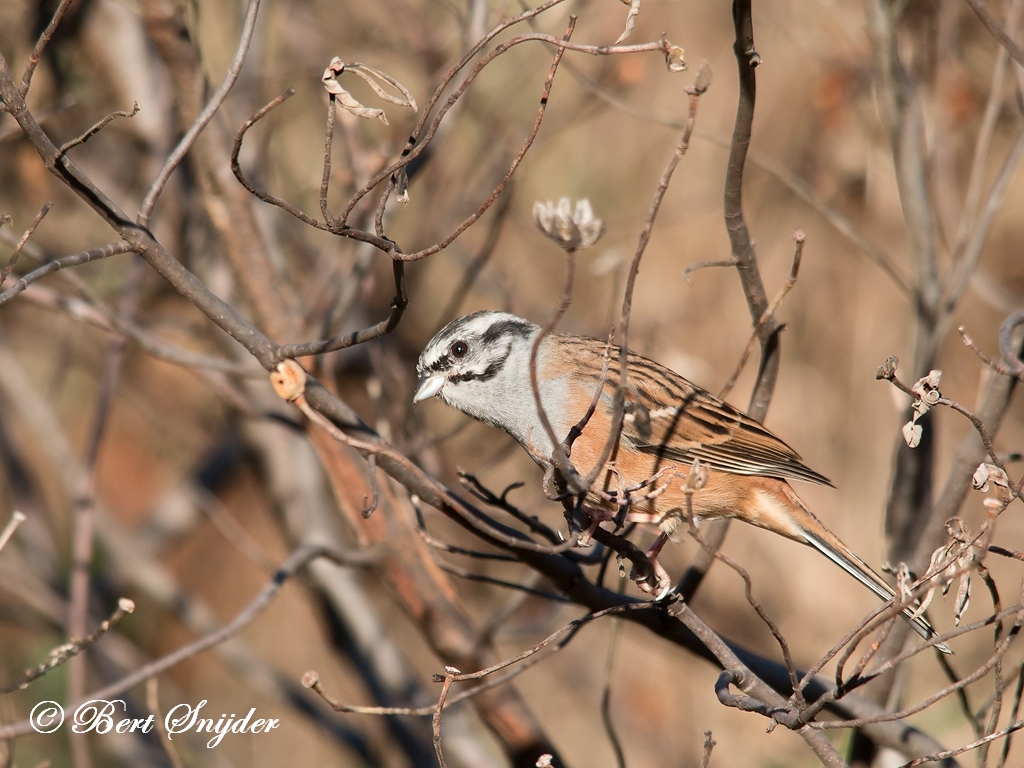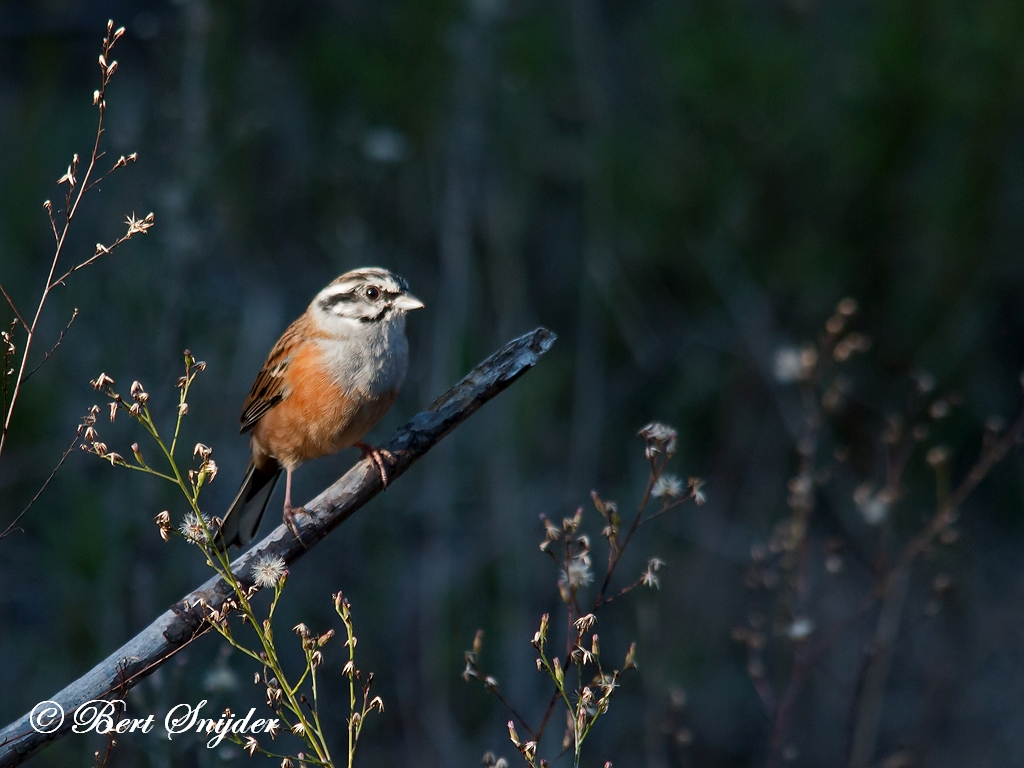 Other synonyms:
Asturian: Escribana Beriza, Mederizu Montesín
Catalan: Hortolà cellard, Sit negre
Catalan (Balears): Hortolà cellard
Czech: Strnad vinicný
Welsh: Bras y graig
Danish: Klippeværling
German: Felsenammer, Zippammer
English:  Rock Bunting, Eurasian Rock Bunting, Eurasian Rock-Bunting, European Rock Bunting, Meadow Rock-Bunting, Rock Bunting, Western Rock Bunting
Esperanto: rokemberizo
Spanish: Escribano Montesino, Escribano soteño
Estonian: mägitsiitsitaja
Basque: Mendi-berdantza, Sit negre
Finnish: Vuorisirkku
French: Bruant fou
Galician: Escribenta riscada, Sit negre
Croatian: Strnadica Cikavica
Hungarian: Bajszos sármány
Icelandic: Steintittlingur
Italian: Zigolo muciatto
Japanese: haigashirahoojiro, higehoojiro
Latin: Emberiza cia
Maltese: Ortolan tal-Blat
Dutch: Grijze Gors
Norwegian: Klippespurv
Polish: gluszek
Portuguese: Cia
Romansh: Marena da chanella
Russian: Gornaya Ovsyanka
Slovak: strnádka cia, strnádka ciavá
Slovenian: skalni strnad
Albanian: Cerla e malit
Serbian: planinska strnadica
Swedish: Klippsparv
Swahili: Kibarabara-Mawe 
Travel Birdwatching Holiday Alentejo, Vacation Portugal for birders guided birdwatching Tours and Trips.