Red-knobbed Coot, Knobbelmeerkoet, Kammbläßhuhn, Galeirão-de-crista, Focha Moruna

Spotted in the Alentejo region of Portugal.               Red-knobbed Coot sound
The Red-knobbed Coot or crested coot, (Fulica cristata), is a member of the rail and crake bird family, the Rallidae.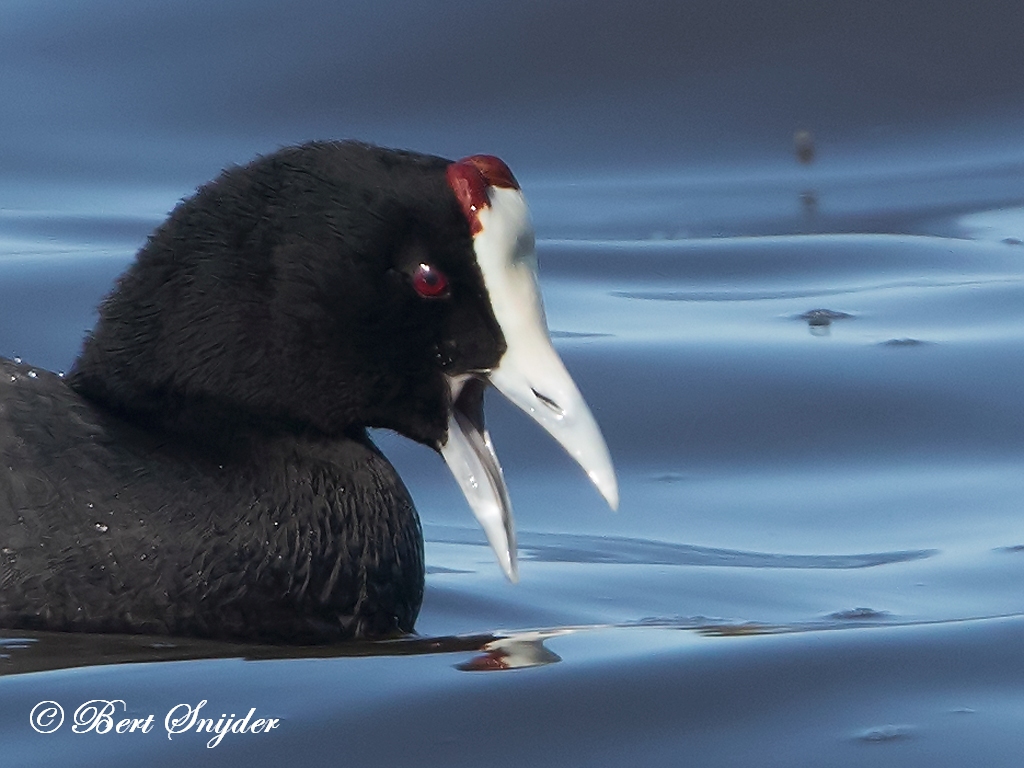 More photos at the bottom of this page:
It is a resident breeder across much of Africa and in southernmost Portugal and Spain on freshwater lakes and ponds. It builds a nest of dead reeds near the water's edge or more commonly afloat, laying about 8 eggs (or more in good conditions). However, its behaviour towards its own young is so aggressive that only a few are likely to survive to adulthood.
The Red-knobbed Coot is largely black except for the white frontal shield. It is 38–45 cm (15–18 in) long, spans 75–85 cm (30–33 in) across the wings and weighs 585–1,085 g (1.290–2.392 lb). As a swimming species, it has partial webbing on its long strong toes. The juvenile is paler than the adult, has a whitish breast, and lacks the facial shield; the adult's black plumage develops when about 3–4 months old, but the white shield is only fully developed at about one year old, some time later.
A good view is necessary to separate this species from the Eurasian coot, with which its range overlaps. There are two tiny red knobs at the top of the facial shield, which are not visible at any great distance and are only present in the breeding season; the black feathering between the shield and the bill is rounded, whereas in Eurasian it comes to a point; and the bill has a bluish grey tinge. In flight, the Red-knobbed Coot lacks the white trailing edge to the secondaries of the Eurasian coot.
The habits of the Red-knobbed Coot are practically identical to those of the Eurasian coot. It is much less secretive than most of the rail family. Where it is undisturbed it is likely to bully any intruder, even large birds such as Egyptian geese, if they do not defy its challenges. It can be seen swimming on open water or walking across waterside grasslands. It is an aggressive species, and strongly territorial during the breeding season.
The Red-knobbed Coot is reluctant to fly and when taking off runs across the water surface with much splashing. It does the same, but without actually flying, when travelling a short distance at speed (to escape a rival, for example, or to dispute possession of a choice morsel). It bobs its head as it swims, and makes short dives from a little jump.
The Red-knobbed Coot is an omnivore, and will take a variety of small live prey including the eggs of other water birds. Its main food in most waters however comprises various waterweeds such as species of Potamogeton for which it commonly dives.
This is a noisy bird during mating, but its vocalisations are quite different from the Eurasian coot. It gives a fast kerrre like the little crake, a harsh ka-haa and a grunting hoot "oot oot" that suggests that the name "coot" might be onomatopoeia, but inspection of the etymology of "coot" fairly decisively negates any such suggestion.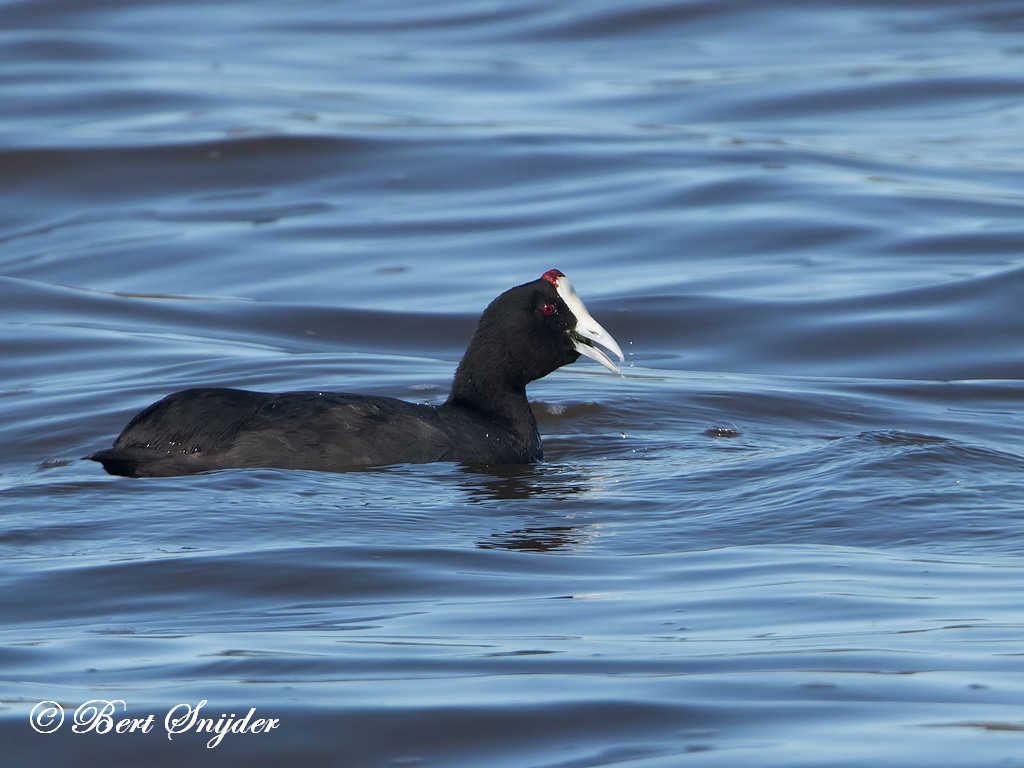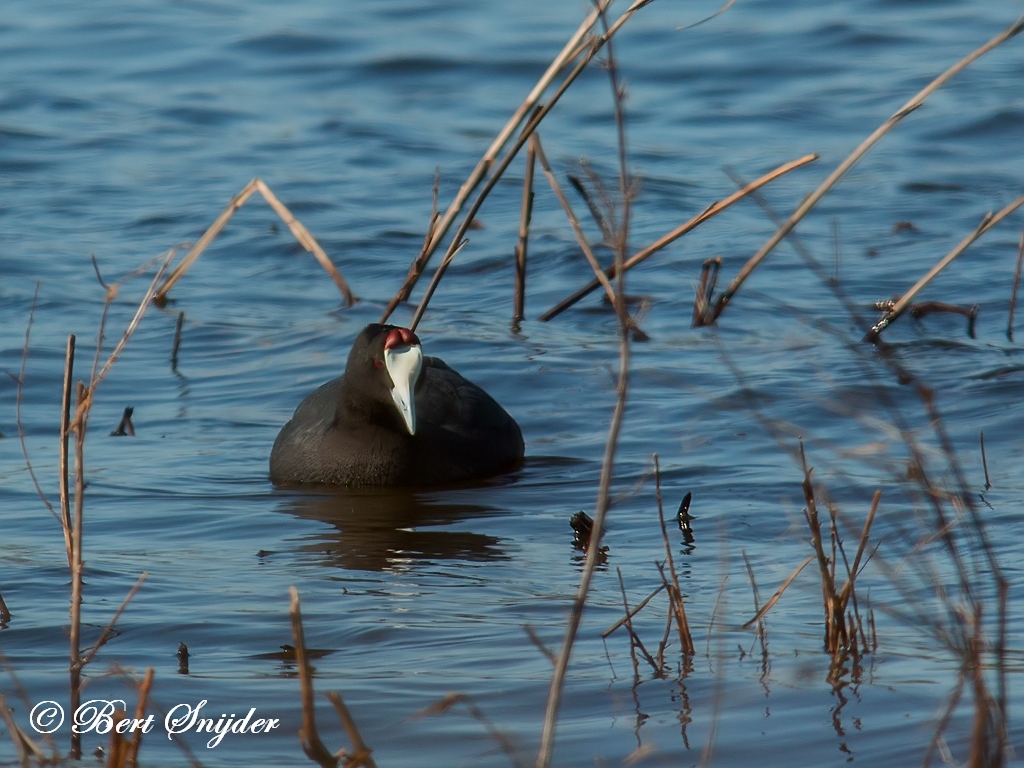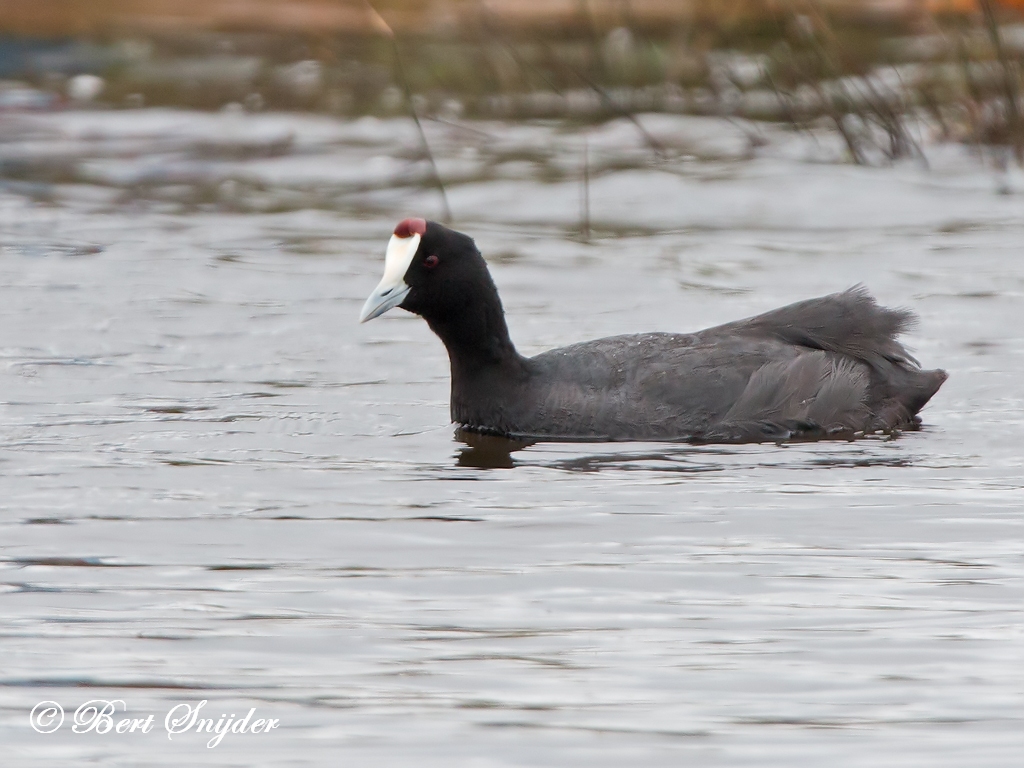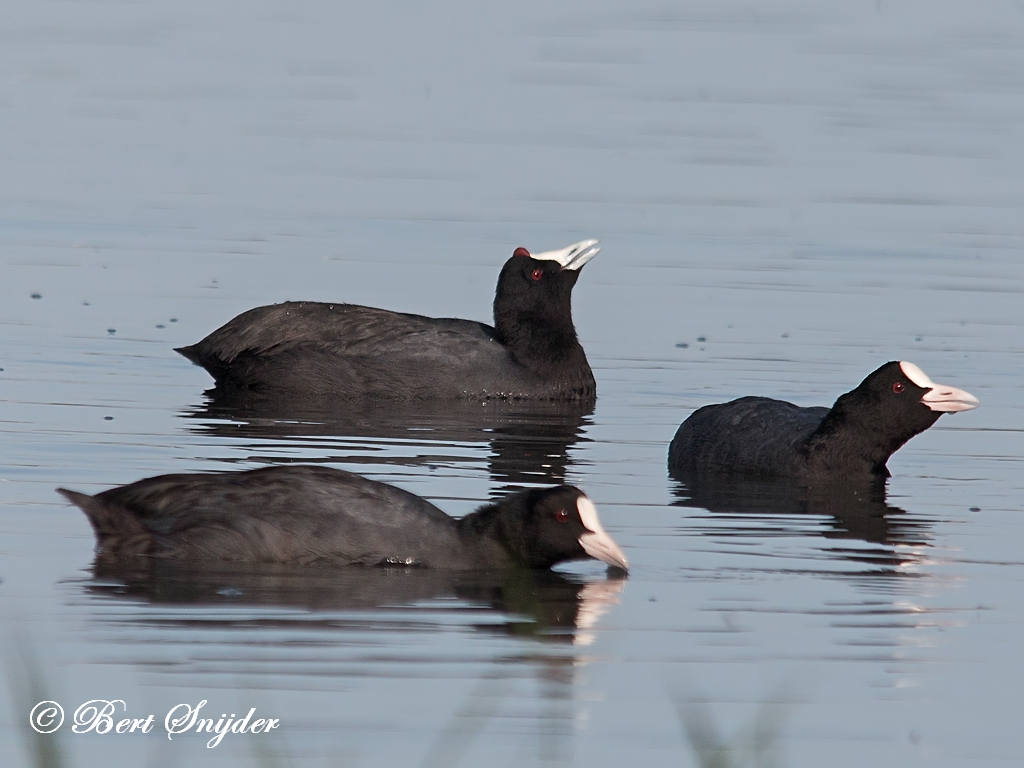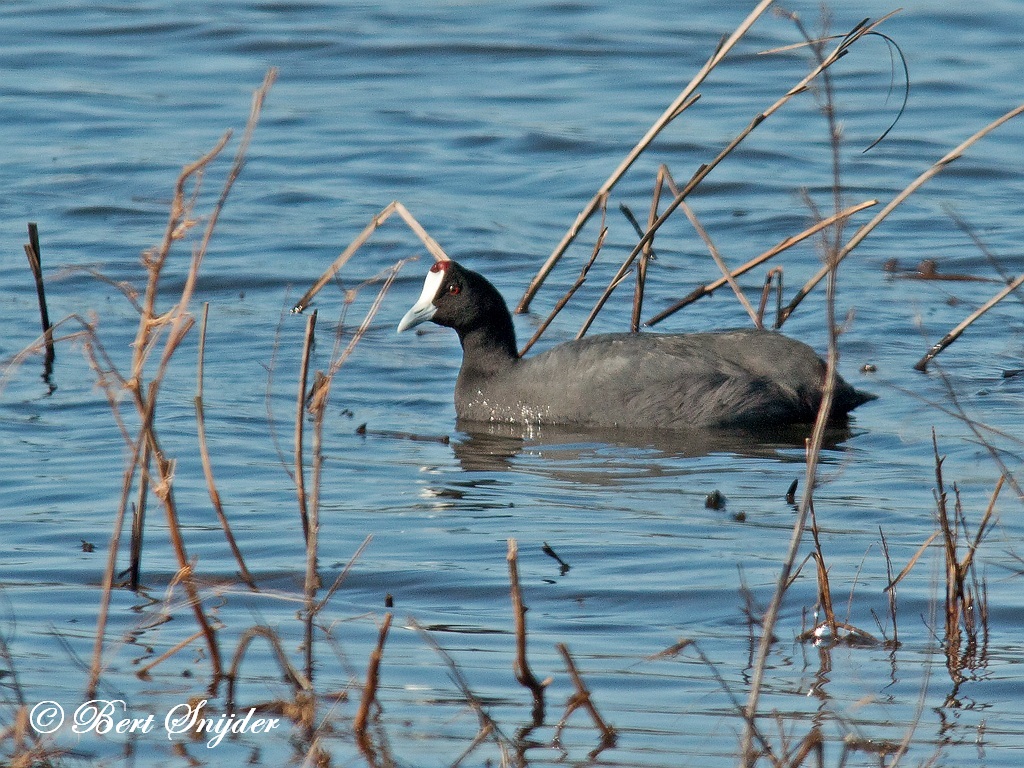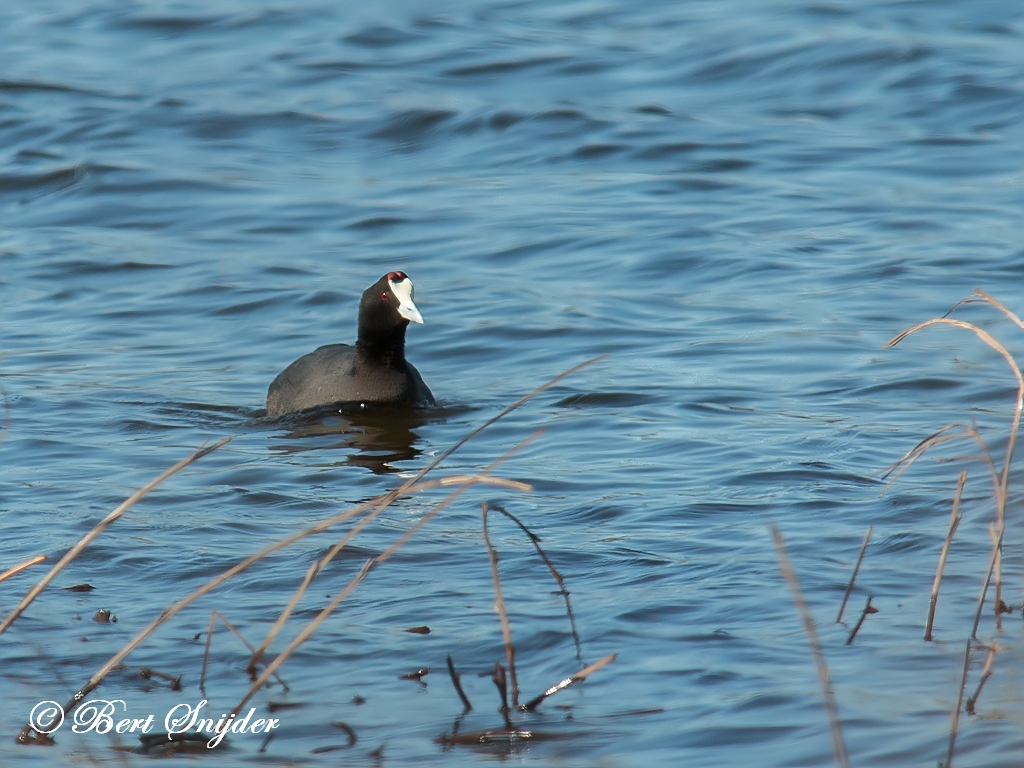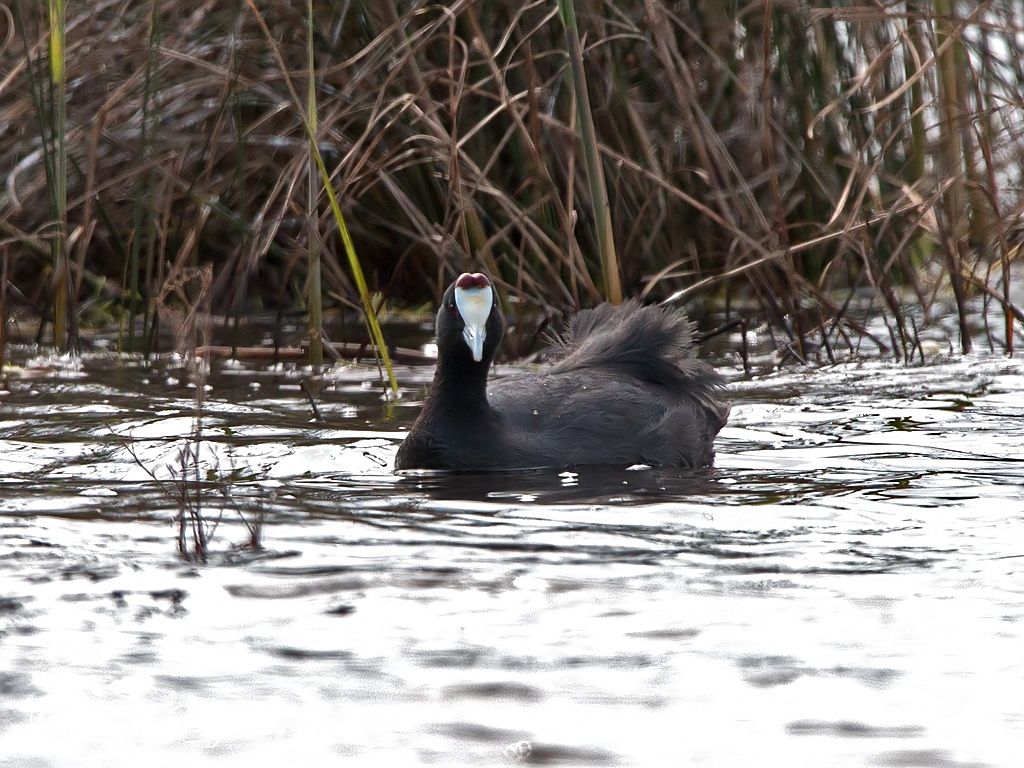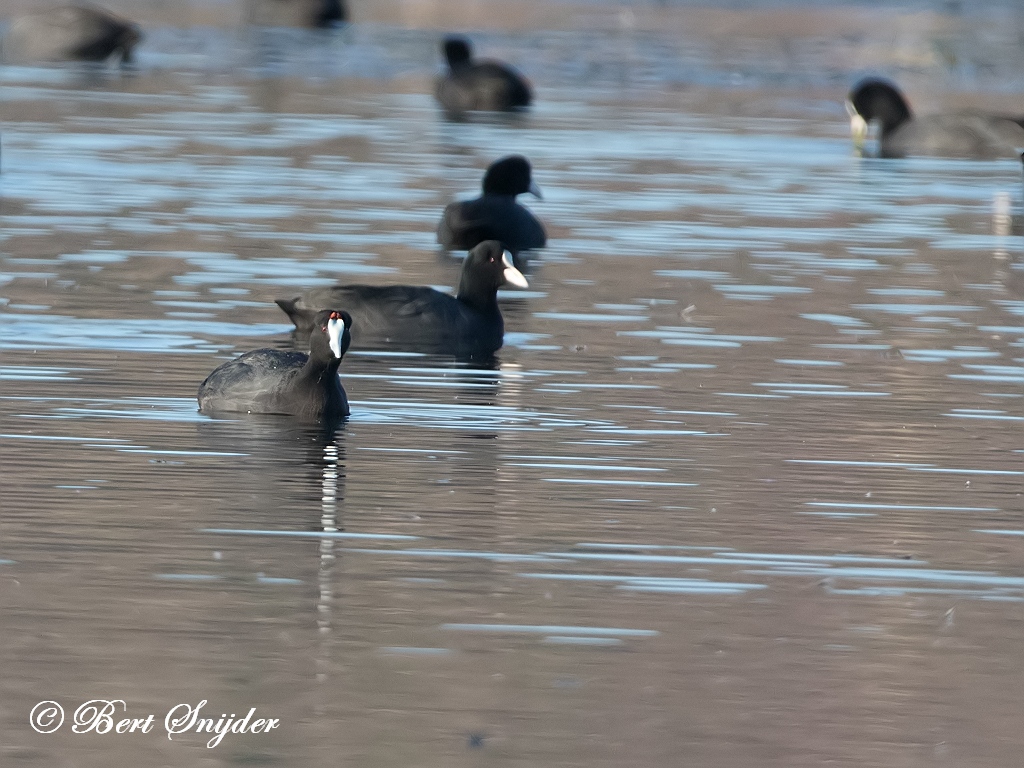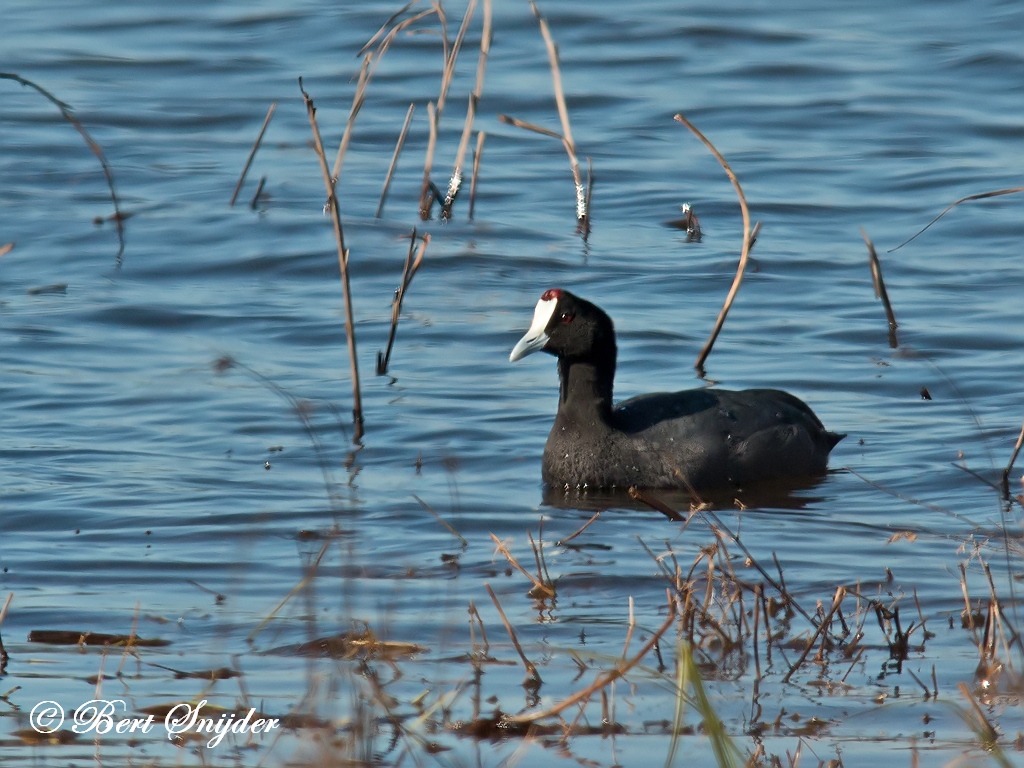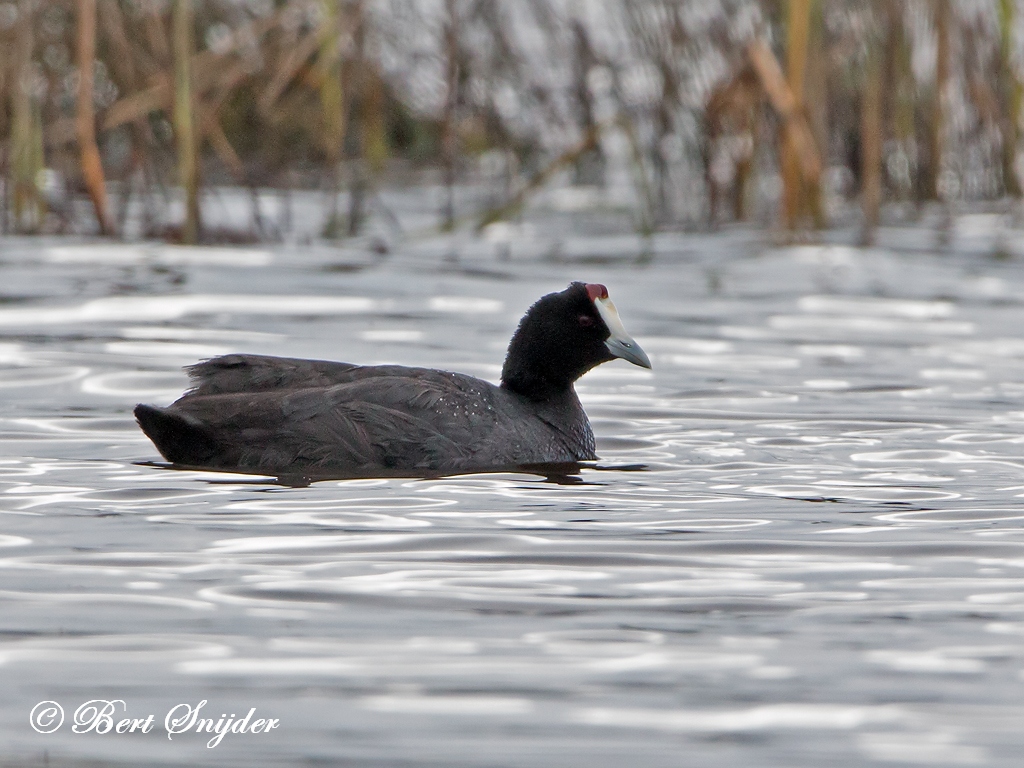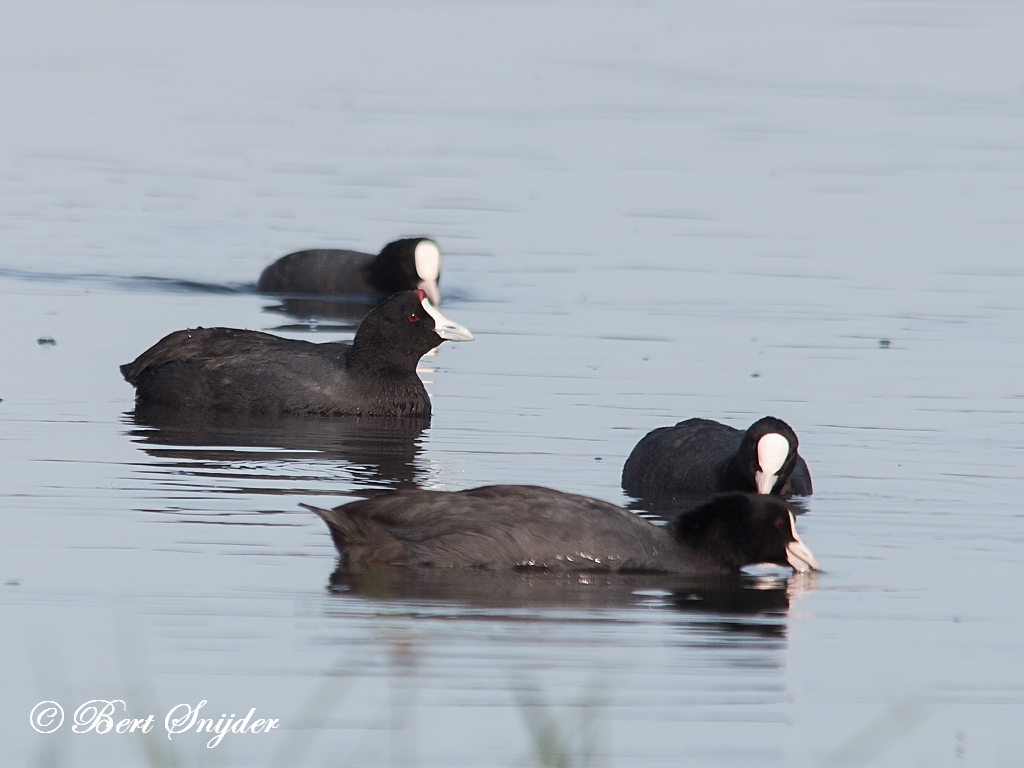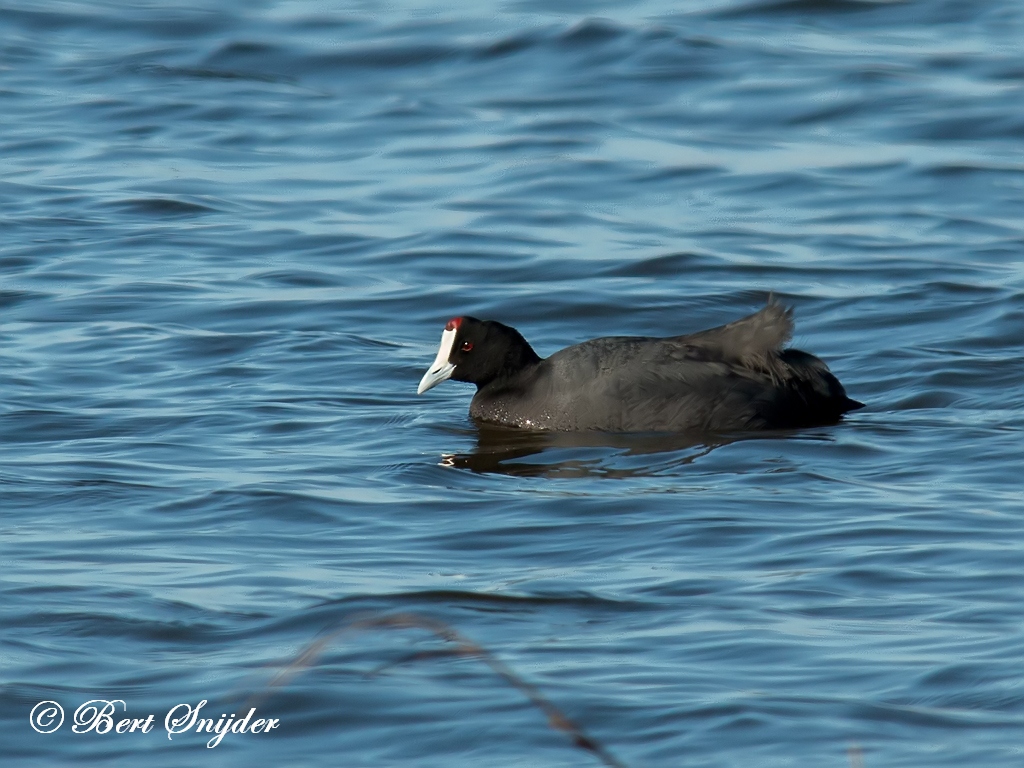 Other synonyms:
Afrikaans: Bleshoender
Catalan: Fotja banyuda
Catalan (Balears): Fotja banyuda
Czech: Lyska hrebenatá
Danish: Kamblishøne
German: Kammbläßhuhn, Kammbleßhuhn
English: Creasted coot, Crested Coot, Redknobbed Coot, Red-knobbed Coot, Red-knobed Coot
English (Kenya): Red-knobbed Coot
Spanish: Focha cornuda, Focha Moruna
Spanish (Spain): Focha Moruna
Estonian: sagarlauk
Basque: Fotja banyuda
Finnish: kruununokikana, Syylänokikana
French: Foulque à crête, Foulque caronculée, Foulque de Madagascar, Foulque huppé, Foulque huppée
Galician: Fotja banyuda, Galiñola cristada
Croatian: Krunasta liska
Hungarian: bütykös szárcsa
Icelandic: Hnúðhæna
Italian: Folaga cornuta, Folaga crestata, Folaga cristata
Japanese: afurikaooban
Latin: Fulica cristata
Lithuanian: Kuoduotasis laukys
Malagasy: Akoharano, Orika, Otrika, Sarako, Tsohia, Vantsiano, Vorondrano
Dutch: Knobbel meerkoet, Knobbelkoet, Knobbelmeerkoet
Norwegian: Kamsothøne, Knoppsothøne
Polish: lyska czubata
Portuguese: galeirão de crista, Galeirão-de-crista
Portuguese (Portugal): Galeirão-de-crista
Slovak: Lyska hrebenatá
Slovenian: grebenasta liska
Shona: Nhapata
Serbian: Krunasta liska
Sotho, Southern: Mohetle
Swedish: Kamsothöna
Swahili: Kukuziwa Pembe-nyekundu
Tswana: Kgogonoka
Turkish: tepeli meke
Tsonga: Kukumezani
Xhosa: Unomkqayi
Travel Birdwatching Holiday Alentejo, Vacation Portugal for birders to see birds on your trip. Guided Birdwatching Tours & Trips