Marsh Harrier, Bruine Kiekendief, Rohrweihe, Tartaranhão-ruivo-dos-pauis, Aguilucho Lagunero Occidental
Spotted in the Alentejo region of Portugal.                                      Marsh Harrier sound
The marsh harriers are birds of prey of the harrier subfamily. They are medium-sized raptors and the largest and broadest-winged harriers. Most of them are associated with marshland and dense reedbeds. They are found almost worldwide, excluding only the Americas.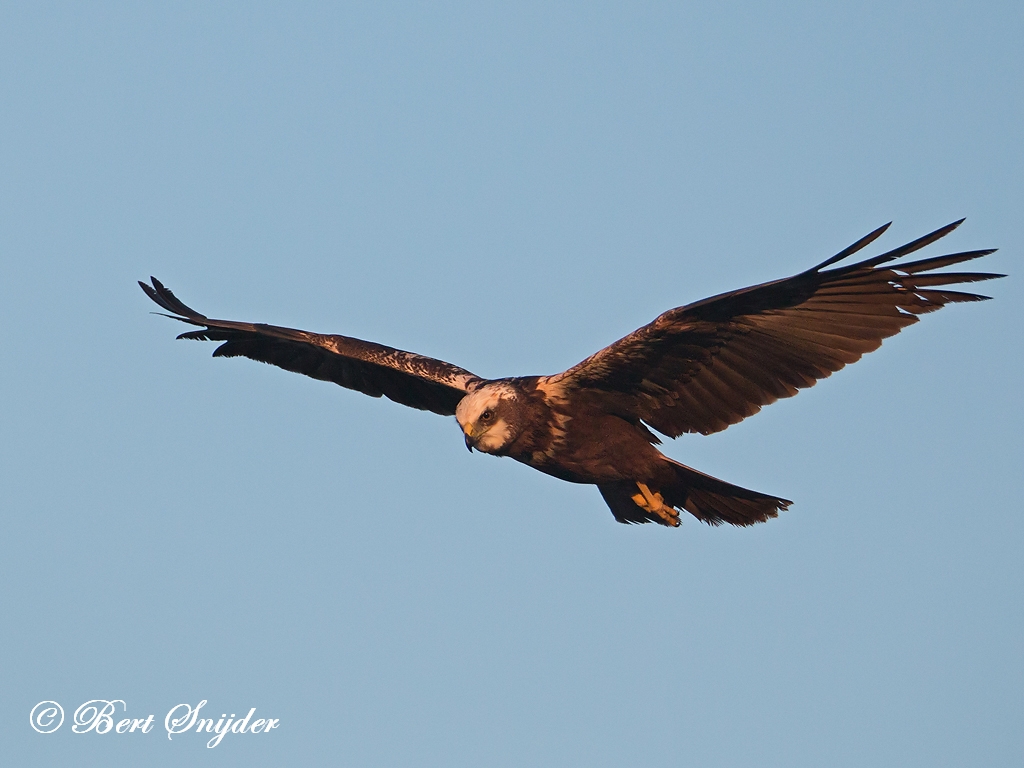 More photos at the bottom of this page:
Until recently two species were generally recognized: the Marsh Harrier (Circus aeruginosus) and the African Marsh Harrier (C. ranivorus). The Marsh Harrier is now usually split into several species, sometimes as many as six. These are the Western Marsh Harrier (C. aeruginosus), Eastern Marsh Harrier (C. spilonotus), Papuan Harrier (C. spilonotus spilothorax or C. spilothorax), Swamp Harrier (C. approximans), Réunion Harrier (C. maillardi maillardi or C. maillardi) and Madagascar Marsh Harrier (C. maillardi macrosceles or C. macrosceles).
The Western Marsh Harrier (Circus aeruginosus), often simply called the Marsh Harrier, breeds widely across Europe and Asia. It is migratory except in the mildest regions, and winters mainly in Africa. It hunts small mammals, insects and birds, surprising them as it drifts low over fields and reedbeds.
The Western Marsh Harrier is a typical harrier, with long wings held in a shallow V in its low flight. It also resembles other harriers in having distinct male and female plumages, but its plumages are quite different from those of its relatives. The male has wings with grey and brown sections and black wingtips. Its head, tail and underparts are greyish, except for the chestnut belly. The female is mainly brown with a cream crown and cream leading edge to her wings.
The Eastern Marsh Harrier (C. spilonotus) breeds in the grasslands and wetlands of southern Siberia, northern Mongolia, north-east China, Manchuria and Japan, and migrates for the northern winter to South-east Asia, the Philippines and northern Borneo.
Like all marsh harriers, it favours open, wet environments, and is frequently seen drifting low over ricefields, interspersing long, watchful circling glides with two or three slow, powerful wingbeats. Two subspecies are recognised: C. s. spilonotus of east Asia, and C. s. spilothorax, of New Guinea and the islands nearby, which is sometimes thought to be a separate species and is often called the Papuan Harrier.
The Swamp Harrier (C. approximans) at about 50 to 58 cm is slightly larger than C. spilonotus, often a little darker, and has less heavily barred wings and tail. It is commonly found in suitable habitat anywhere in Australasia, particularly in the higher rainfall areas to the east, south-east, and south-west, of Australia and throughout New Zealand, but also in the tropical north of Australia and the island groups of New Caledonia, Vanuatu, Fiji, Tonga and the Society Islands. It is also known as the Australasian Harrier or Pacific Marsh Harrier.
The Madagascar Marsh Harrier or Madagascar Harrier (C. maillardi) is found on the Indian Ocean islands of Madagascar, Réunion and the Comoros. It is sometimes split into two species: Madagascar Harrier (Circus macrosceles) and Réunion Harrier (C. maillardi).
The African Marsh Harrier (C. ranivorus) is a distinct non-migratory species that has not usually been included as a subspecies of C. aeruginosus. It inhabits southern and eastern Africa.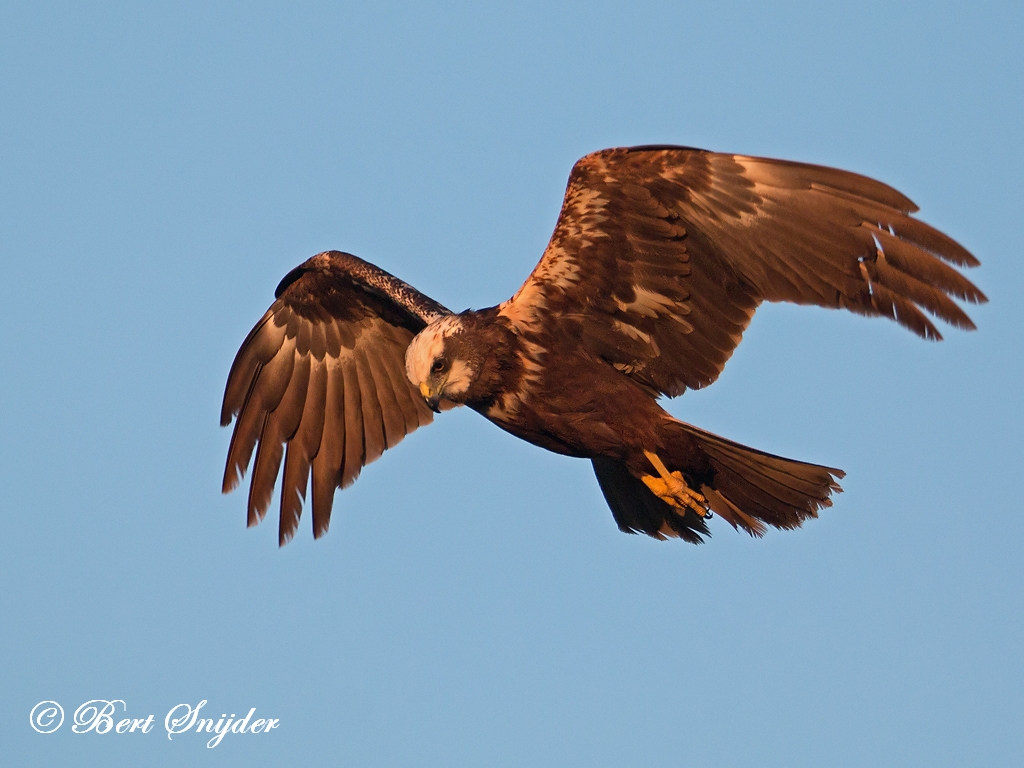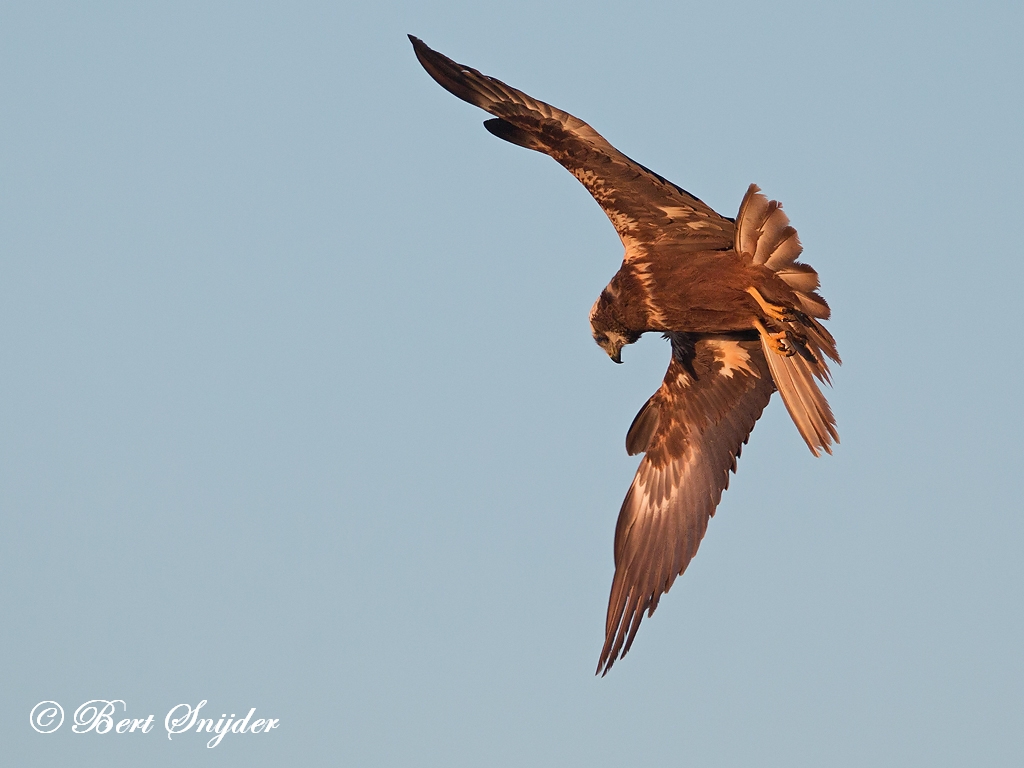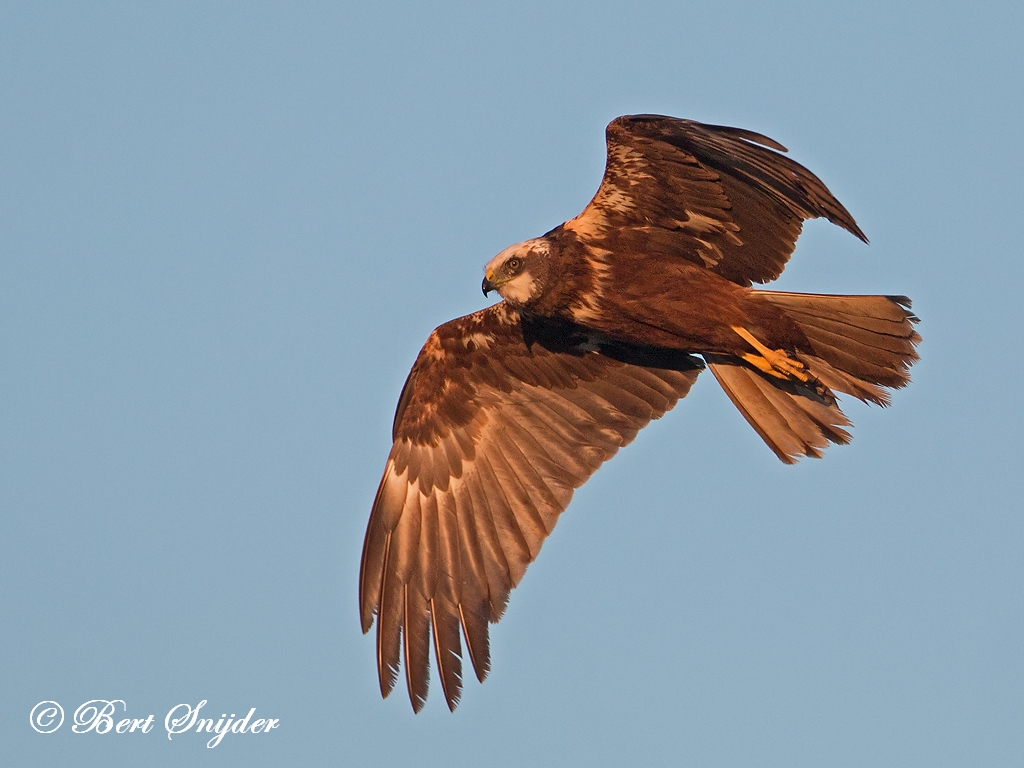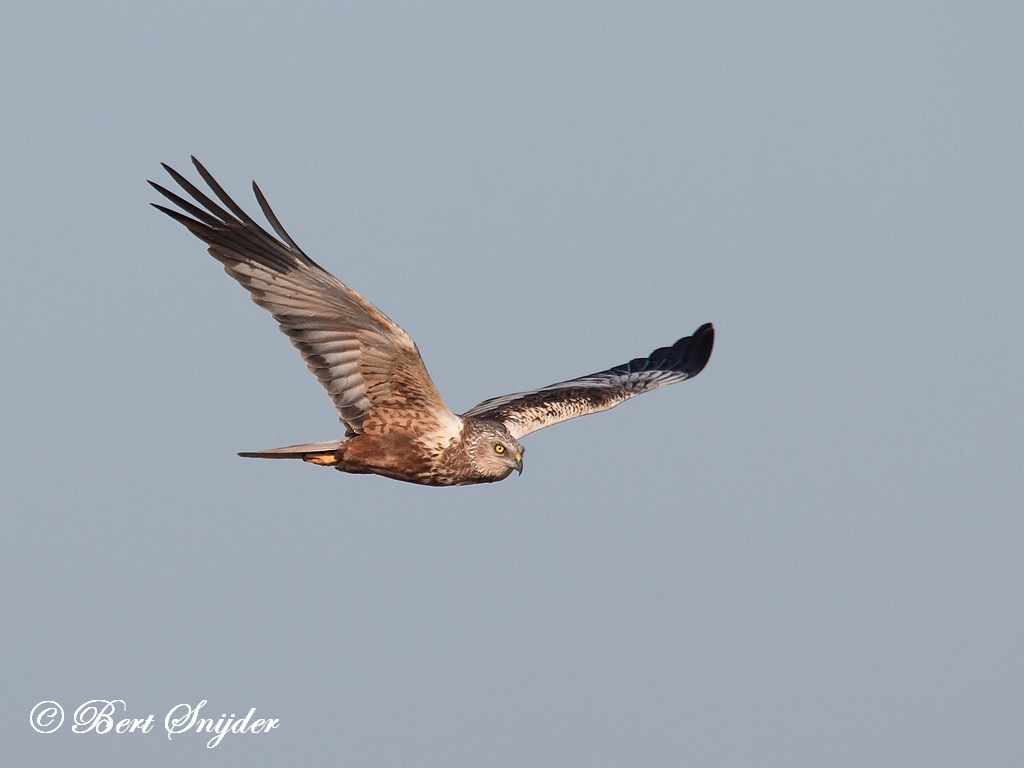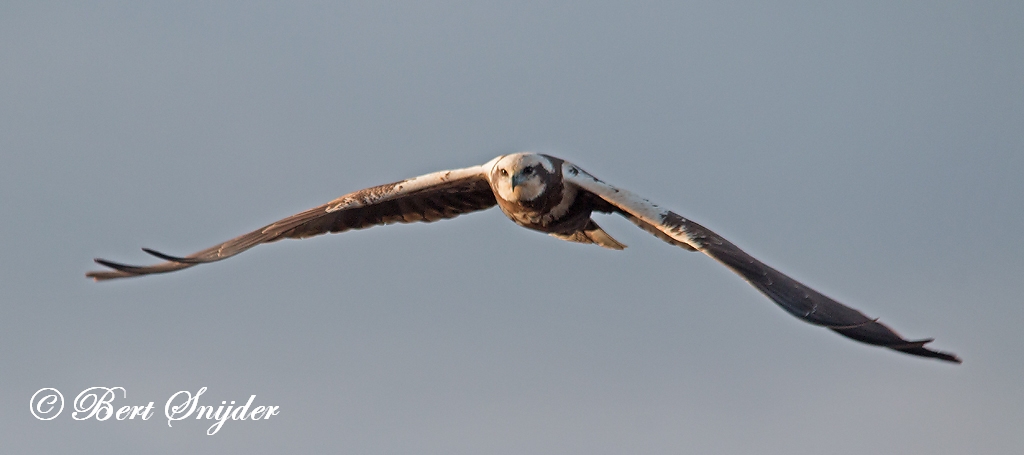 Other synonyms:
Afrikaans: Europese Paddavreter, Europese Vleivalk
Asturian: Aguiluchu Prietu, Aiglina Llagunera
Breton: Ar skoul-korz
Catalan: Arpella, Arpella vulgar, Arpellot de marjal
Catalan (Balears): Arpella
Valencian: Arpellot de marjal
Czech: Moták pochop, pochop rákosný
Welsh: Bod y gwerni, Bod y wern, Boda'r gwerni, Boda'r y gors, Hebog y gors
Danish: Rørhøg
German: Europäische Rohrweihe, Rohrweihe
English: Eurasian Marsh Harrier, Eurasian Marsh-Harrier, European Marsh Harrier, European Marsh-Harrier, Marsh Harrier, Northern Marsh Harrier, Swamp Harrier, Western Marsh Harrier, Western Marsh-Harrier
Spanish: Aguillucho Lagunero, Aguilucho lagunero, Águilucho lagunero, Aguilucho Lagunero Occidental, Águilucho Lagunero Occidental
Estonian: Roo-loorkull
Basque: Arpella vulgar, Zingira mirotz, Zingira-mirotza
Finnish: Ruskosuohaukka
Faroese: Blotaheykur, Blotheykur
French: Busard des roseaux, Busard harpaye, Circaète Jean-le-Blanc
Irish: Cromán mona, Cromán Móna, Préachán na gcrearc
Gaelic: Clamhan Loin
Galician: Arpella vulgar, Tartaraña das xunqueiras
Manx: Shirragh ny bogleeyn
Hungarian: Barna rétihéja
Indonesian: Elang rawa, Elangrawa Katak
Icelandic: Brúnheiðir
Italian: Falco di palude
Japanese: chuuhi, yoaroppachuuhi, Yooroppa chuuhi, Youroppa-Chuuhi
Cornish: Helghyer gwern
Latin: Circus aeruginosus
Lithuanian: Nendrine linge
Latvian: Niedru lija
Maori: kahu
Dutch: Bruine Kiekendief
Norwegian: Brun kjerrhøk, Sivhauk
Polish: blotniak stawowy
Portuguese: tartaranhão dos pauis, Tartaranhão-dos-pauis, Tartaranhão-dos-pauis-africano, Tartaranhão-ruivo-dos-pauis, Tartaranhão-ruivo-dos-paúis
Romansh: Melv da channa
Scots: Clamhan loin
Slovenian: rjavi lunj
Albanian: Shqipja e kënetës
Serbian: eja mocvarica
Swedish: Brun kärrhök
Swahili: Kipondya wa Ulaya
Travel Birdwatching Holiday Alentejo, Vacation Portugal for birders to see birds on your trip.
800