Long-tailed Tit, Staartmees, Schwanzmeise, Chapim-rabilongo, Mito Común 
Subspecies irbii
Spotted on Monte Horizonte in the Alentejo region of Portugal.                                                        Long-tailed Tit sound    
The Long-tailed Tit or Long-tailed Bushtit (Aegithalos caudatus) is a common bird found throughout Europe and Asia.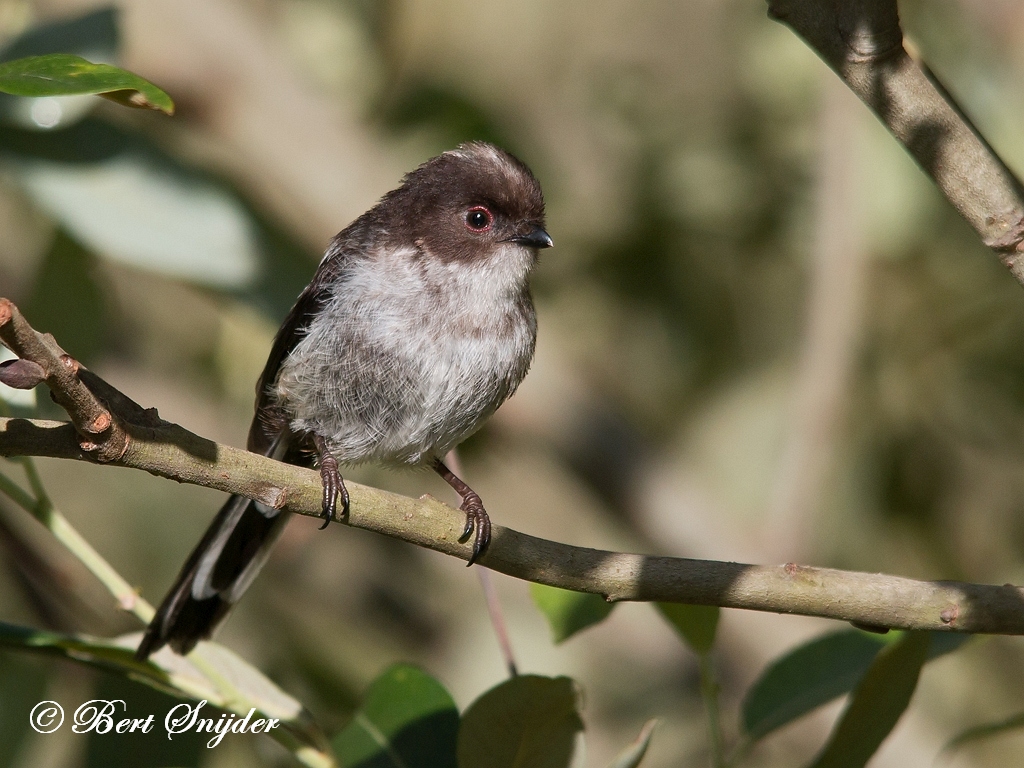 More photos at the bottom of this page:
This species has been described as a tiny (at only 13–15 cm in length, including its 7–9 cm tail), round-bodied tit with a short, stubby bill and a very long, narrow tail. The sexes look the same and young birds undergo a complete moult to adult plumage before the first winter. The plumage is mainly black and white, with variable amounts of grey and pink.
The Long-tailed Tit is globally widespread throughout temperate northern Europe and Asia, into boreal Scandinavia and south into the Mediterranean zone. It inhabits deciduous and mixed woodland with a well-developed shrub layer, favouring edge habitats. It can also be found in scrub, heathland with scattered trees, bushes and hedges, in farmland and riverine woodland, parks and gardens. The bird's year-round diet of insects and social foraging bias habitat choice in winter towards deciduous woodland, typically of Oak (Quercus sp.), Ash (Fraxinus sp.) and locally Sycamore species. For nesting, strong preference is shown towards scrub areas. The nest is usually built in thorny bushes less than 3 metres above the ground.
The nest of the Long-tailed Tit is constructed from four materials – lichen, feathers, spider egg cocoons and moss, over 6000 pieces in all for a typical nest. The nest is a flexible sac with a small, round entrance on top, suspended either low in a gorse or bramble bush or high up in the forks of tree branches. The structural stability of the nest is provided by a mesh of moss and spider silk. The tiny leaves of the moss act as hooks and the spider silk of egg cocoons provides the loops; thus forming a natural form of velcro. The tit lines the outside with hundreds of flakes of pale lichens – this provides camouflage. Inside, it lines the nest with more than 2000 downy feathers to insulate the nest.
Vocalisations are a valuable aid to locating and identifying these birds. When in flocks they issue constant contact calls and are often heard before they are seen. They have three main calls, a single high pitched 'pit', a 'triple trill' eez-eez-eez, and a rattling 'schnuur'. The calls become faster and louder when the birds cross open ground or if an individual becomes separated from the group.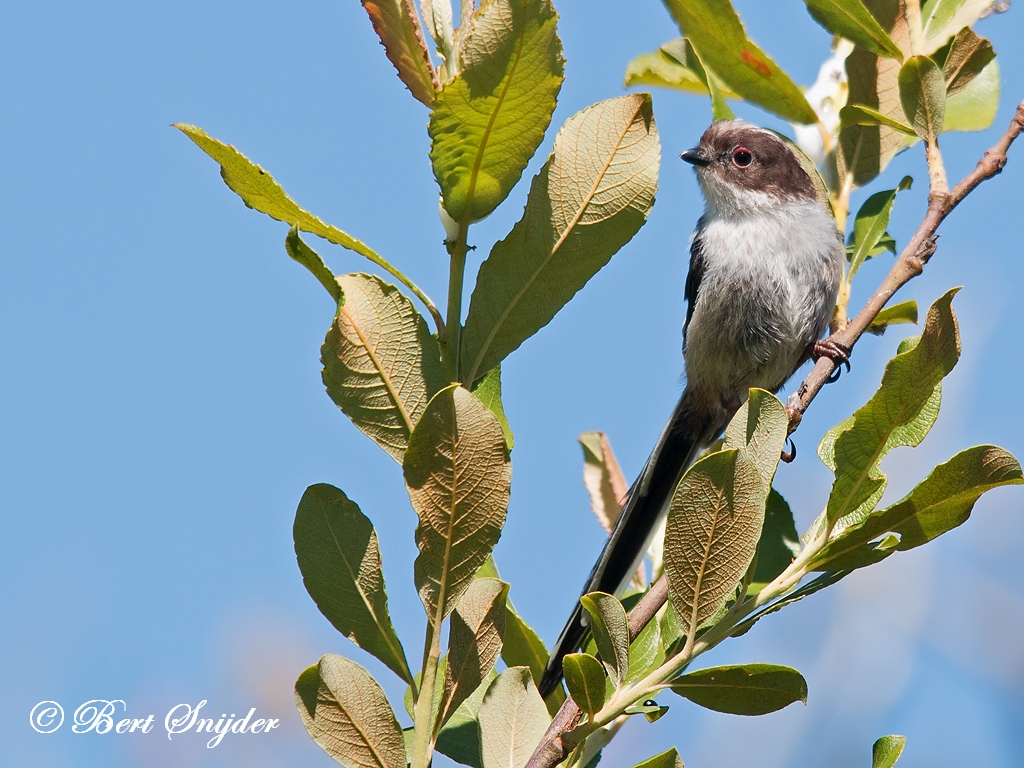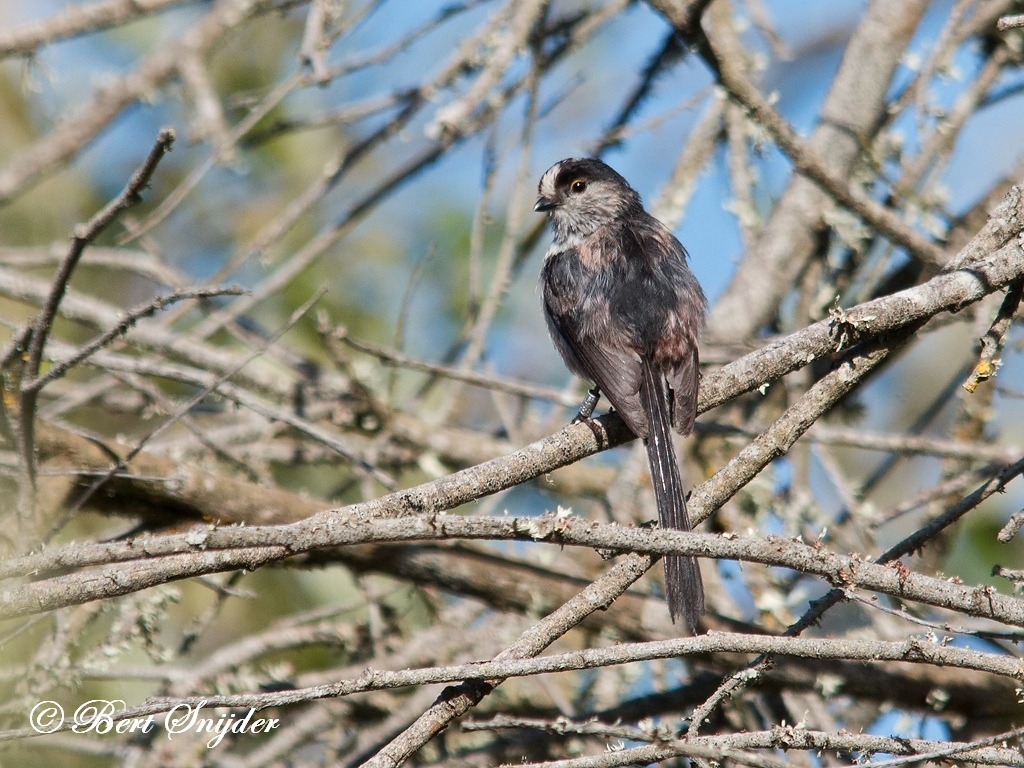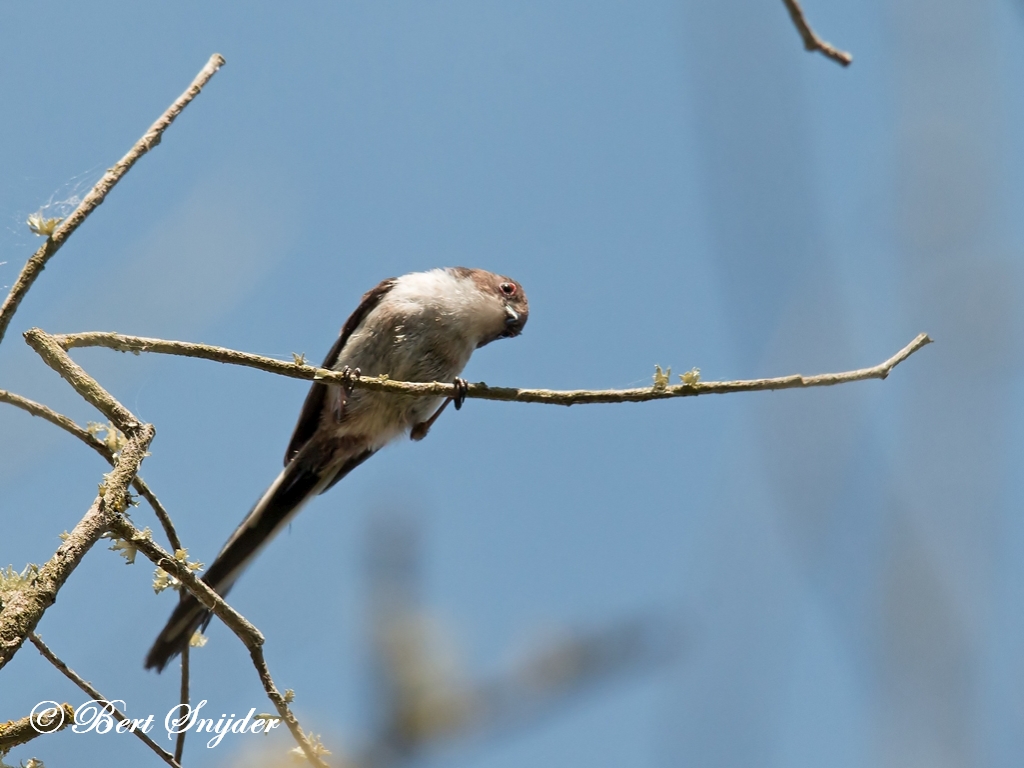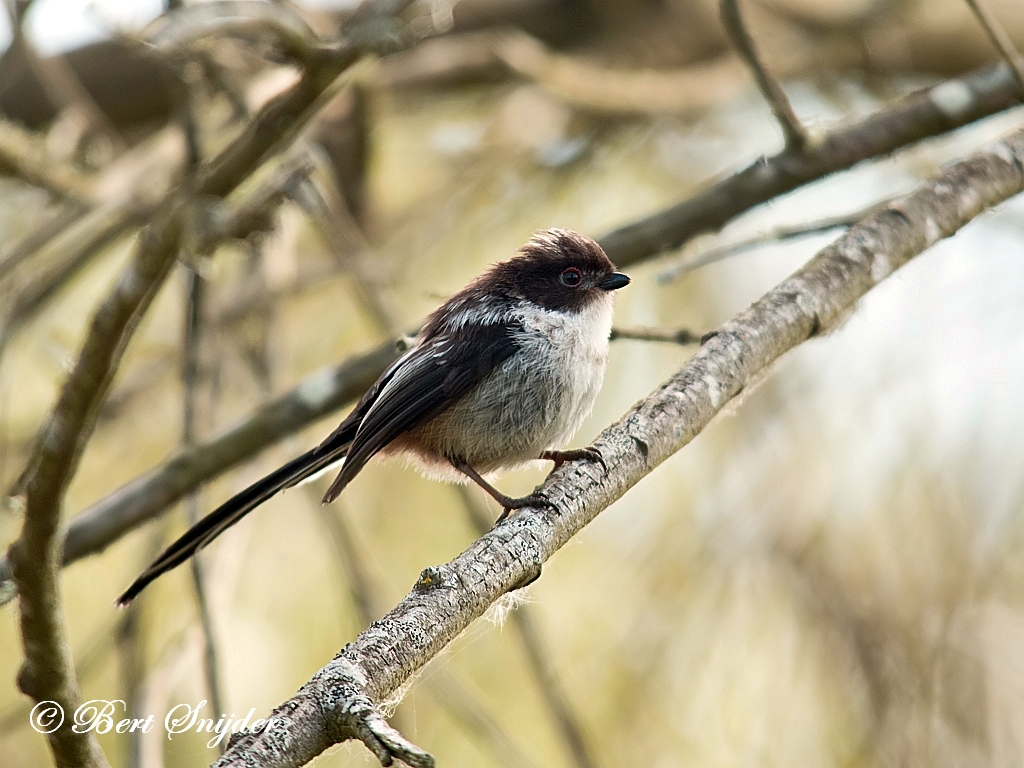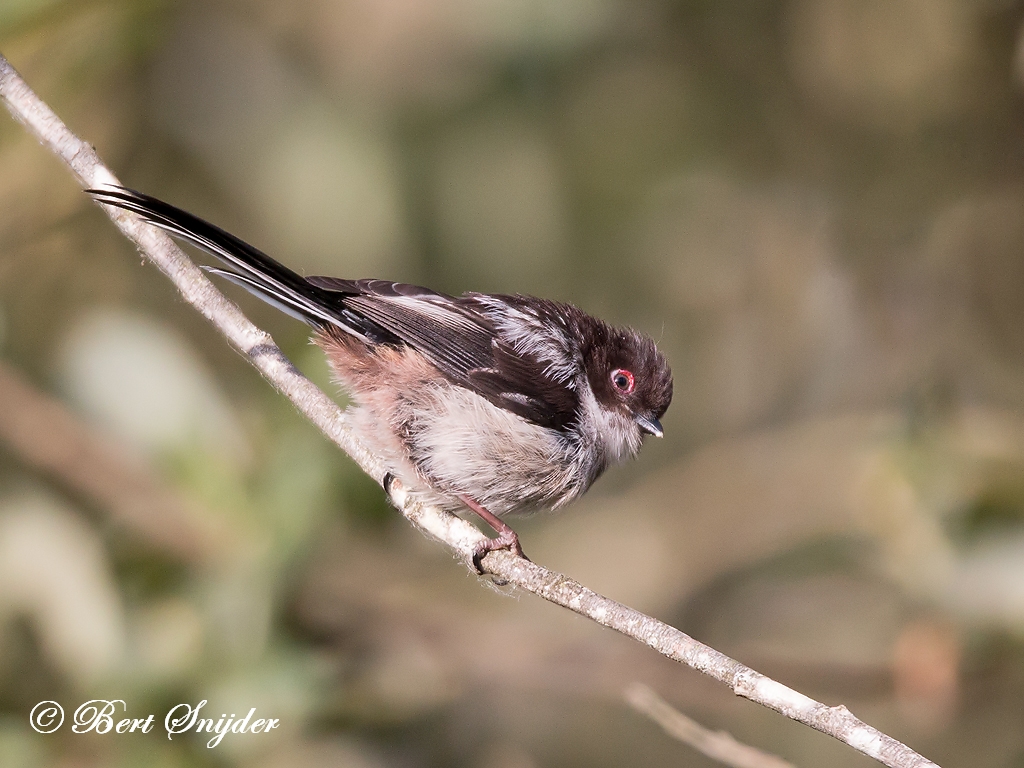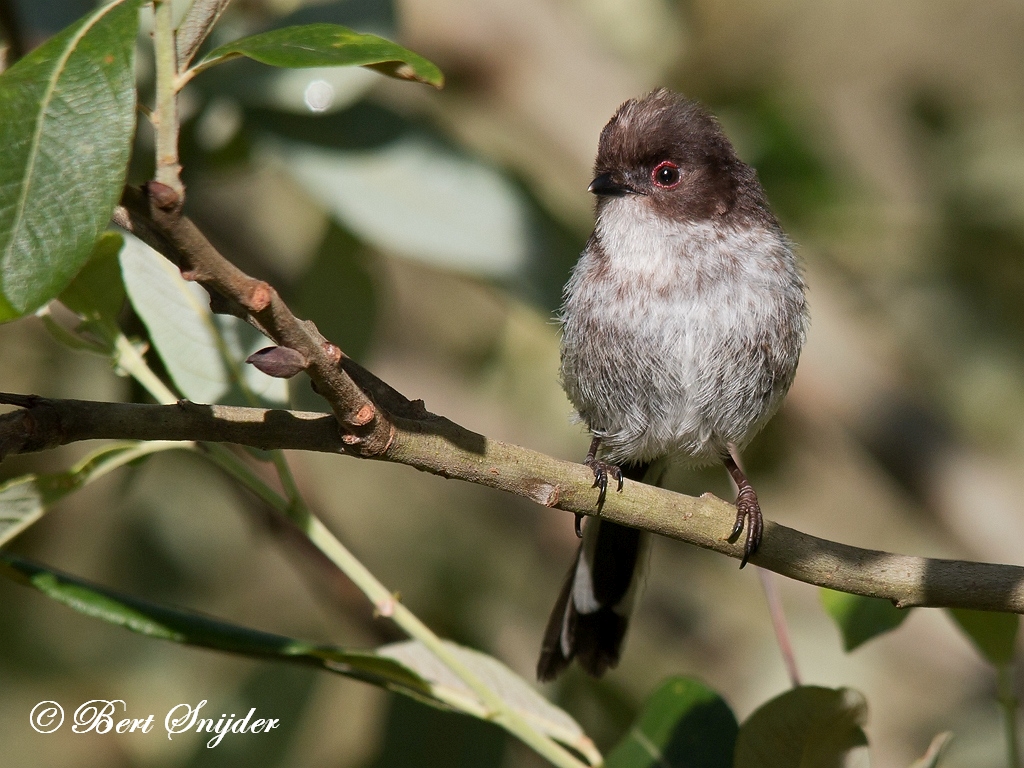 Other synonyms:
Breton: Ar binoter lostek
Catalan: Mallerenga cuallarga
Catalan (Balears): Senyoreta
Czech: Mlynarík dlouhoocasý
Welsh: Titw cynffon-hir, Titw Gynffon-hir
Danish: Halemejse, Nordlig Halemejse
German: Schwanzmeise
English: Long-tailed Tit, Northern Long-tailed Tit
Esperanto: longvosta paruo
Spanish: Mito, Mito Común, Satrecito de Cola Larga
Estonian: Sabatihane
Basque: Buztanluzea
Finnish: pyrstötiainen
Faroese: Veltita, veltíta
French: Mésange à longue queue
Irish: Meantán Earrfhada
Gaelic: Ciochan
Galician: Ferreiriño rabilongo
Manx: Caillagh Veg yn Arbyl
Croatian: Dugorepa Sjenica
Icelandic: Skottmeisa
Italian: Codibugnolo
Japanese: enaga
Cornish: Lostek
Latin: Aegithalos caudatus
Limburgish: Whiteliester
Dutch: Staartmees
Norwegian: Stjertmeis
Polish: raniuszek zwyczajny
Portuguese: Chapim-rabilongo
Romansh: Sbrinzlina
Scots: Ciochan
Slovak: Mlynárka dlhochvostá
Slovenian: dolgorepka
Albanian: Trishtili bishtgjatë
Serbian: dugorepa sjenica
Swedish: Stjärtmes

Travel Birdwatching Holiday Alentejo, Vacation Portugal for birders to see birds on your trip.