Spotted on our property Monte Horizonte  in the Alentejo region of Portugal.                                Jay sound
The Eurasian Jay (Garrulus glandarius) is a species of bird occurring over a vast region from Western Europe and north-west Africa to the Indian Subcontinent and further to the eastern seaboard of Asia and down into south-east Asia. Across its vast range, several very distinct racial forms have evolved to look very different from each other, especially when forms at the extremes of its range are compared.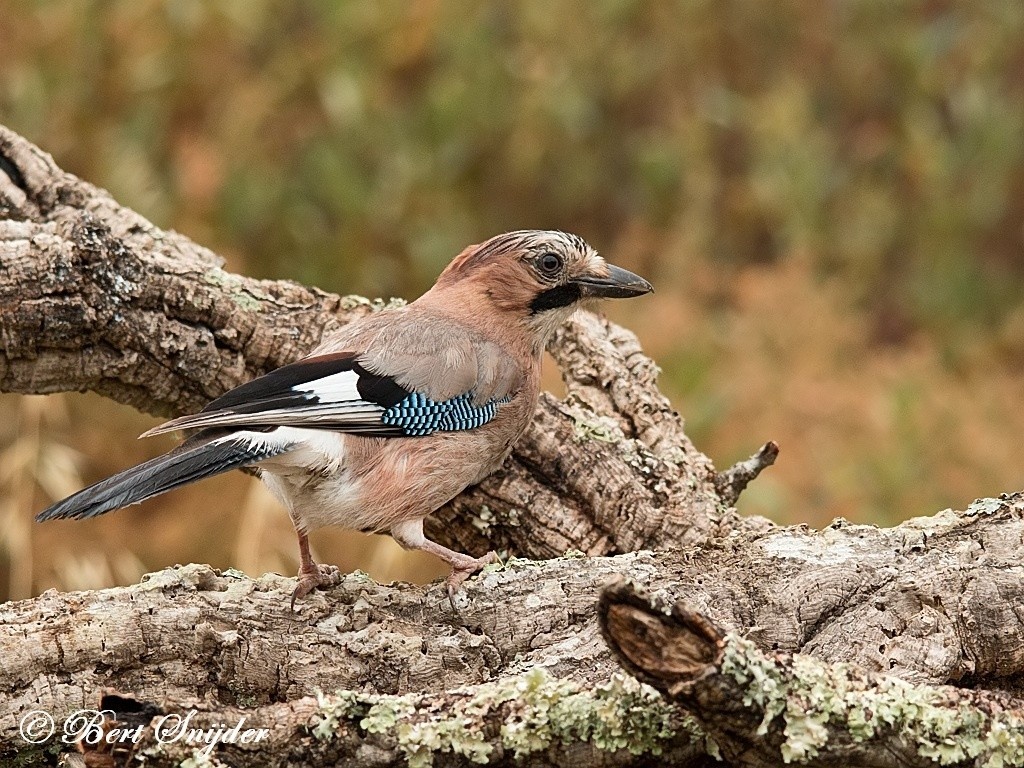 The names jay and magpie are somewhat interchangeable, and the evolutionary relationships are rather complex. For example, the Eurasian Magpie seems more closely related to the Eurasian Jay than to the Oriental Blue and Green Magpies, whereas the Blue Jay is not closely related to either.
The bird is called Jay, without any epithets, by English speakers in Great Britain and Ireland. It is the original 'Jay' after which all others are named.
A member of the widespread Jay group, and about the size of the Jackdaw, it inhabits mixed woodland, particularly with oaks, and is an habitual acorn hoarder. In recent years, the bird has begun to migrate into urban areas, possibly as a result of continued erosion of its woodland habitat.
Its usual call is the alarm call which is a harsh, rasping screech and is used upon sighting various predatory animals, but the Jay is well known for its mimicry, often sounding so like a different species that it is virtually impossible to distinguish its true identity unless the Jay is seen. It will even imitate the sound of the bird it is attacking, such as a Tawny Owl, which it does mercilessly if attacking during the day. However, the Jay is a potential prey item for owls at night and other birds of prey such as Goshawks and Peregrines during the day.
Feeding in both trees and on the ground, it takes a wide range of invertebrates including many pest insects, acorns (oak seeds, which it buries for use during winter), beech mast and other seeds, fruits such as blackberries and rowan berries, young birds and eggs,bats, and small rodents.
It nests in trees or large shrubs laying usually 4–6 eggs that hatch after 16–19 days and are fledged generally after 21–23 days. Both sexes typically feed the young.
Other synonyms:
Asturian: Glayu
Breton: Ar gegin derv, kegin, Richard
Catalan: Estornell rosat, Gaig
Catalan (Balears): Gaig
Valencian: Estornell rosat
Czech: sojka, Sojka obecná, Sojka obecný
Welsh: Pioden y coed, Piogen goch, Piogen-y-coed, sgrech y coed, Ysgrech y coed
Danish: Skovskade
German: Eichelhaeher, Eichelhäher
English: Acorn Jay, Black-throated jay, Common Jay, Eurasian Jay, European Jay, Jay, Red-crowned Jay, White-eared Jay
Esperanto: garolo
Spanish: Alcaudón enmascarado, Arrandejo Común, Arrandejo ?omún, Arredajo, Arrendajo, Arrendajo Común, Arrendajo Euroasiático, Arrrendajo
Estonian: Pasknäär
Basque: eskinoso, Eskinosoa, Gaig
Finnish: Närhi
Faroese: gnelliskjóra
French: Geai commune, Geai des chênes, Geai glandivore
Friulian: badascule, gjaie
Frisian: houtekster
Irish: gaio, pega marza, scréachóg, Scréachóg choille
Gaelic: Sgraicheag, Sgriachag Choille
Galician: Gaig, Gaio
Manx: Screeaaghag Cheylley, screeaghag cheylley
Croatian: Šojka, Šojka kreštalica
Hungarian: Szajkó
Icelandic: Skrækskaði
Italian: Ghiandaia, Ghiandaia eurasiatica
Japanese: kakesu, Kake-su, kashi-dori, yama-garasu
Cornish: kegin, Kegyn
Latin: Garrulus glandarius, Garrulus glandarius glandarius
Ladino: gacia
Dutch: Gaai, Vlaamse Gaai
Norwegian: Granskjur, Nøtteskrike
Occitan: gag
Polish: sójka, sójka (zwyczajna), Sójka pospolita, Sójka zwyczajna
Portuguese: gaio, Gaio-comum
Romansh: sgragia
Sardinian: malapiga, Marabiga, mariabiga, melapica, pica, piga
Scots: Scriachag choille, Sgraicheag, sgreuchag-choille
Northern Sami: látteguovssat
Slovak: Šoja
Slovenian: šoja
Albanian: grifsha
Serbian: Kreja
Swedish: Nötskrika
Turkmen: Al sar, alakarga

Travel Birdwatching Holiday Alentejo, Vacation Portugal for birders to see birds on your trip