Great Tit, Koolmees, Kohlmeise, Chapim-real, Herrerillo ciáneo
Spotted on Monte Horizonte in the Alentejo region of Portugal.                                            Great Tit sound
The Great Tit (Parus major) is a passerine bird in the tit family Paridae. It is a widespread and common species throughout Europe in any sort of woodland. It is resident, and most Great Tits do not migrate. In the past this species was considered a ring species with several subspecies covering a wide distribution, but these have now been separated.
The Great Tit was originally described under its current binomial name by Linnaeus in his 18th century work, Systema Naturae. Its scientific name is derived from the Latin parus "titmouse" and maior "larger".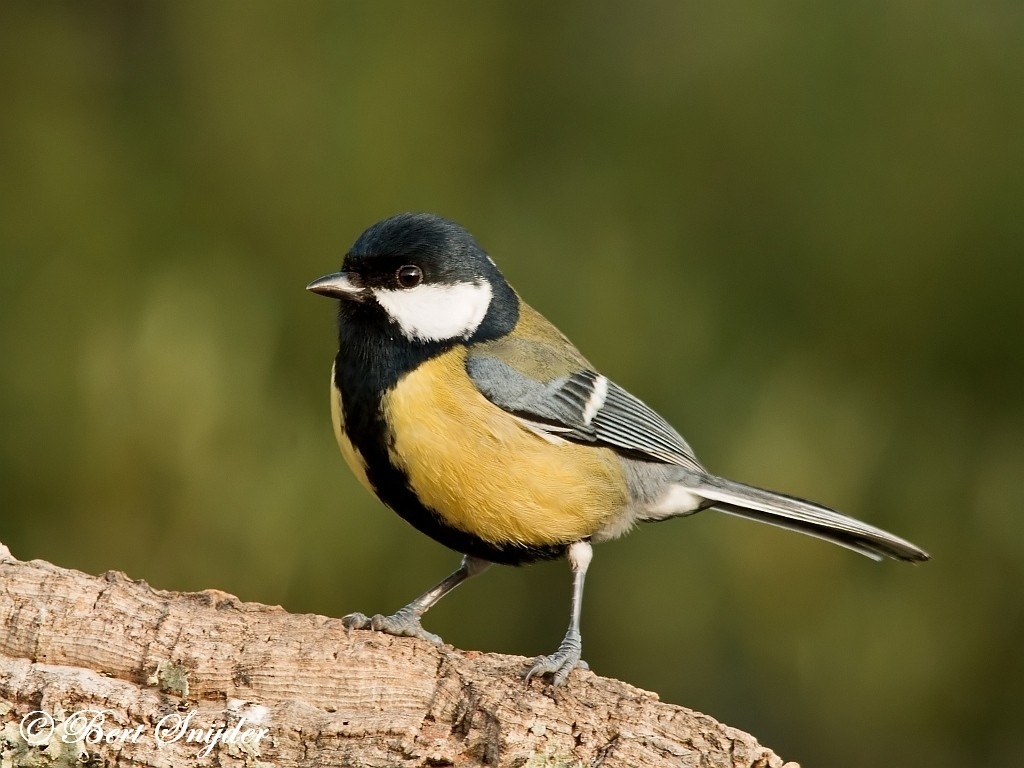 Great Tits come in many races, but they fall into three groups. Great Tits in temperate Europe and Asia are essentially green above and yellow below. Great Tits in China, Korea, Japan and southeastern Russia are green above and white or yellow-tinged white below, and Great Tits in India and south-east Asia are grey above and whitish below.
The Great Tit is easy to recognize, large in size at 14 cm, with a broad black line (broader in the male) down its otherwise yellow front. The neck and head are black with white cheeks and ear coverts. Upper parts are olive. It has a white wingbar and outer tail feathers. In young birds the black is replaced by brown, and the white by yellow.
It is, like other tits, a vocal bird, and has a large variety of calls, of which the most familiar is a "teacher, teacher", also likened to a squeaky wheelbarrow wheel. In the First Movement of Bruckner's 4th Symphony several Great Tit songs are strung together in a very realistic manner. Interestingly, Great Tits from the two south Asian groups of races do not recognize the calls of the temperate Great Tits, and they may be a separate species.
The Great Tit has a wide distribution across much of Eurasia. It is found across all of Europe except for Iceland and northern Scandinavia, and then across the Middle East, Northern Morocco, Algeria, Tunisia and parts of central Asia as far as Japan. Another band of distribution occurs through Iran into northern India into Southeastern Asia, whilst another population lives in southern India. The species also occurs over much of China, Korea and Japan, and in Indonesia down into Borneo and as far as the Lesser Sundas.
The Great Tit was unsuccessfully introduced into the United States; birds were set free near Cincinnati, Ohio between 1872 and 1874 but failed to become established. Birds later introduced to the Almaty Province in what is now Kazakhstan in 1960-61 and have become established, although present status is unclear.
Great Tits are primarily insectivores. They prefer protein rich caterpillars during breeding season to feed their young. A study published in 2007 found that Great Tits helped to reduce caterpillar damage in apple orchards by 50%. In England, Great Tits learned to break the foil caps sealing bottles of milk that had been delivered to homes to obtain the cream floating on top.
Great Tits are cavity nesters, breeding in a hole that is usually inside a tree, although occasionally in a wall, rock face, and they will readily take to nest boxes. The number in the clutch is often very large, but seven or eight white spotted red eggs are normal, with bigger clutches being laid by two or even more hens. The bird is a close sitter, hissing when disturbed.
The nestlings are unusual for altricial birds in having plumage coloured with carotenoids similarly to their parents. In most species it is dun-coloured to avoid predation. The nape is yellow and attracts the attention of the parents by its ultraviolet reflectance. This may be to make them easier to find in low light or a signal of fitness to win the parents' attention. This patch turns white after the first moult at an age of two months, and diminishes in size as the bird grows.
The Great Tit is a popular garden bird due to its acrobatic performances when feeding on nuts or seed. Its willingness to move into nest boxes has made it a valuable study subject in ornithology, and it is one of the best studied birds in the world.
Other synonyms:
Asturian: Branín, Veranín
Breton: Ar pennglaou
Catalan: Ferrerico, Mallerenga carbonera
Catalan (Balears): Ferrerico
Valencian: Primavera
Welsh: Titw mawr
Danish: musvit, sortmejse
German: Kohlmeise
English: Eurasian Great Tit, Great Tit
Esperanto: granda paruo
Spanish: Carbonero Comun, Carbonero Común, Herrerillo ciáneo
Estonian: rasvatihane
Basque: Kaskabeltz handia
Finnish: talitiainen
Faroese: Stórtita, stórtíta
French: Mésange charbonnière
Frisian: blokfink
Irish: meantán mór
Gaelic: Currac Bhain Tighearna
Galician: Ferreiriño real
Manx: Drean Mooar
Croatian: sjenica velika, Velika Sjenica
Hungarian: Széncinege
Indonesian: Gelatik batu, Gelatikbatu Kelabu
Icelandic: Flotmeisa
Italian: Cinciallegra
Japanese: shijuukara
Cornish: Penglow bras
Latin: Parus major
Limburgish: Zjwartkop
Maltese: Fjorentin
Dutch: koolmees
Norwegian: kjøttmeis
Polish: Bogatka, bogatka zwyczajna, sikora bogatka
Portuguese: Chapim-real
Romansh: maset grond
Sardinian: Acutzaferru
Scots: Currac bhain tighearna
Northern Sami: buoidegaccet, fiskesgaccet
Slovenian: velika sinica
Albanian: trishtili i madh
Serbian: velika sjenica
Swedish: talgoxe
Travel Birdwatching Holiday Alentejo, Vacation Portugal for birders to see birds on your trip