Great Skua, Grote jager, Skua, Moleiro-grande, Págalo Grande
Spotted on the westcoast of the Alentejo region of Portugal.                                                                       Great Skua sound
The Great Skua (Stercorarius skua) is a large seabird in the skua family Stercorariidae. 
More photos at the bottom of this page.
The name skua is believed to originate from the Faroese skúvur and is the only known bird name to originate from the Faroes which has come into regular use elsewhere. In Britain, it is sometimes known by the name Bonxie, a Shetland name of Norse origin.
This is a large skua, measuring 50–58 cm (20–23 in) long with a 125–140 cm (49–55 in) wingspan. The adult is streaked greyish brown, with a black cap, while the juvenile is a warmer brown and unstreaked below. Its tail is short and blunt. The flight is direct and powerful. The Brown Skua's call is a harsh hah-hah-hah-hah; quacking and croaking noises have also been heard. Distinguishing this skua from the other North Atlantic skuas (Arctic Skua, Pomarine Skua and Long-tailed Skua) is relatively straightforward. The Herring Gull size, massive barrel chest and white wing flashes of this bird are distinctive even at a distance. It is sometimes said to give the impression of a Common Buzzard (which in America would be called a hawk). Identification of this skua is only complicated when it is necessary to distinguish it from the closely related large southern-hemisphere skuas. Some authorities still regard the Great Skua as conspecific with some of these southern skuas, and as a group they have sometimes been separated in the genus Catharacta, although currently this is not commonly followed.
The Great Skua breeds in Iceland, Norway, the Faroe Islands and the Scottish islands, with a few on mainland Scotland and in the northwest of Ireland. It breeds on coastal moorland and rocky islands, usually laying two spotted olive-brown eggs in grass-lined nests. Like other skuas, it will fly at the head of a human or other intruder approaching its nest. Although it cannot inflict serious damage, such an experience with a bird of this size is frightening. It is a migrant, wintering at sea in the Atlantic Ocean and regularly reaching North American waters. Vagrant to Mediterranean countries (e.g. Portugal).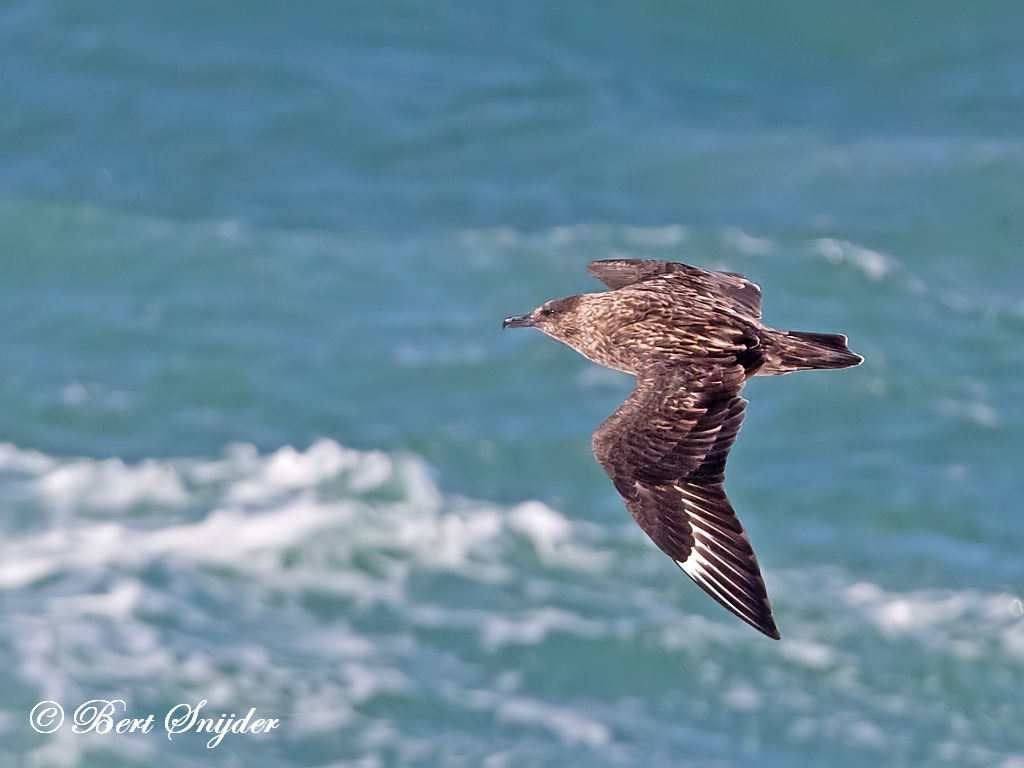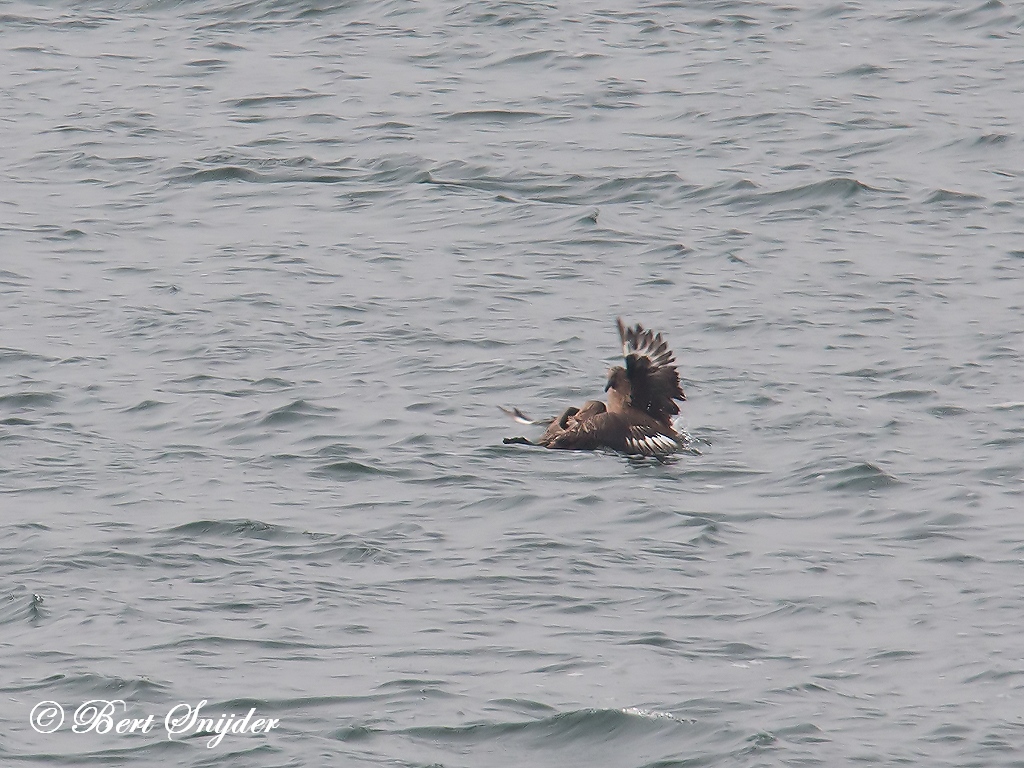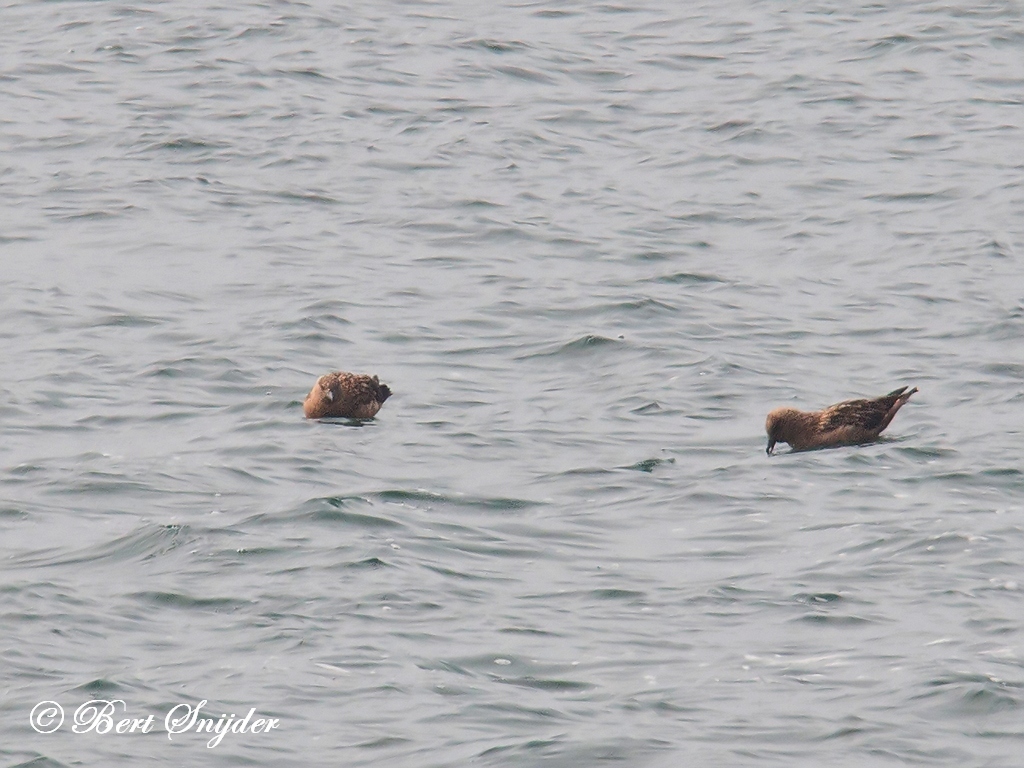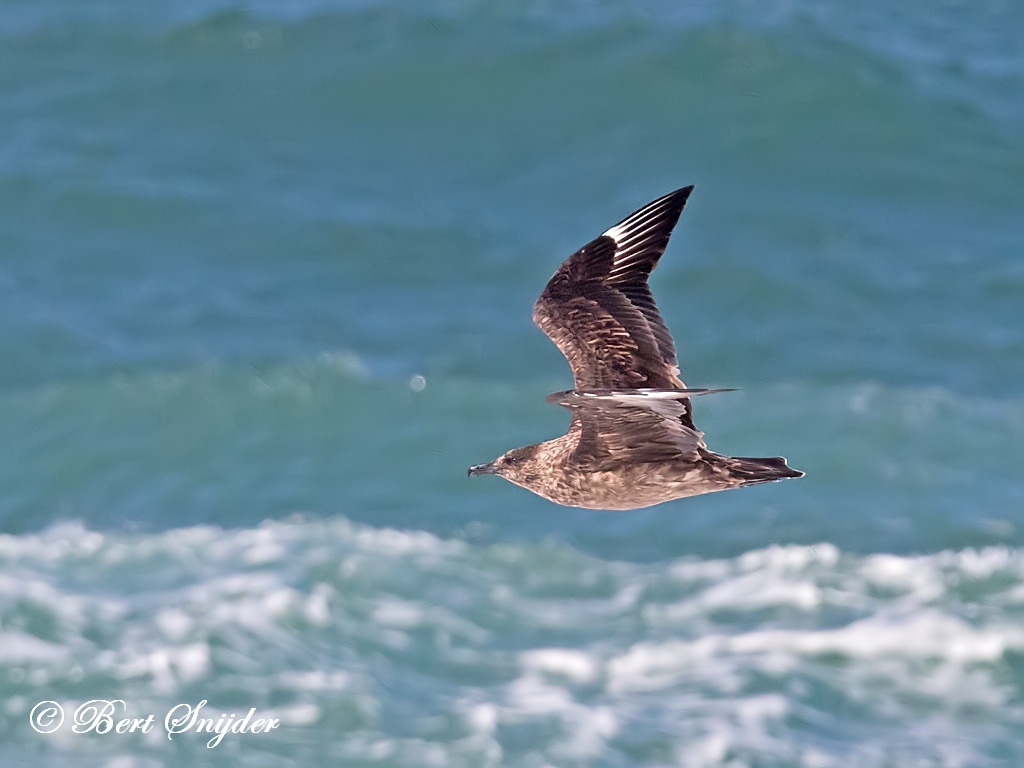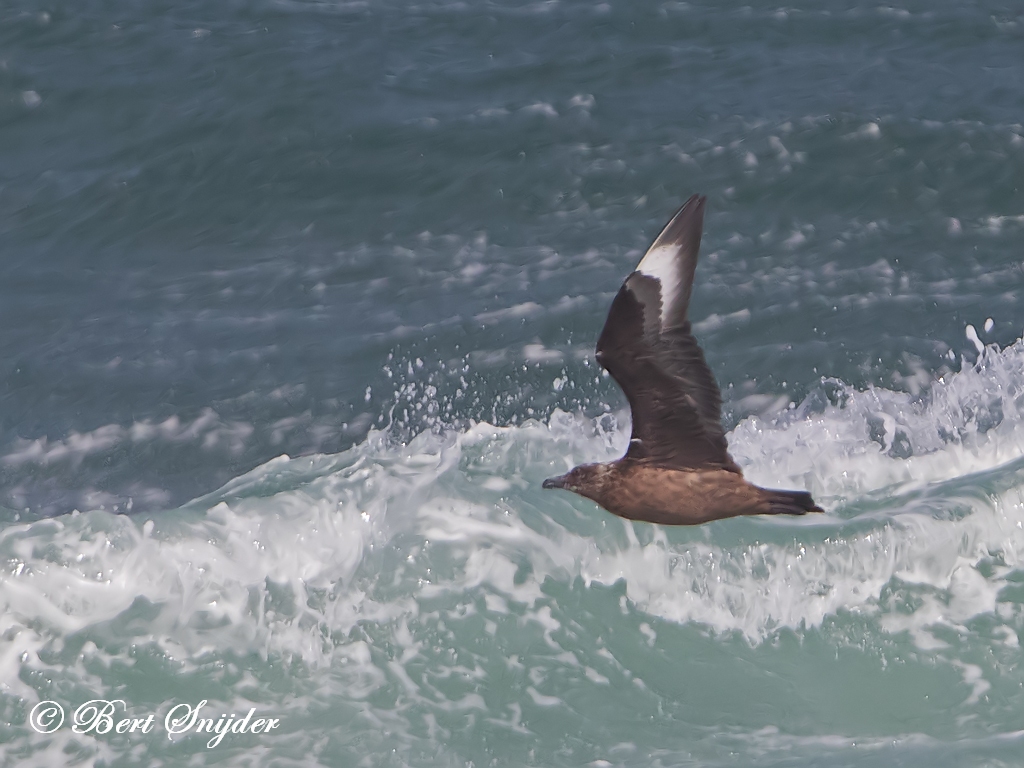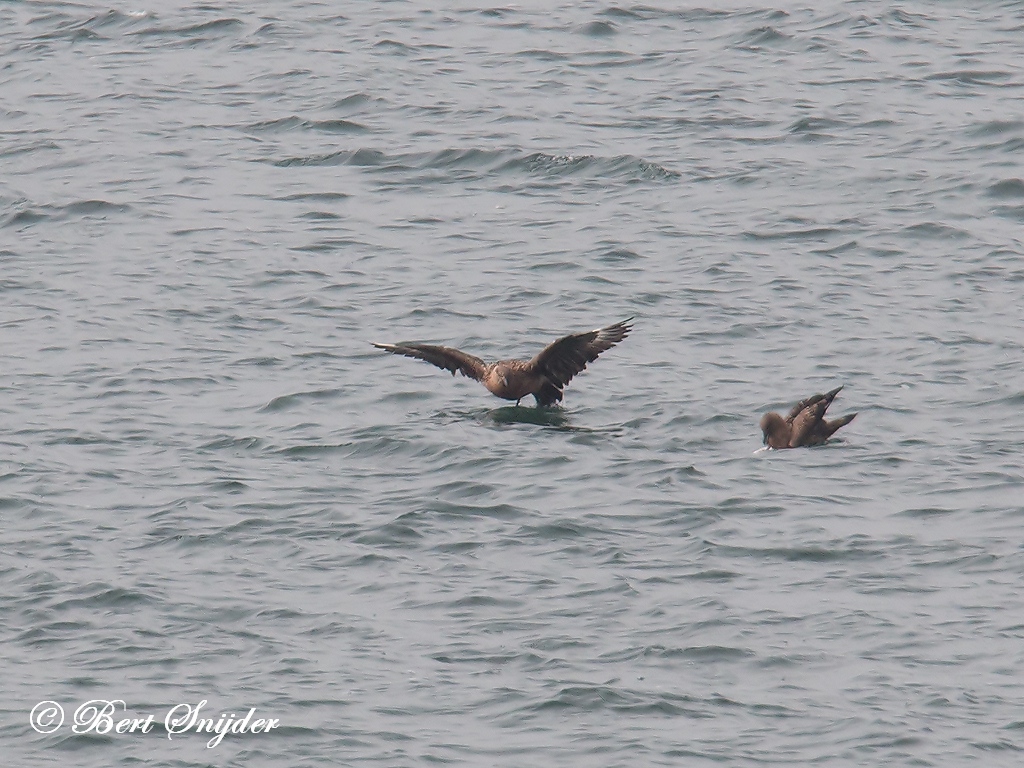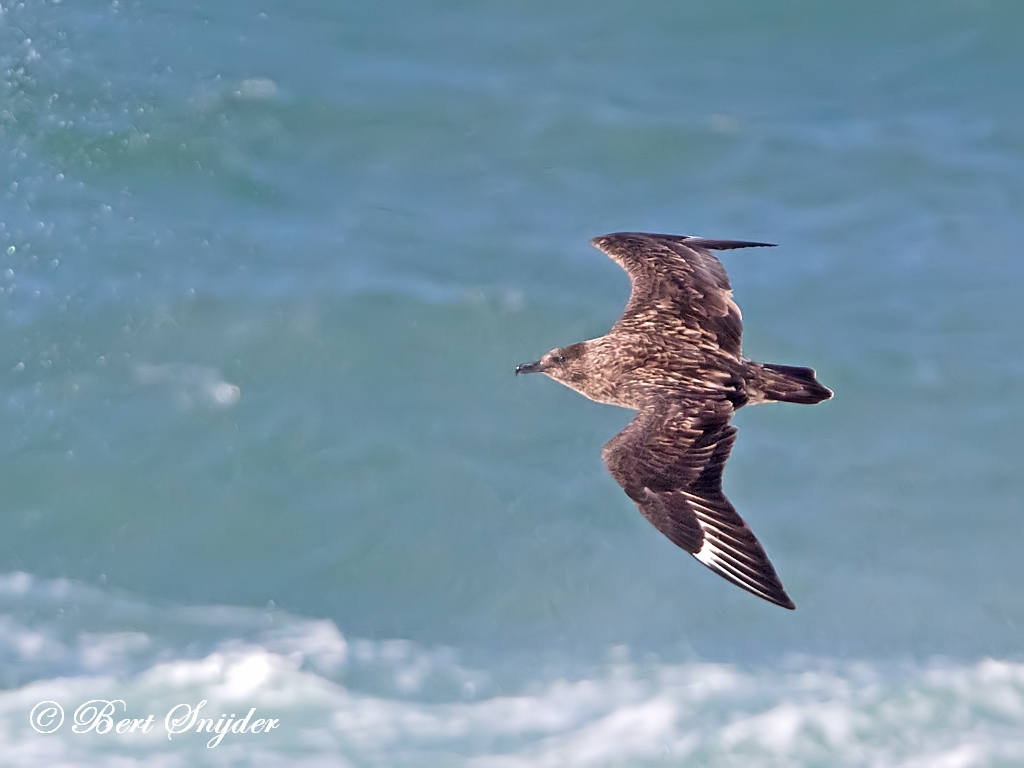 Other synonyms:
Afrikaans: Suidpoolroofmeeu
Asturian: Cágalu
Breton: Ar sparfell-vor bras
Catalan: Paràsit gros
Catalan (Balears): Paràsit gros
Czech: Chaluha velká
Welsh: Gwylan frech, Sgiwen fawr, Ysgiwen fawr, Ysgiwen fwyaf
Danish: Storkjove
German: Grosse Raubmöwe, GroßeRaubmöwe, Skua
English: Bonxie, Brown Skua, Common Skua, Great Jaeger, Great Skua, Northern Jaeger, Northern Skua, Skua, Southern Skua
Esperanto: granda rabmevo
Spanish: Escúa común, Págalo Grande
Spanish (Argentine): Escúa común
Spanish (Colombia): Págalo Grande
Spanish (Mexico): págalo grande
Spanish (Uruguay): Skúa Chilena
Spanish (Venezuela): Salteador Mayor
Estonian: Suuränn
Basque: Paràsit gros
Finnish: Isokihu
Faroese: Skúgvur, Skúvur
French: Grand Labbe, Labbe catharacte
Irish: Meirleach Mór
Gaelic: Bonxie, Fàsgadair Mòr, Fasgadair Mor Tuilleag, Fàsgadan
Galician: Paràsit gros
Manx: Maarliagh Marrey
Hungarian: Nagy halfarkas
Icelandic: Skúmur
Italian: Stercorario maggiore
Japanese: ootouzokukamome
Cornish: Gwagel
Latin: Catharacta skua, Catharacta skua skua, Megalestris skua, Stercocarius skua, Stercorarius skua, Stercorarius skua skua
Maori: Hakoakoa
Maltese: ?iefa Kbira
Dutch: Grote Jager
Norwegian: Storjo
Polish: Skua, Wydrzyk dlugosterny, wydrzyk wielki
Portuguese: dizimeiro, dizimeiro-grande, Gaivota rapineira grande, gaivota-rapineira, gaivota-rapineira-grande, mandrião-antártico, mandrião-chileno, mandrião-do-sul, mandrião-grande, Mandrião-grande / Alcaide, moleiro grande, Moleiro-grande
Portuguese (Brazil): dizimeiro, dizimeiro-grande, gaivota-rapineira, gaivota-rapineira-grande, mandrião-antártico, mandrião-chileno, mandrião-do-sul, Mandrião-grande, moleiro-grande
Romansh: muetta gronda
Northern Sami: Áhpeháskil
Slovak: pomorník skua
Slovenian: velika govnacka, velika govna?ka
Swedish: Storlabb
Turkish: büyük korsanmarty

Birders Birdwatching Holiday in the Alentejo region of Portugal, Individual guided tours, trips, excursions and birding holiday.