Great Bustard, Grote Trap, Großtrappe, Abetarda-comum, Avutarda Euroassiática
Spotted in the Alentejo region of Portugal.
The Great Bustard, Otis tarda, is in the bustard family, the only member of the genus Otis. It breeds in southern and central Europe, where it is the largest species of bird, and across temperate Asia. European populations are mainly resident, but Asian birds move further south in winter.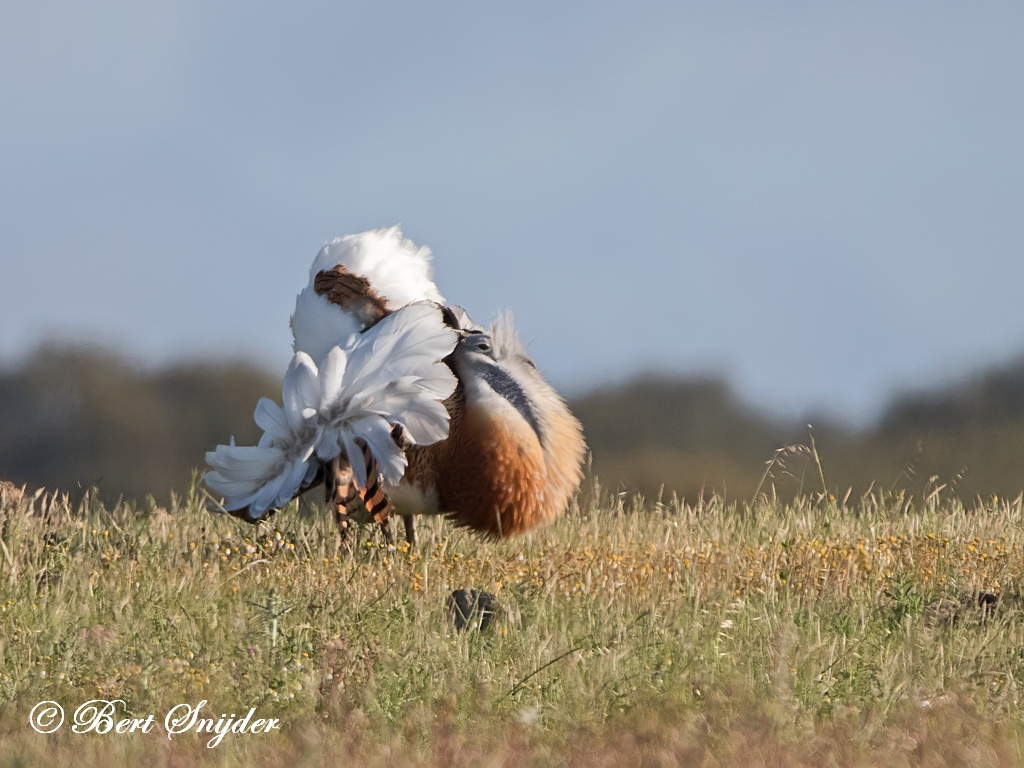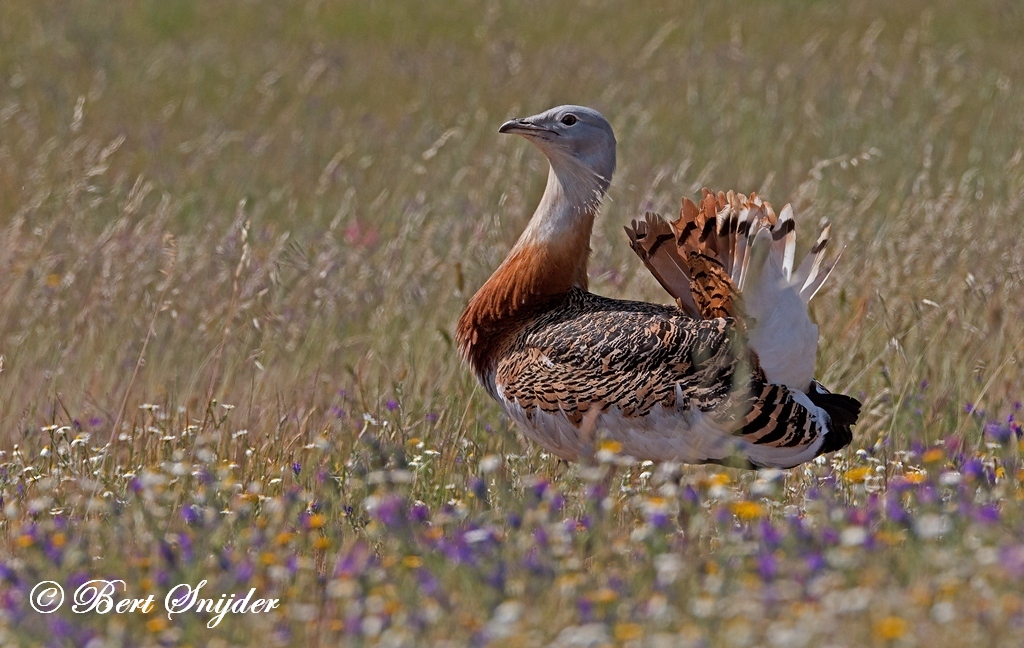 More photos at the bottom of this page:
The male of this huge bird is possibly the heaviest living flying animal, alongside the similarly sized Kori Bustard. An adult male typically is 90–110 cm (3.0–3.6 ft) long with a 2.1–2.5 m (6.9–8.2 ft) wingspan and usually weighs from 10 to 16 kg (22 to 35 lb). The heaviest known bird was about 21 kg (46 lb), although larger specimens have been reported but not verified. An adult male is brown above and white below, with a long grey neck and head. The breast and lower neck sides are chestnut. In the breeding season, the male has long white neck bristles. In flight, the long wings show large areas of white.

The female is 30% smaller (typically 80 cm in length and 1.8 m across the wings) and one-third the weight of the male, averaging 3.5–5 kg (7.7–11 lb). Perhaps because of this, there is a skewed sex ratio of about 1.5:1 female to male. The breast and neck of the female are buff. Both sexes are usually silent. Immature birds resemble the female.
Before mating, the males moult into their breeding plumage around January. Like other bustards, the male Great Bustard has a flamboyant display showing much white, mainly from the undertail, and withdrawing the head. The Great Bustard breeds in March, and a single male may mate with up to 5 females. All breeding Great Bustards also moult again from June to September.

Two or three olive or tan coloured, glossy eggs are laid in a small ground scrape. The female incubates the eggs alone for around 4 weeks. The chicks almost immediately leave the nest after they hatch, although they do not move very far from their mother until they are at least 1 year old. Males usually start to mate from about 5 years old. Great Bustards typically live for around 10 years, but some have been known to live up to 15 years or more.
This bird's habitat is open grassland, although it can be found on undisturbed cultivation. It has a stately slow walk, and tends to run when disturbed rather than fly. It is gregarious, especially in winter. This species is omnivorous, taking seeds, insects and other small creatures, including frogs and beetles.
The bustards, despite their large size, are able to fly at a high velocity (60 kilometre/hour) and are often mutilated or killed by the cables which are placed in Hungary just at their flying heights. The electricity companies affected will bury only part of the dangerous cables, therefore the authorities are experimenting with fixing fluorescent "Firefly" devices on the most dangerous cables to provide the birds with warning lights.
The Great Bustard, túzok in Hungarian, is a national bird of Hungary and a subject of several proverbs.
Sizeable populations exist in Portugal (1,435 birds), Russia (8,000 birds), Spain (23,055 birds), Mongolia (1,000 birds) and Turkey (800 – 3,000 birds). Elsewhere, the populations are declining due to habitat loss throughout its range. A sizeable population also exists in Hungary (1,100 – 1,300 birds) where the Eastern European steppe zone ends, near Dévaványa town and also in the Hortobágy, Nagykunság and Nagy-Sárrét regions. The population is down from a population of 10,000-12,000 before the Second World War. The Hungarian authorities are seeking to preserve the long-term future of the population by active protection measures: the area affected by the special ecological treatment had grown to 15 square kilometres by the summer of 2006.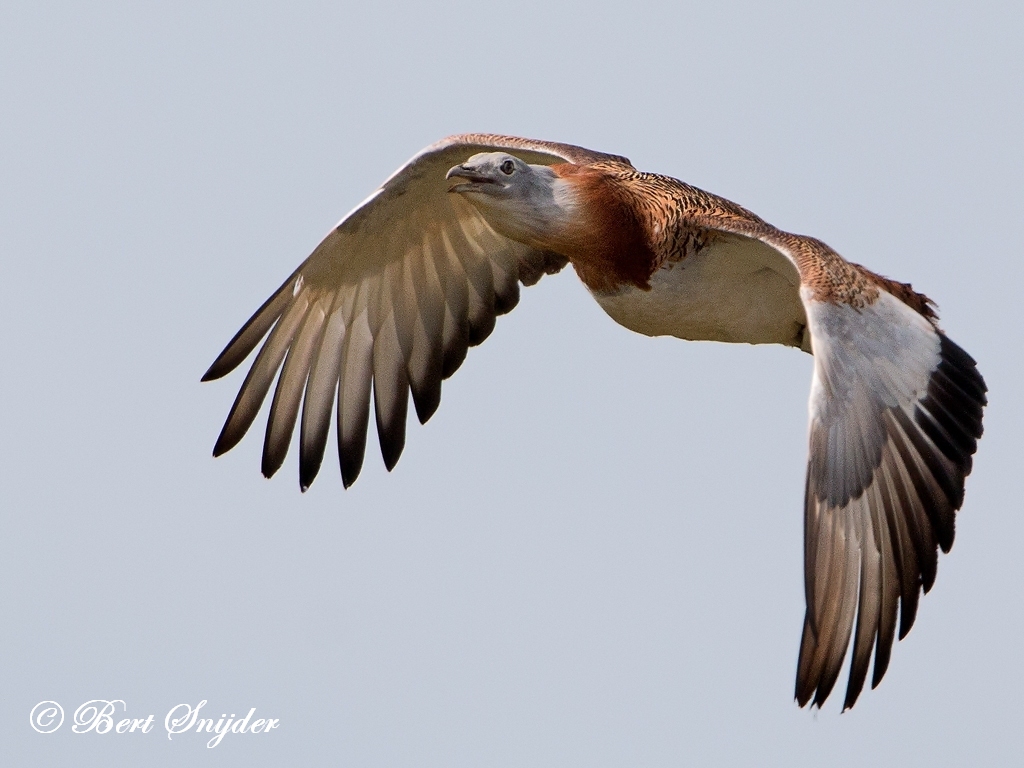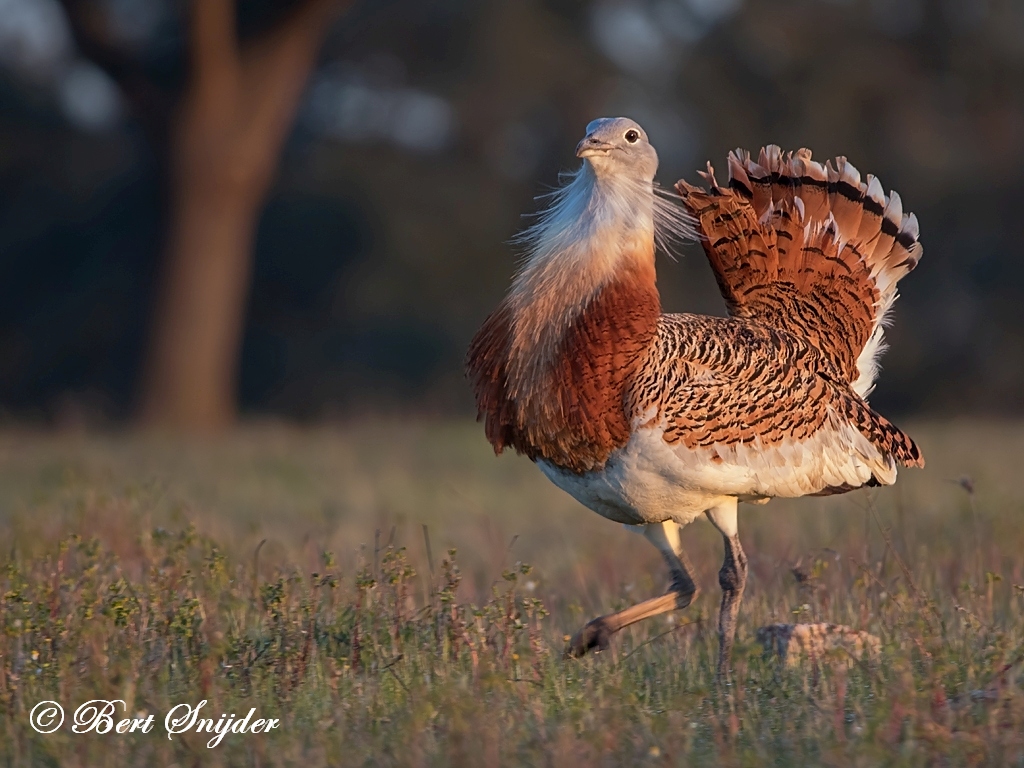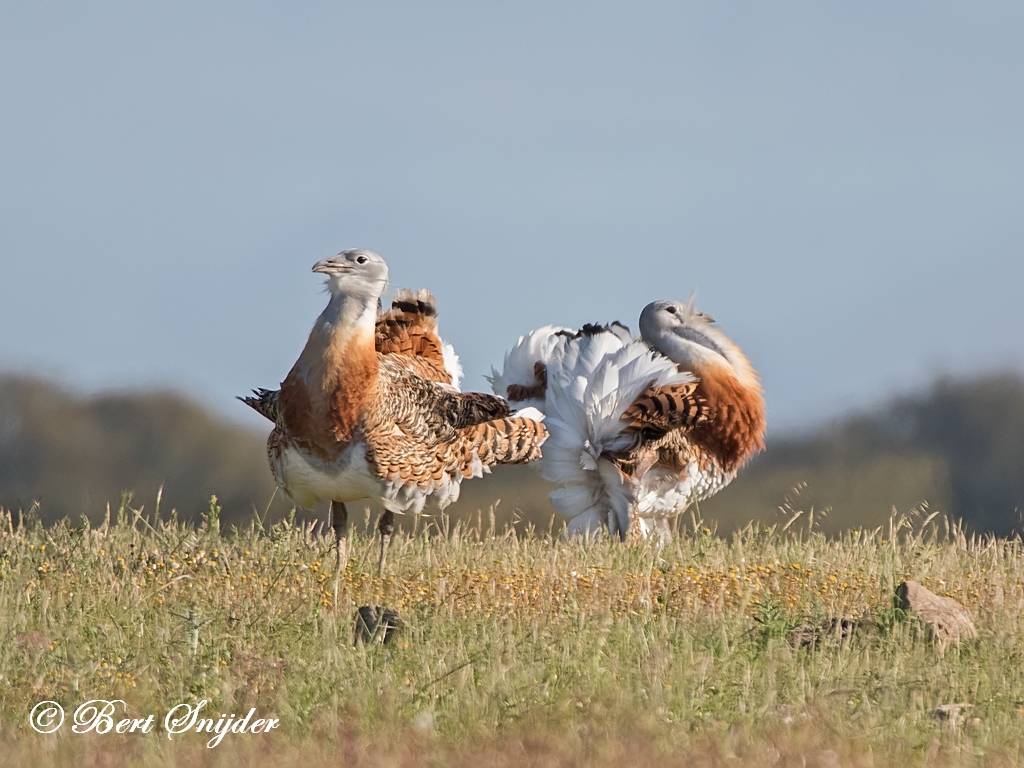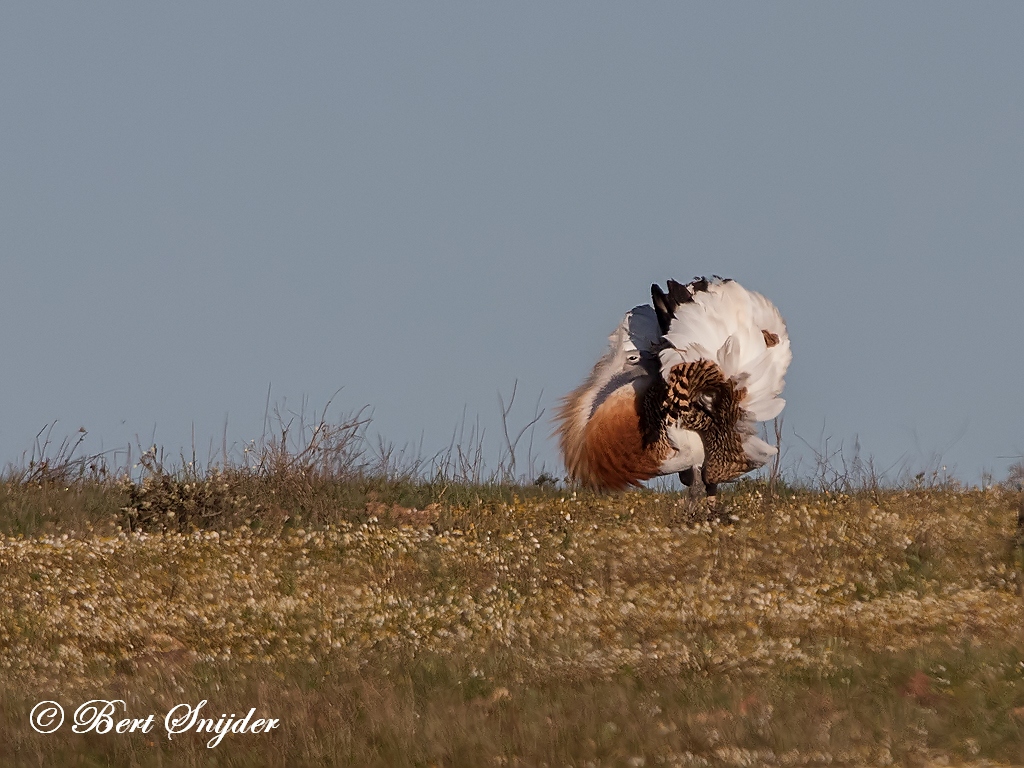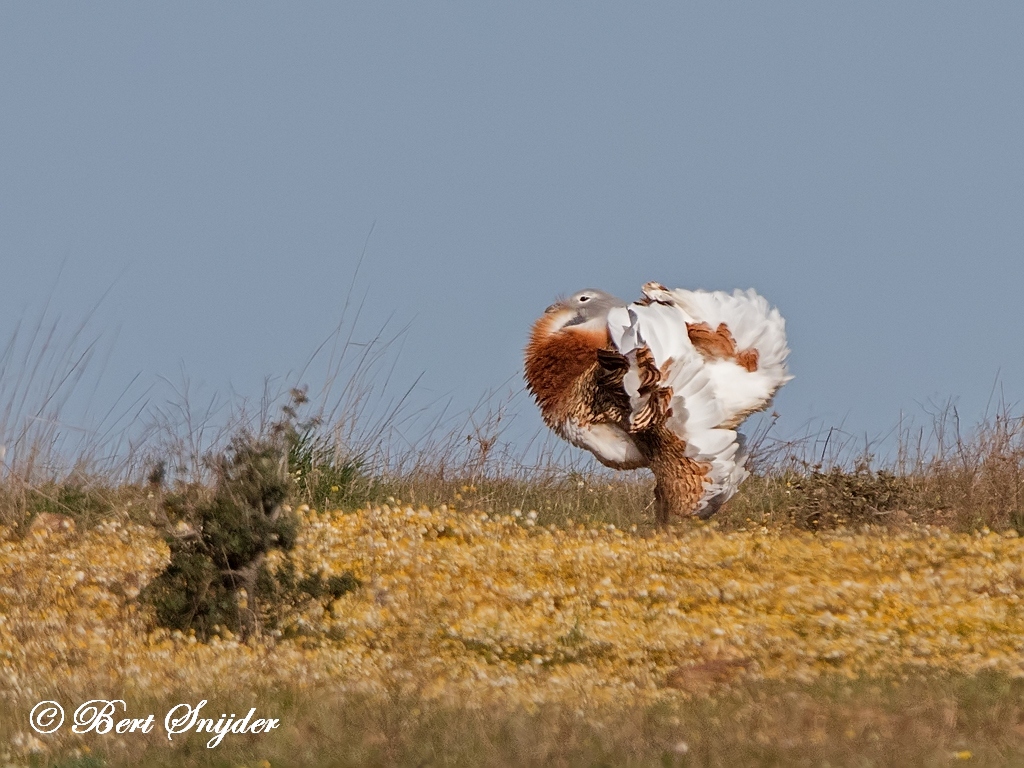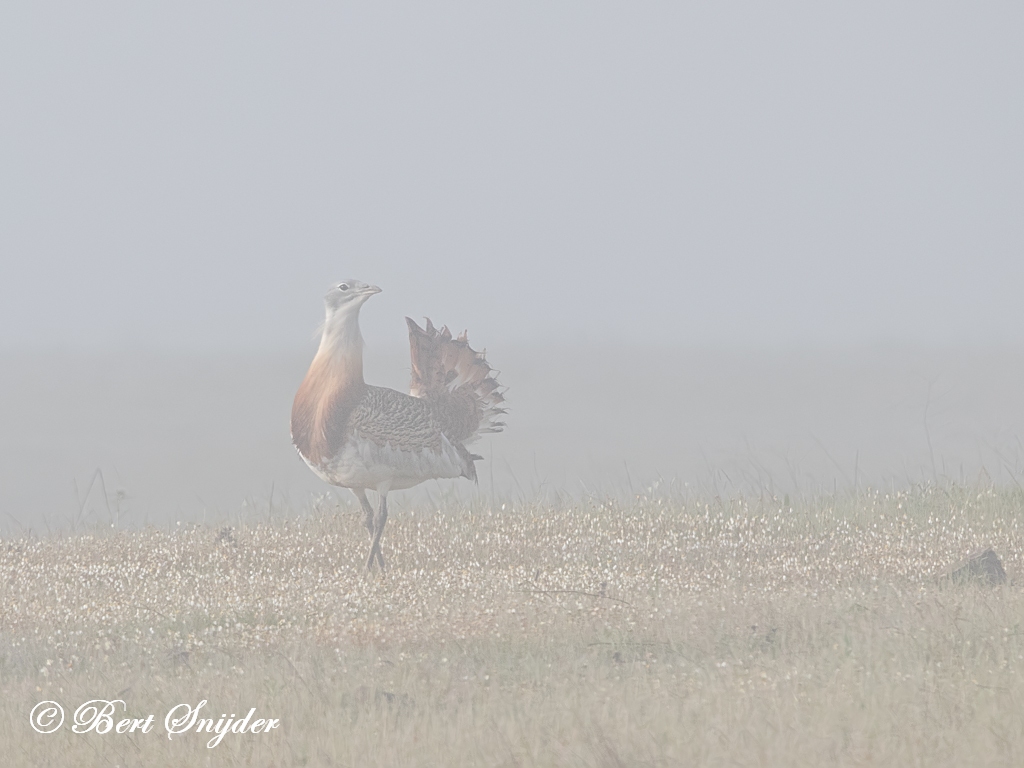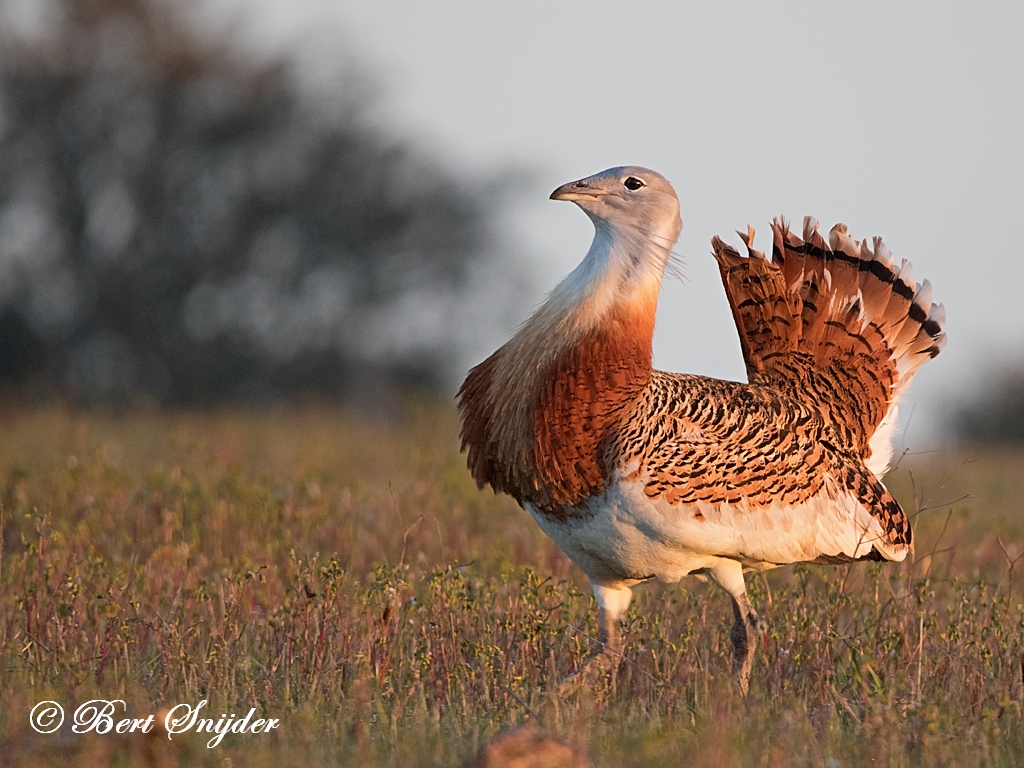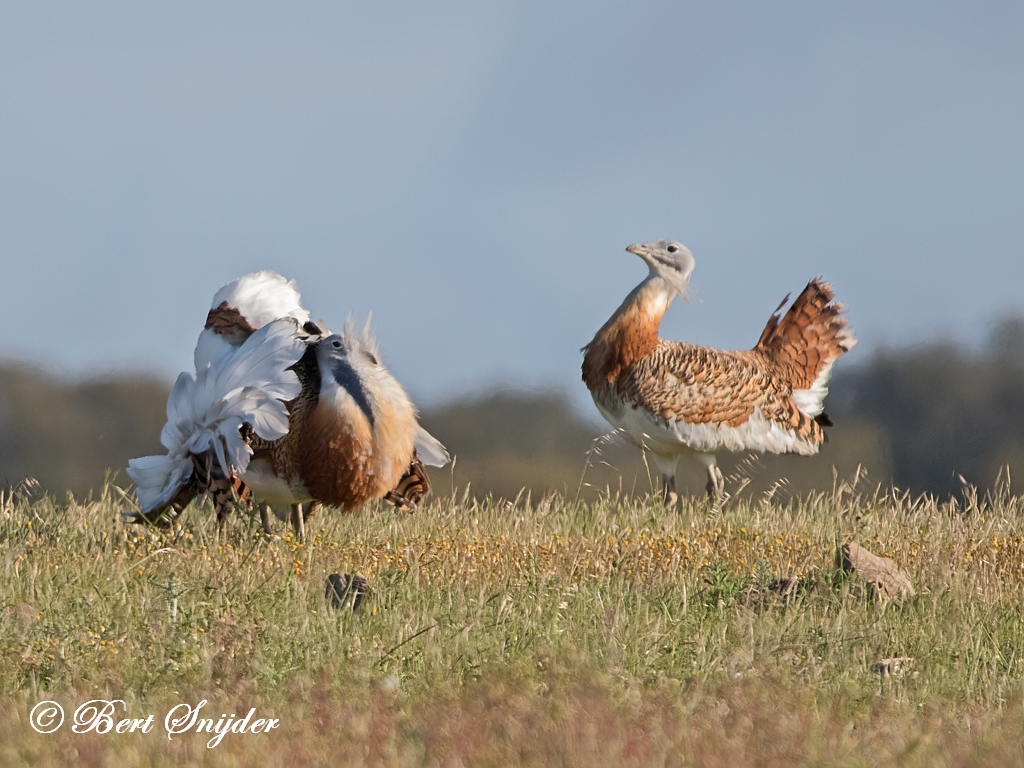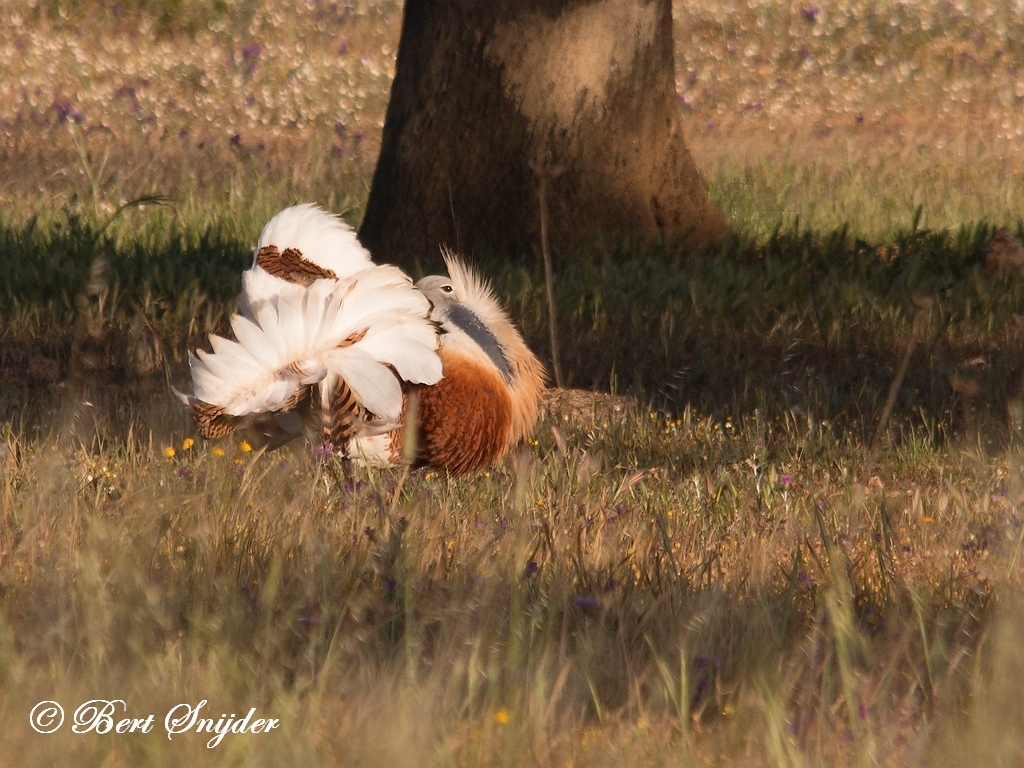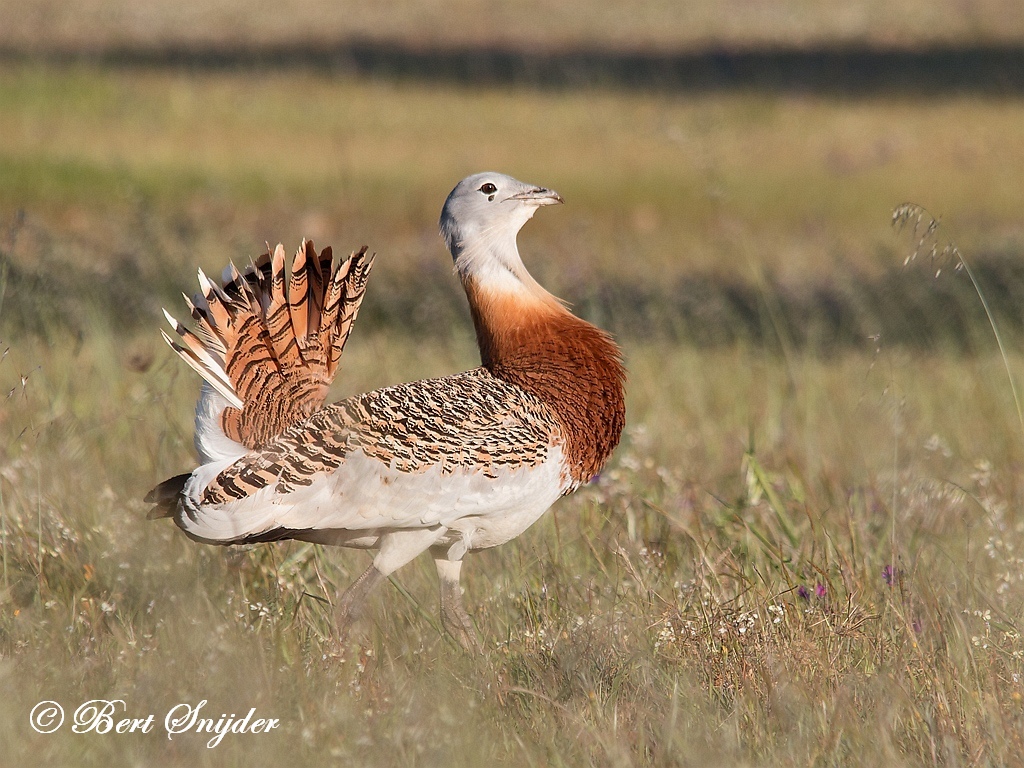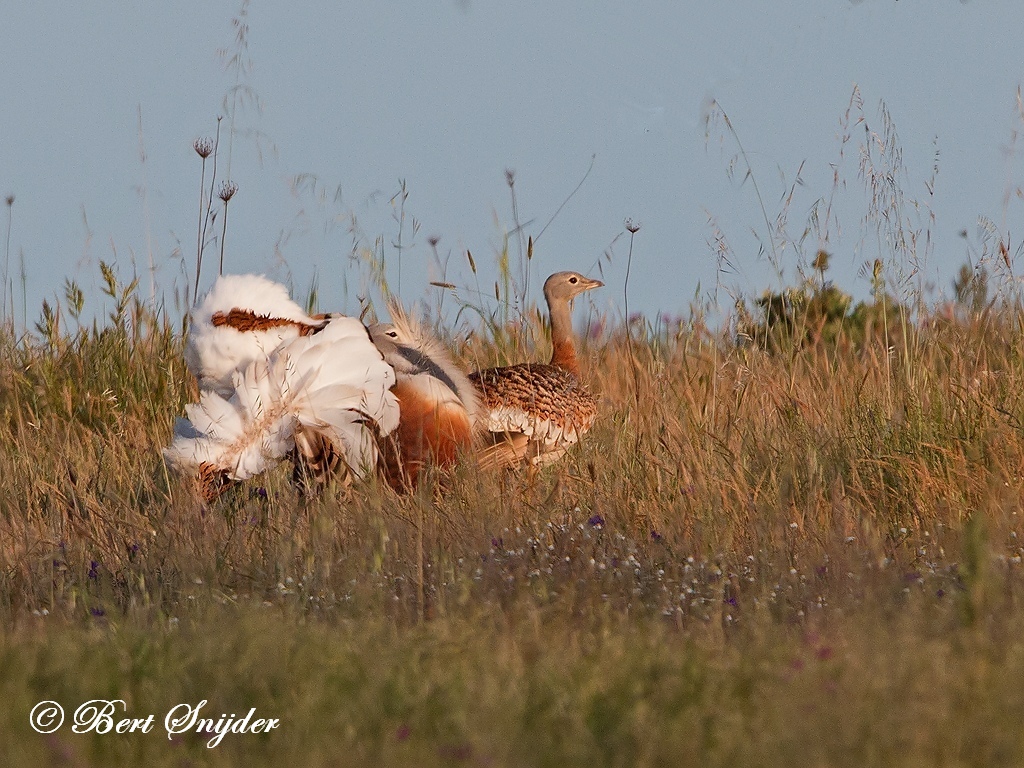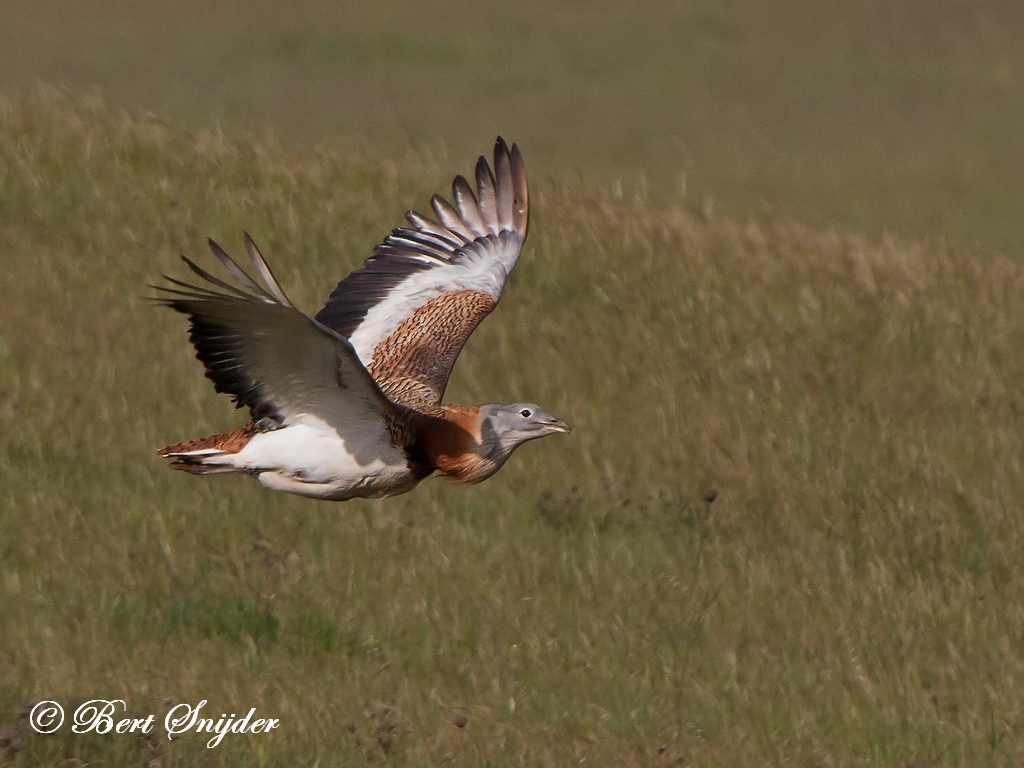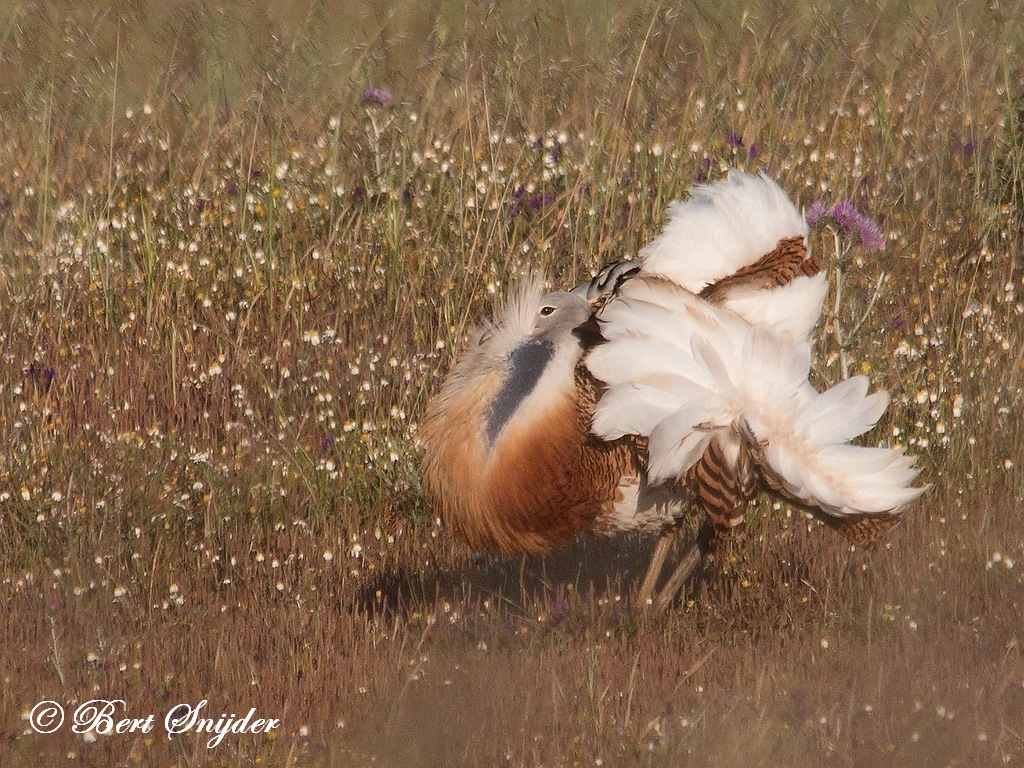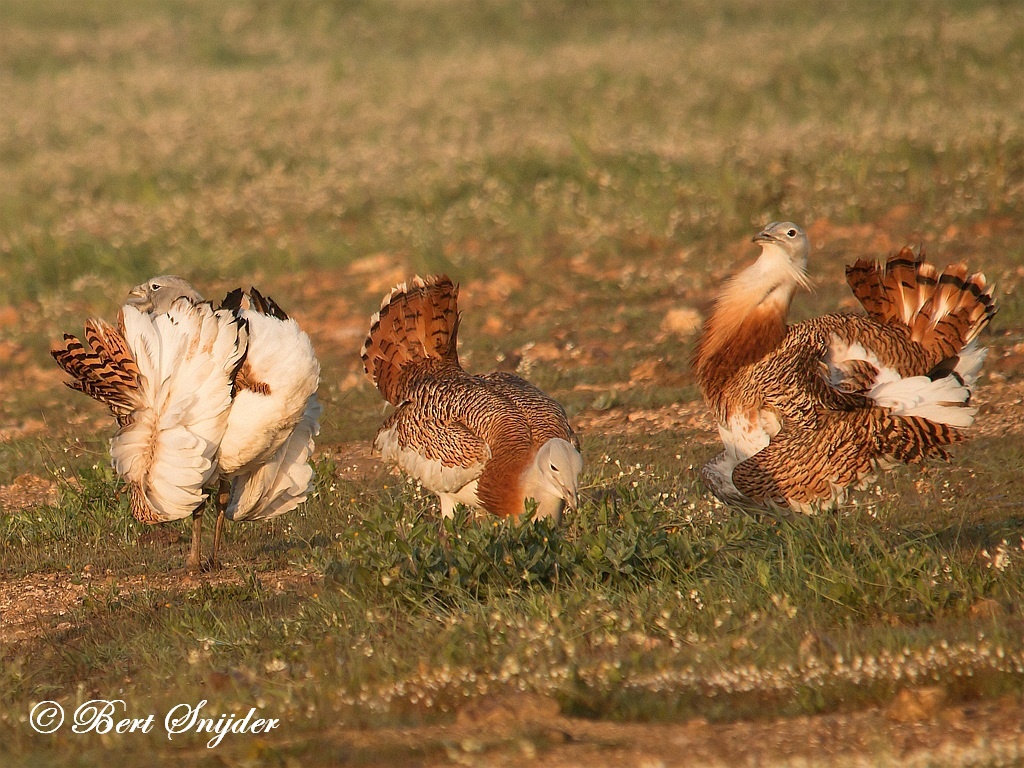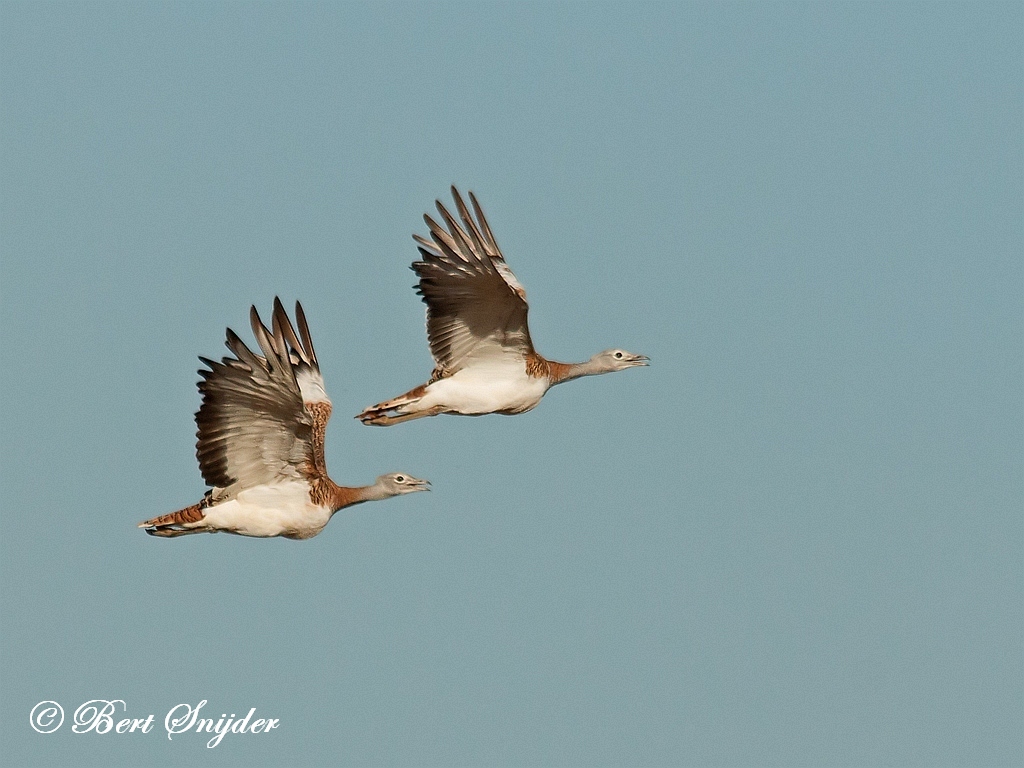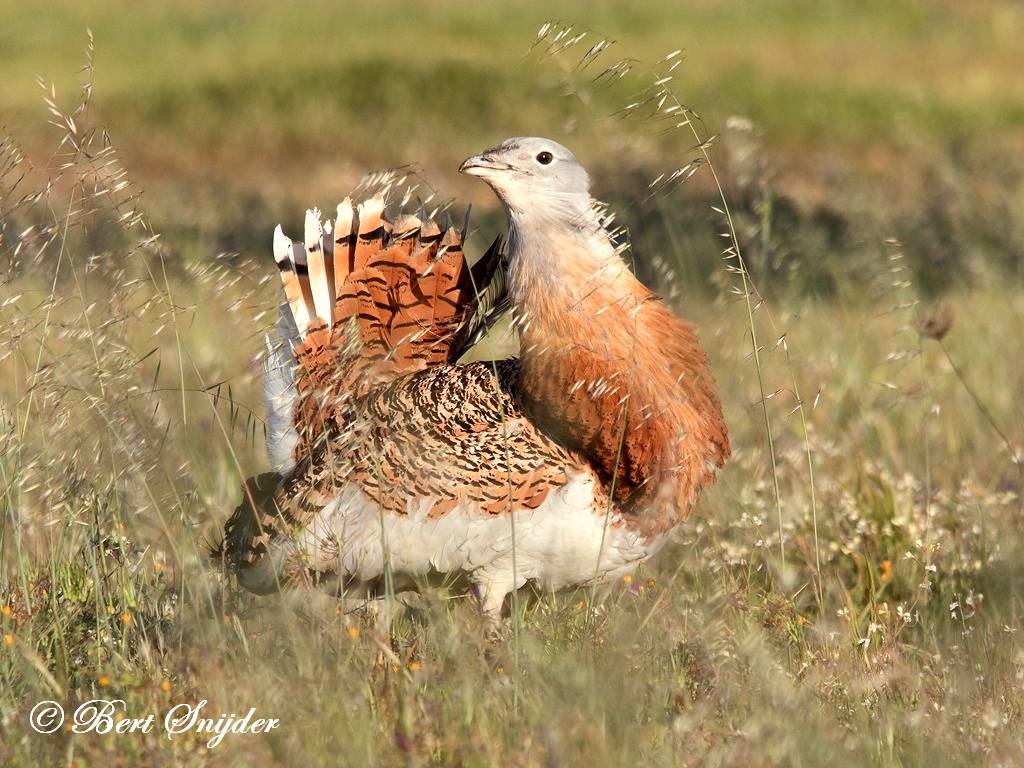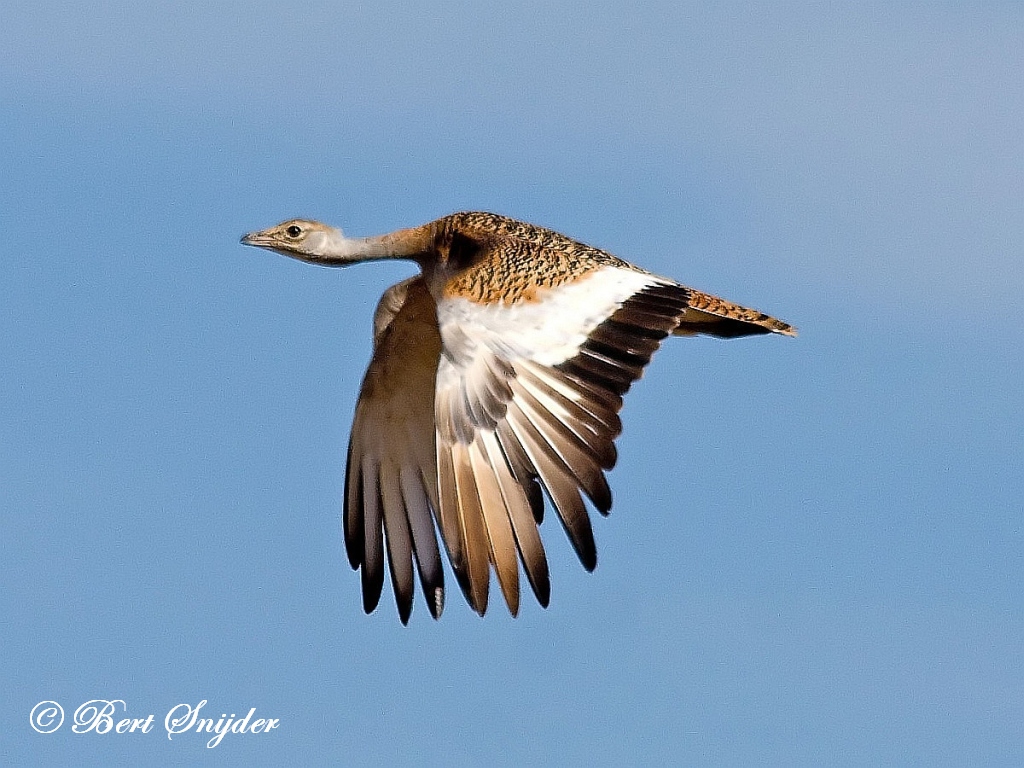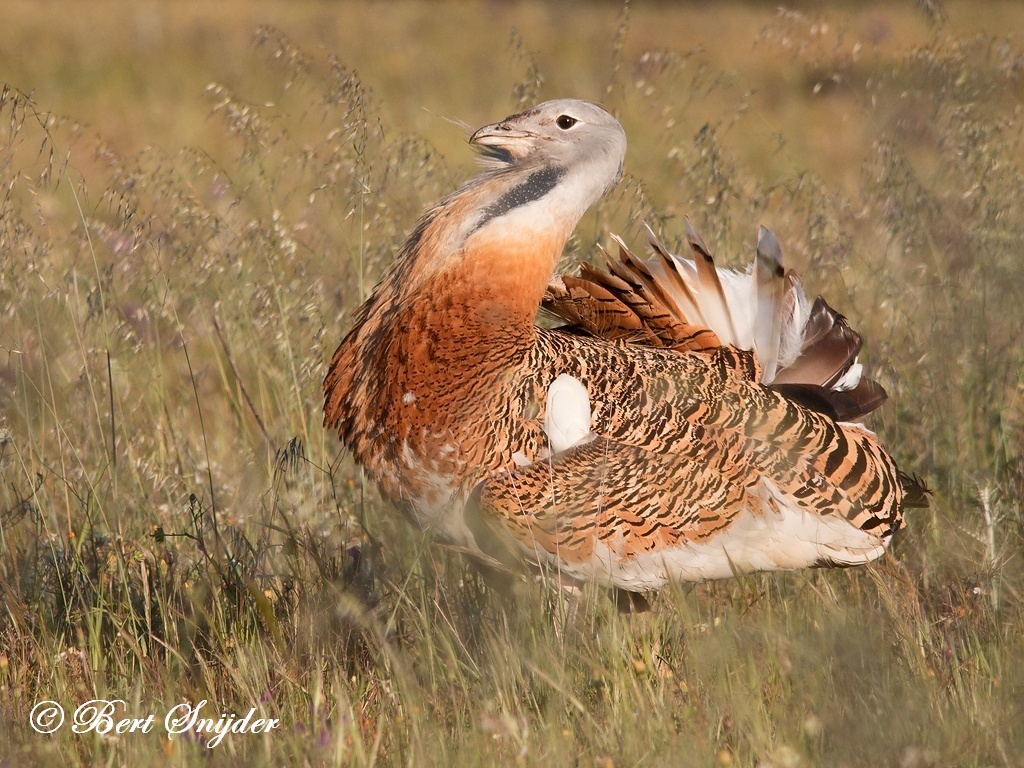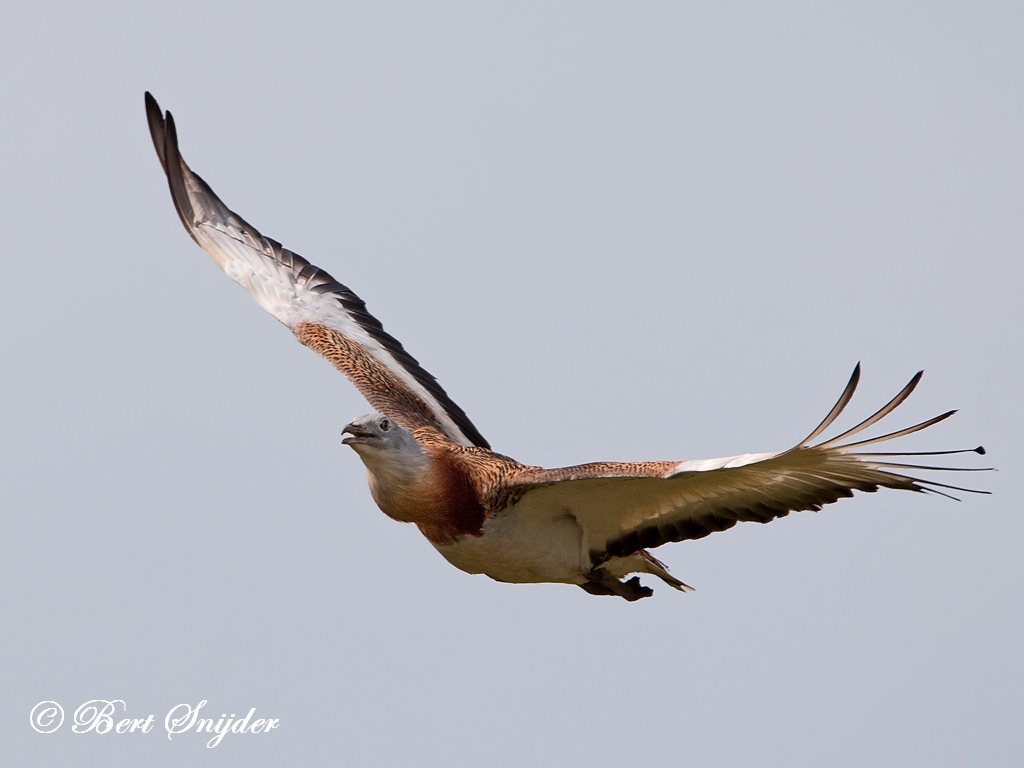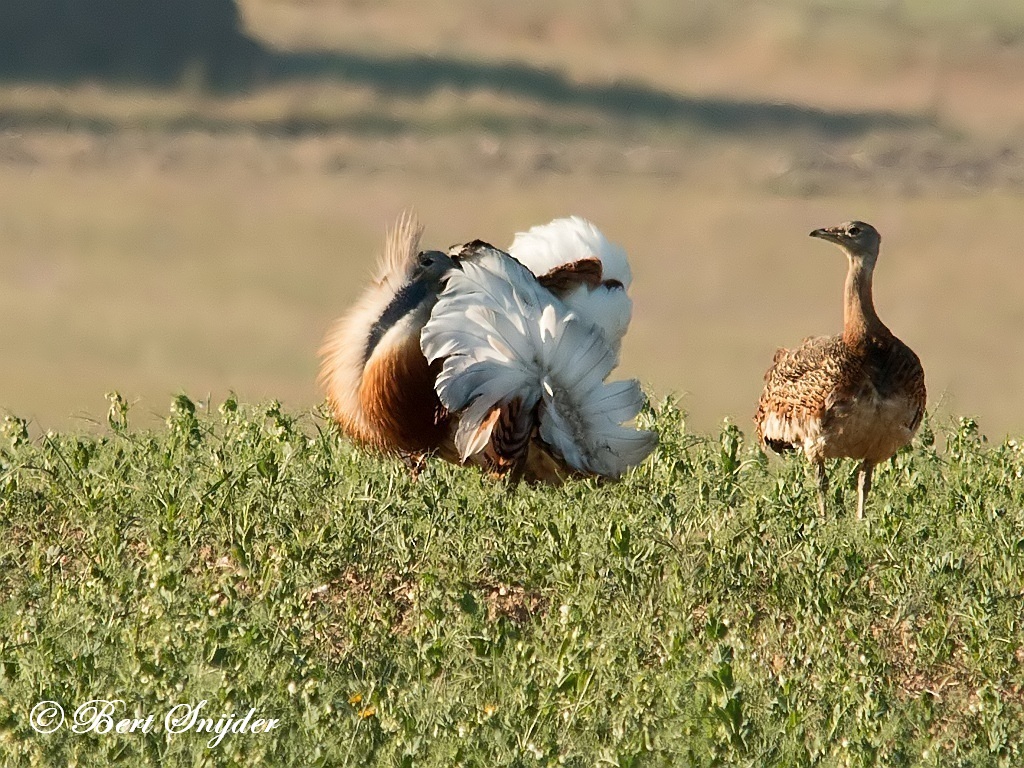 Other synonyms:
Azerbaijani: Dovdaq
Catalan: Fotja, Pioc salvatge
Valencian: Fotja
Czech: Drop velký
Welsh: Bwstard mawr, Ceiliog y waun, Iâr y gwerni, Twrci'r gwerni
Danish: Stortrappe
German: Großtrappe
Emiliano-romagnolo: Folga
English: Giant Bustard, Great Bustard
Esperanto: granda otido
Spanish: Avutarda, Avutarda Común, Avutarda Euroasiática, Avutarda Europea
Estonian: Suurtrapp
Basque: Basoilo handi, Basoilo handia, Pioc salvatge
Finnish: Isotrappi
Faroese: Tvagla
French: Grande Outarde, Outarde barbue
Frisian: Grutte Trap
Irish: Bustard Mór
Gaelic: Coileach Frangach
Galician: Avetarda, Pioc salvatge
Manx: Turkee feie
Croatian: Droplja, Veliki potrk
Hungarian: Túzok
Icelandic: Trölladoðra, Trölldoðra
Italian: Folega, Otarda, Otarda eurasiatica, Starda
Brescian: Folega
Japanese: nogan, No-gan
Cornish: Gwernyar
Latin: Otis tarda
Lithuanian: Didysis einis
Maltese: Pitarrun
Dutch: Grote Trap
Norwegian: Stortrappe
Polish: drop, drop (zwyczajny), Drop zwyczajny
Portuguese: abetarda, Abetarda-comum
Romansh: Droppa gronda
Romanian: Dropie
Russian: Drofa
Scots: Coileach Frangach
Slovak: Drop fúzatý
Slovenian: velika droplja
Albanian: Pula me mjekër
Serbian: Droplja, velika droplja
Swedish: Stortrapp
Turkish: Büyük Toy
Travel Birdwatching Holiday Alentejo, Vacation Portugal for birders to see birds on your trip Guided Birdwatching Tours