Golden Plover, Goudplevier, Goldregenpfeifer, Tarambola-dourada, Chorlito Dorado Europeo
Spotted  in the Alentejo region of Portugal.                                   Golden Plover sound    
The European Golden Plover (Pluvialis apricaria) is a largish plover. This species is similar to two other golden plovers. American Golden Plover, Pluvialis dominiica, and Pacific Golden Plover, Pluvialis fulva, are both smaller, slimmer and relatively longer-legged than European Golden Plover, and both have grey rather than white axillary feathers (only properly visible in flight).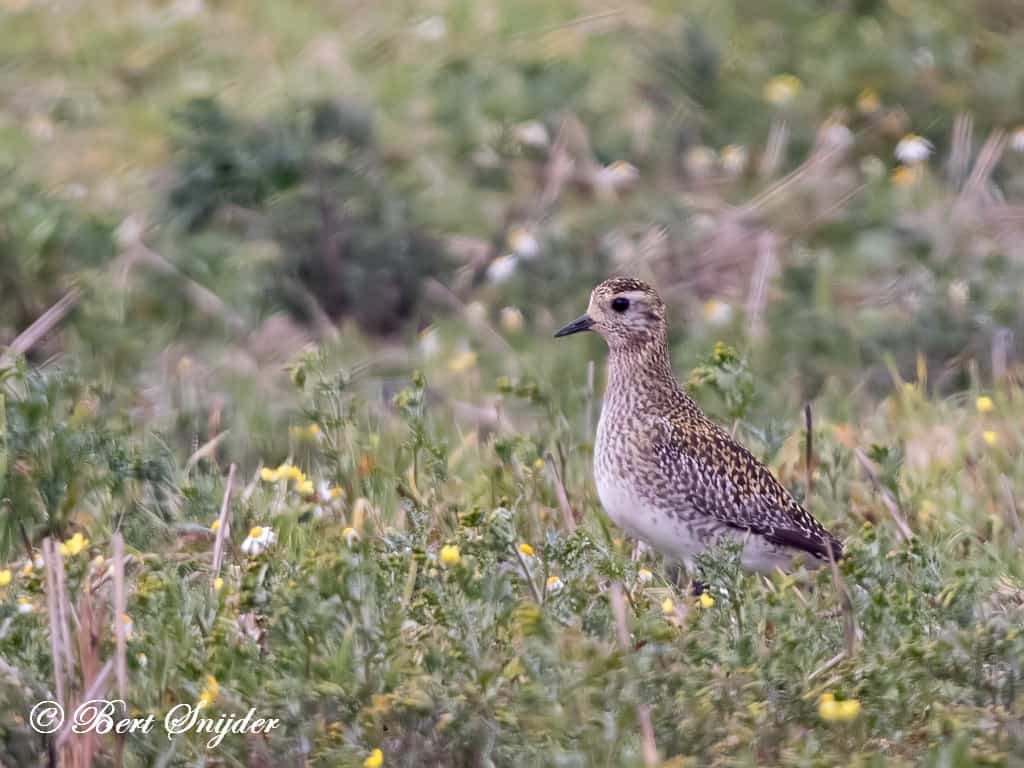 More photos at the bottom of this page:
Breeding adults are spotted gold and black on the crown, back and wings. Their face and neck are black with a white border; they have a black breast and a dark rump. The legs are black. In winter, the black is lost and the plover then has a yellowish face and breast and white underparts.
Their breeding habitat is moorland and tundra in the northernmost parts of Europe and western Asia. They nest on the ground in a dry open area. They are migratory and winter in southern Europe and north Africa. Around 500,000 birds winter in Ireland and Great Britain. Although generally common, its range has contracted somewhat in the past due to habitat destruction. 
These birds forage for food on tundra, fields, beaches and tidal flats, usually by sight, although they will also feed by moonlight. They eat insects and crustaceans, also berries.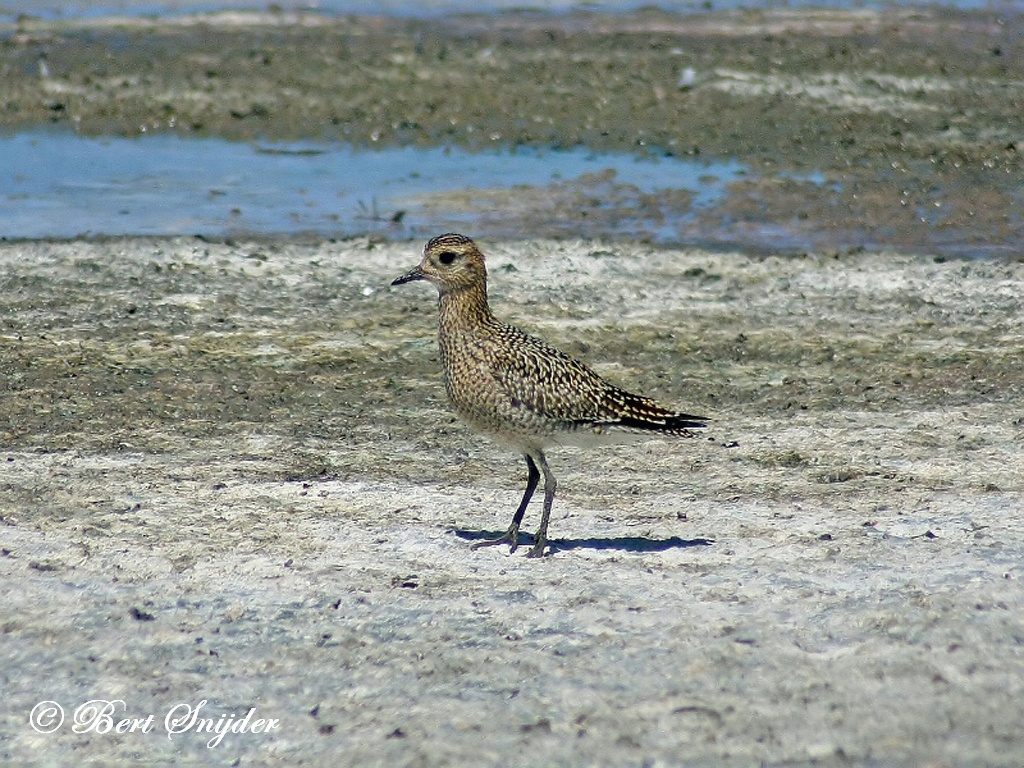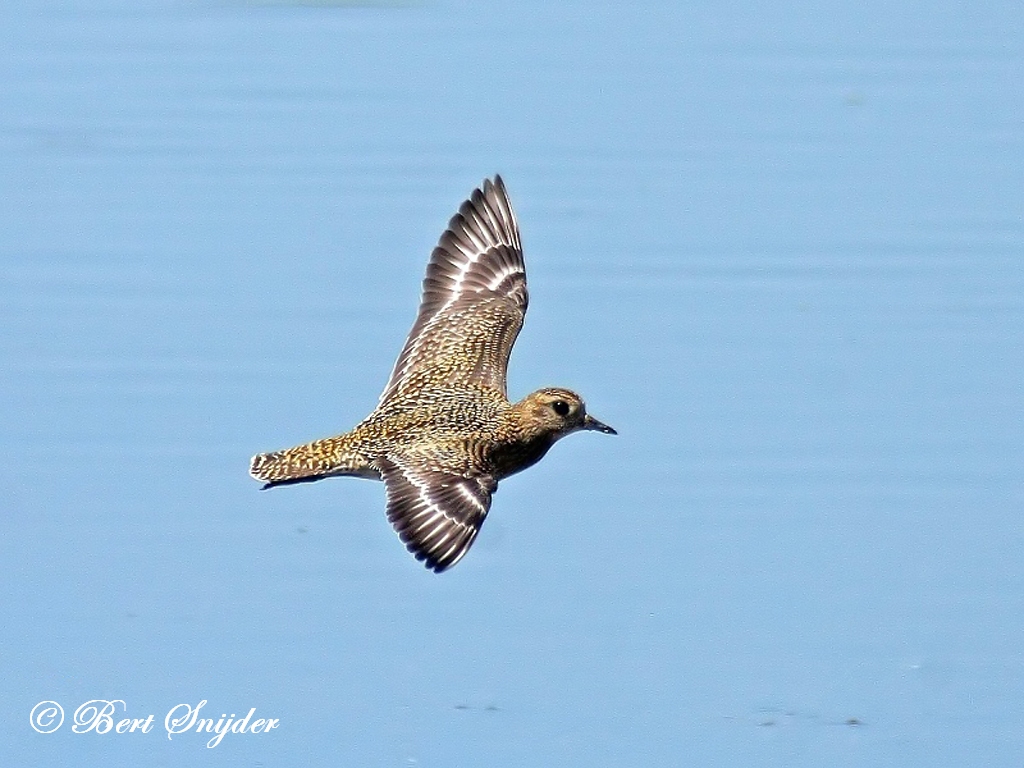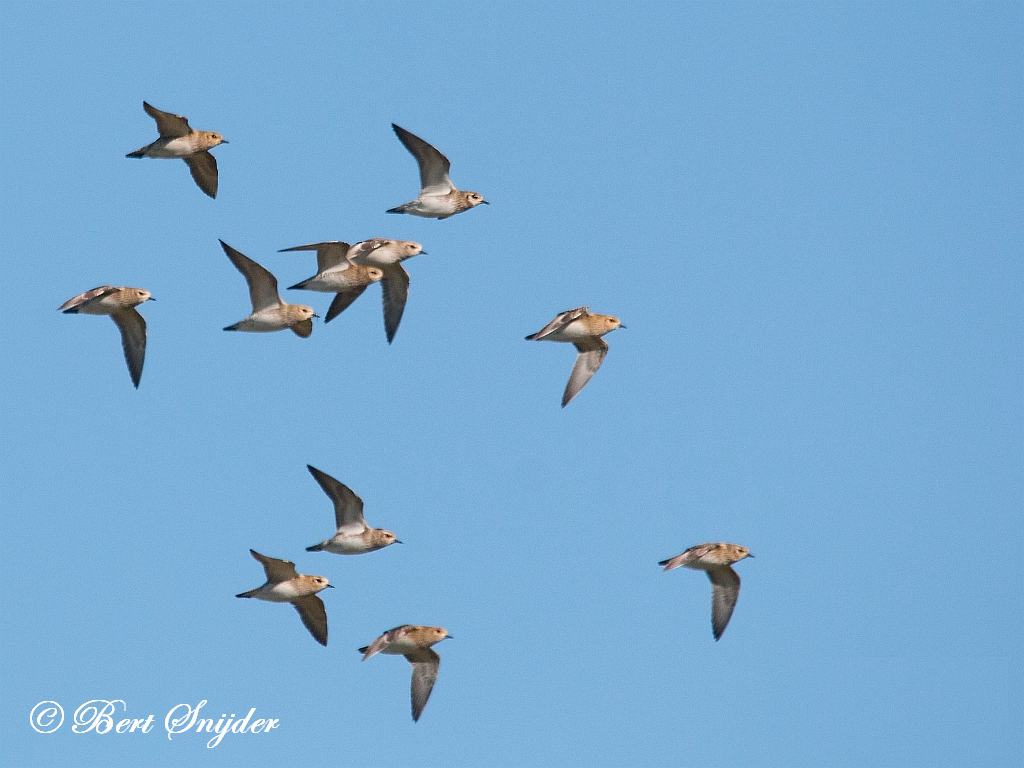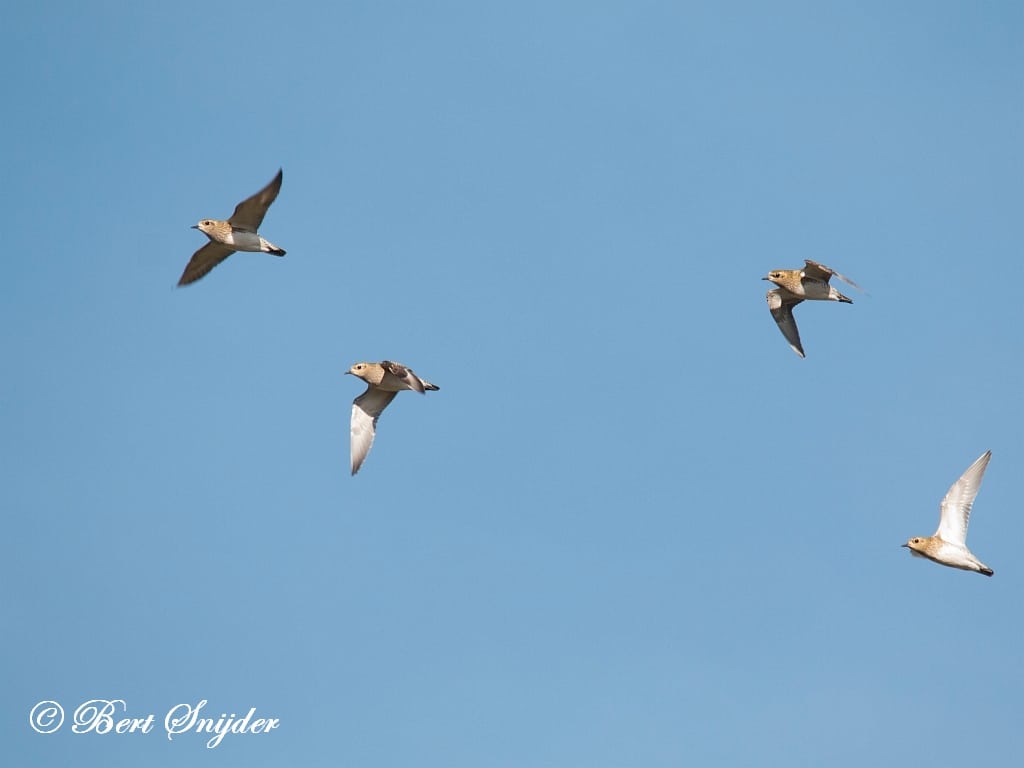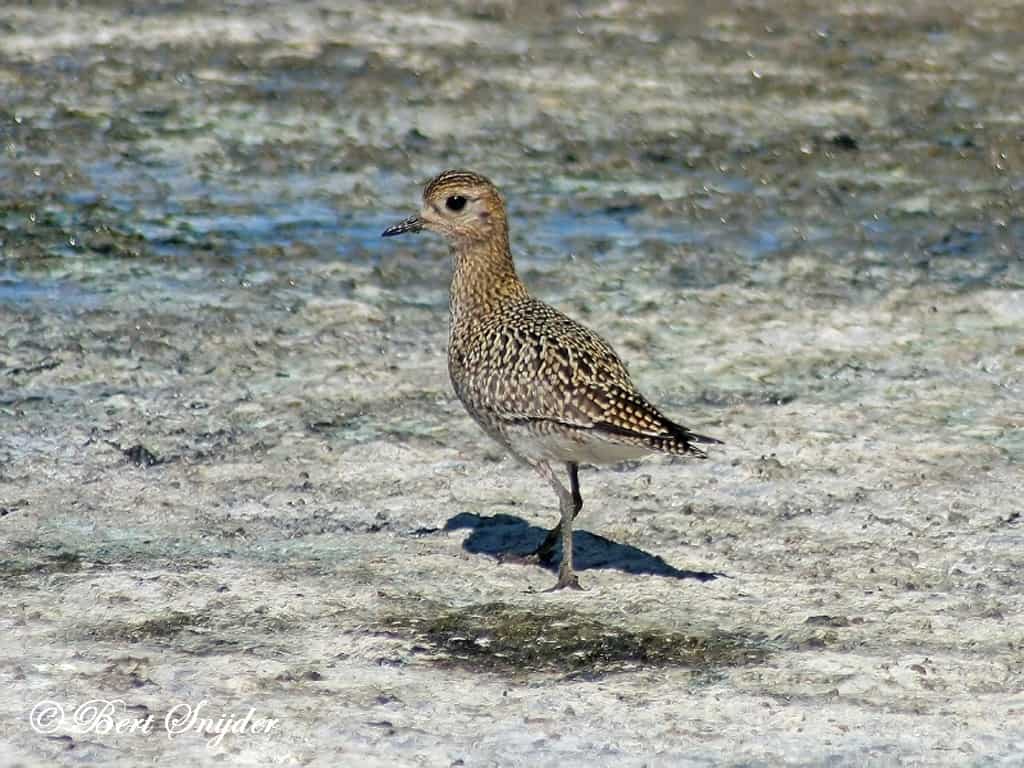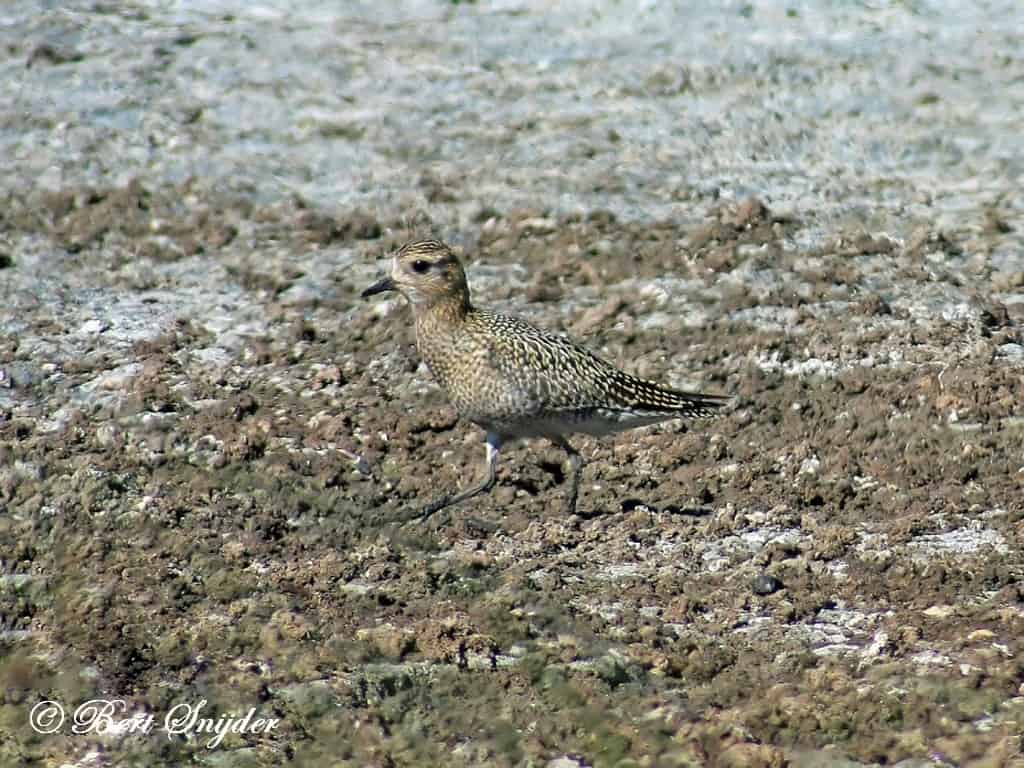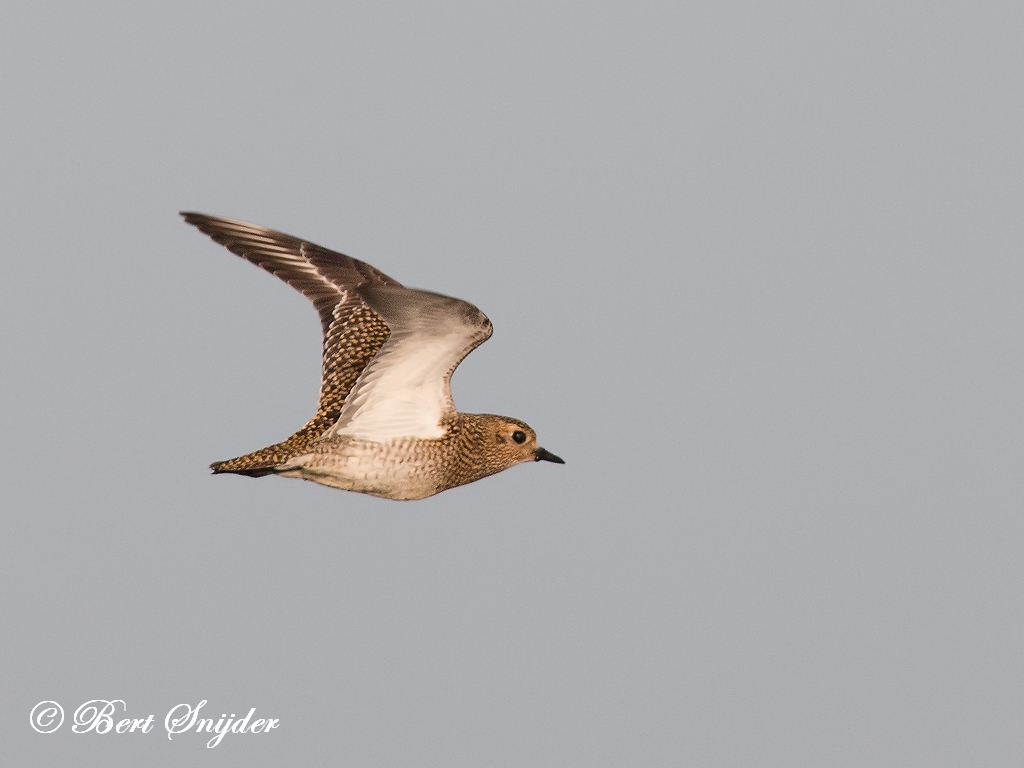 Other synonyms:
Asturian: Pollu Tordu
Breton: Ar morlivid-lann
Catalan: Daurada grossa, Daurada petita del Pacífic, Fuell
Catalan (Balears): Fuell
Valencian: Daurada petita del Pacífic
Czech: Kulík zlatý
Welsh: Chwilgorn y mynydd, Cornicyll aur, Cornicyll y mynydd, Cwtiad aur, Cwtyn aur, Cwtyn yr aur
Danish: Hjejle
German: Goldregenpfeifer
English: Eurasian Golden Plover, Eurasian Golden-Plover, European Goldem Plover, European Golden Plover, European Golden-Plover, Golden Plover, Greater Golden Plover, Greater Golden-Plover, Pacific Golden Plover
Esperanto: orpluvio
Spanish: Chorlito dorado, Chorlito dorado común, Chorlito Dorado Europeo
Estonian: Põldrüüt, Rüüt
Basque: Daurada grossa, Urre-txirri arrunt, Urre-txirri arrunta
Finnish: Kapustarinta, siperiankurmitsa
Faroese: Lógv
French: Pluvier doré, Pluvier doré d'Eurasie
Frisian: Wilster
Irish: Feadóg Bhuí, Feadóg rua
Gaelic: Feadag
Galician: Daurada grossa, Píldora dourada
Manx: Feddag reaisht, Fedjag Reeast, Ushag Reeast
Croatian: Troprsti Zlatar
Hungarian: Aranylile
Icelandic: Heiðlóa
Italian: Piviere dorato, Piviere dorato europeo
Japanese: yoaroppamunaguro, Yooroppa-munaguro, yo-roppamunaguro
Cornish: Cornwhylen owr
Latin: Charadrius apricarius, Pluvialis apricaria
Lithuanian: Dirvinis sejikas, Vingiras
Maltese: Pluviera
Dutch: Goudplevier
Norwegian: Akerlo, Heilo, Helun
Polish: siewka zlota
Portuguese: tarambola dourada, Tarambola-dourada
Romansh: Gravarel dorà
Russian: Zolotistaya Rzhanka
Scots: Feadag
Northern Sami: Bizus
Slovak: Kulík zlatý
Slovenian: zlata prosenka
Albanian: Gjelaci pikalosh ngjyrë ari
Serbian: zujavac zlatar
Swedish: Ljungpipare
Ukrainian:  Swahili: Chokowe Domo-sululu
Travel Birdwatching Holiday Alentejo, Vacation Portugal for birders to see birds on your trip. Guided Birdwatching Tours & Trips