European Bee-eater, Bijeneter, Bienenfresser, Abelharuco-comum, Abejaruco comun
Spotted on Monte Horizonte in the Alentejo region of Portugal                        European Bee-eater sound
The European Bee-eater, Merops apiaster, is a near passerine bird in the bee-eater family Meropidae.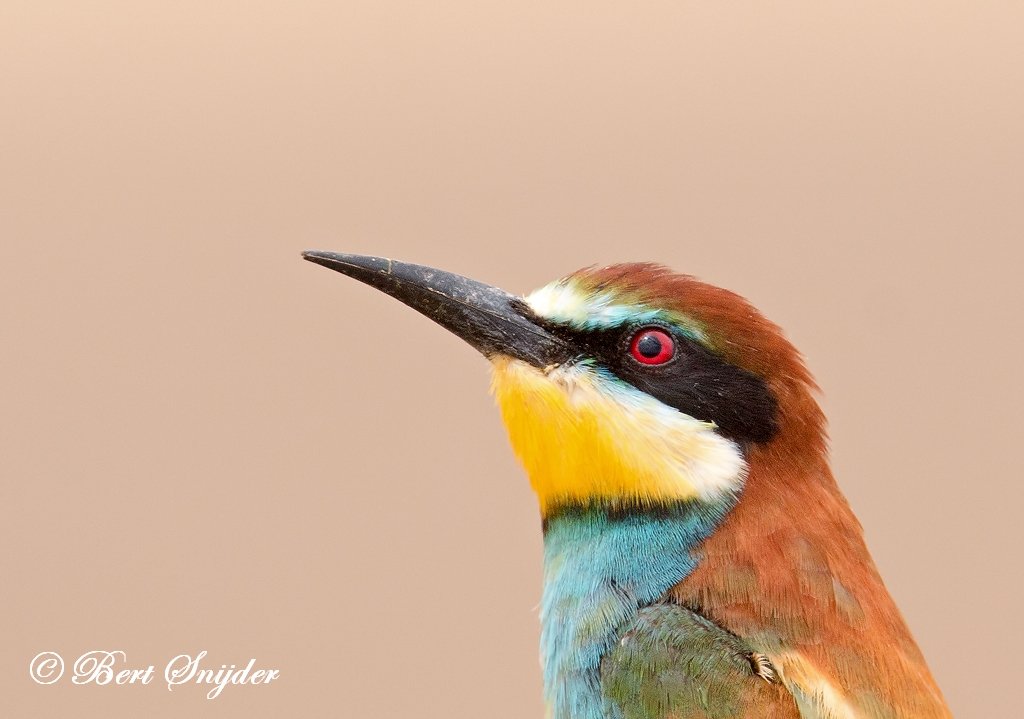 More photos at the bottom of this page:
It breeds in southern Europe and in parts of north Africa and western Asia. It is strongly migratory, wintering in tropical Africa, India and Sri Lanka. This species occurs as a spring overshoot north of its range, with occasional breeding in northwest Europe.
This species, like other bee-eaters, is a richly-coloured, slender bird. It has brown and yellow upper parts, whilst the wings are green and the beak is black. It can reach a length of 27-29 cm, including the two elongated central tail feathers. Sexes are alike.
This is a bird which breeds in open country in warmer climates. Just as the name suggests, bee-eaters predominantly eat insects, especially bees, wasps and hornets which are caught in the air by sorties from an open perch. Before eating its meal, a European Bee-eater removes the sting by repeatedly hitting the insect on a hard surface. It eats some 250 bees daily.
These bee-eaters are gregarious, nesting colonially in sandy banks, preferably near river shores, usually at the beginning of May. They make a relatively long tunnel in which the 5 to 8, spherical white eggs are laid around the beginning of June. Both the male and the female take care of the eggs, which are brooded for about 3 weeks. These birds also feed and roost communally.
The call is a pleasant distinctive trill.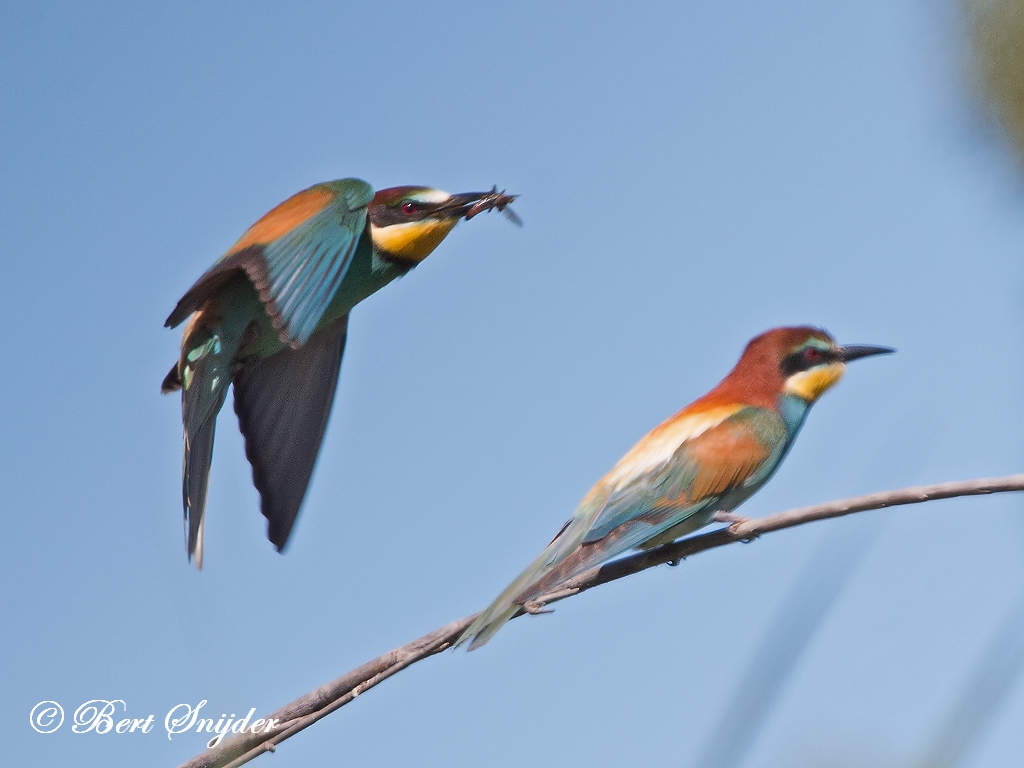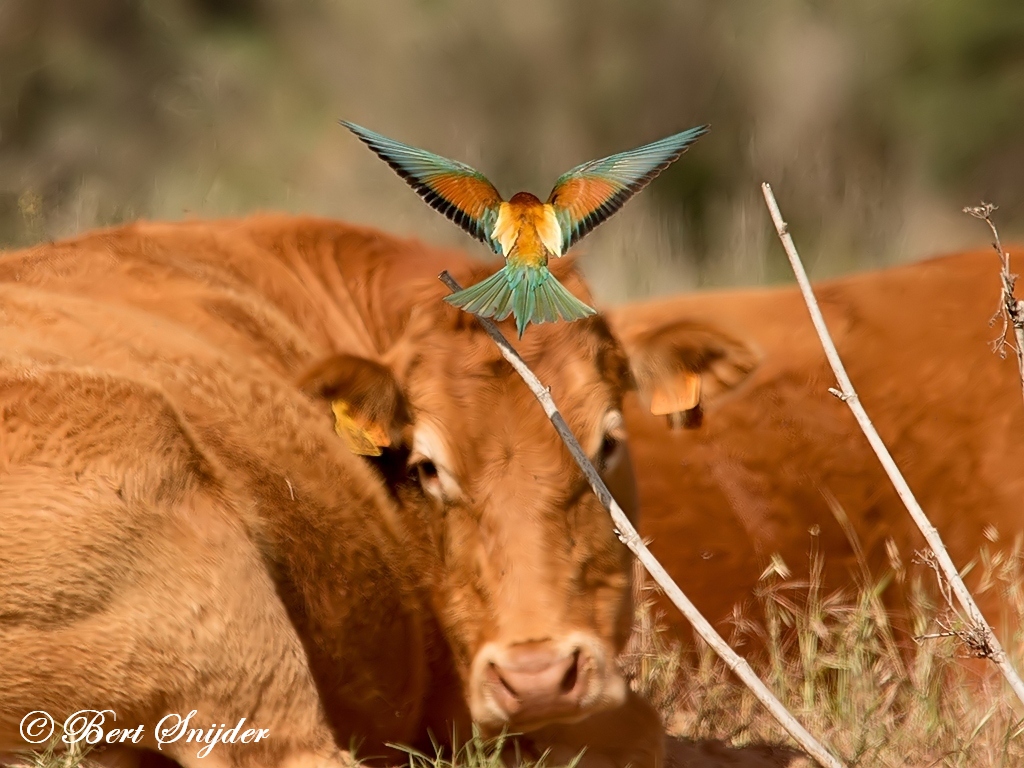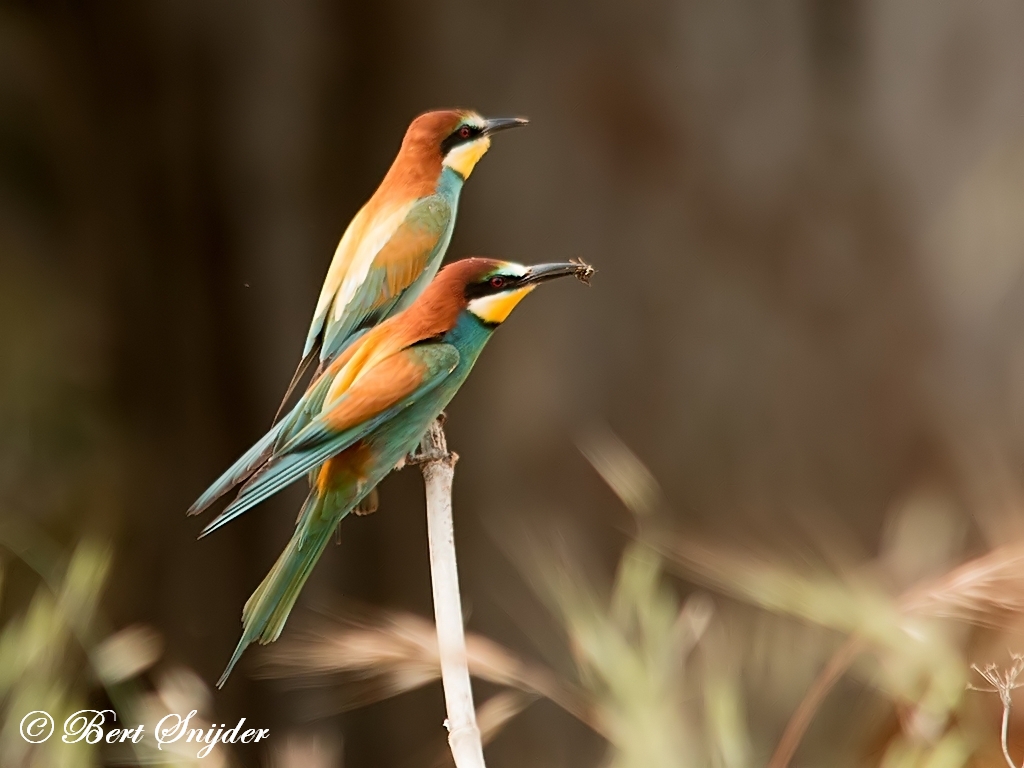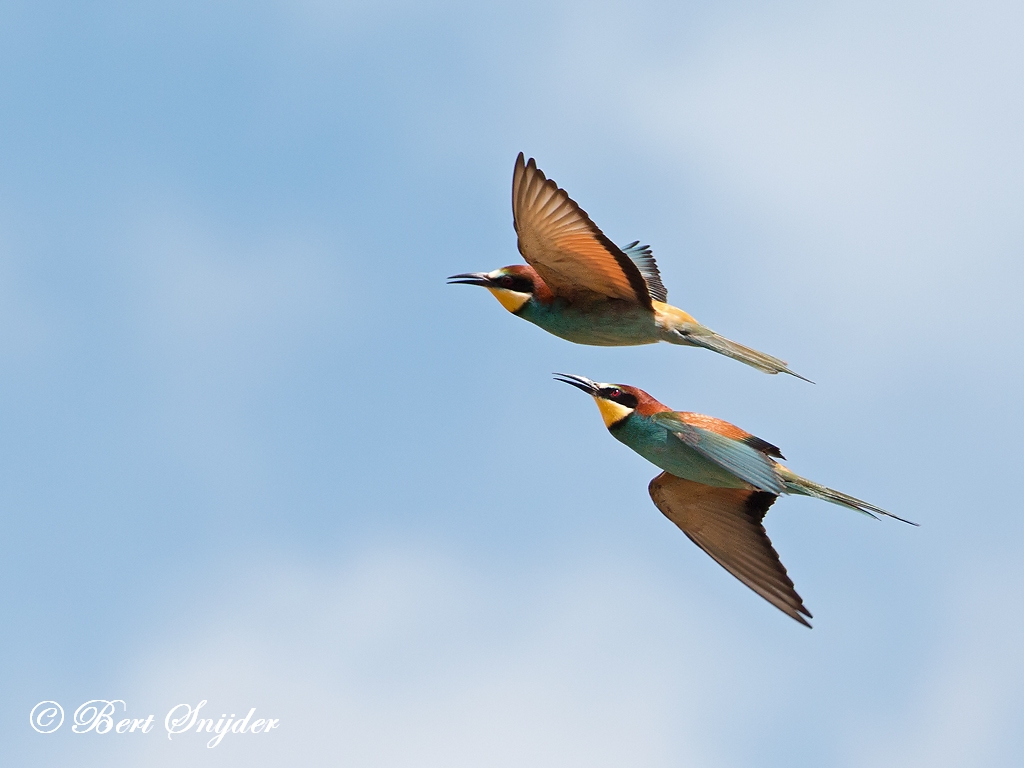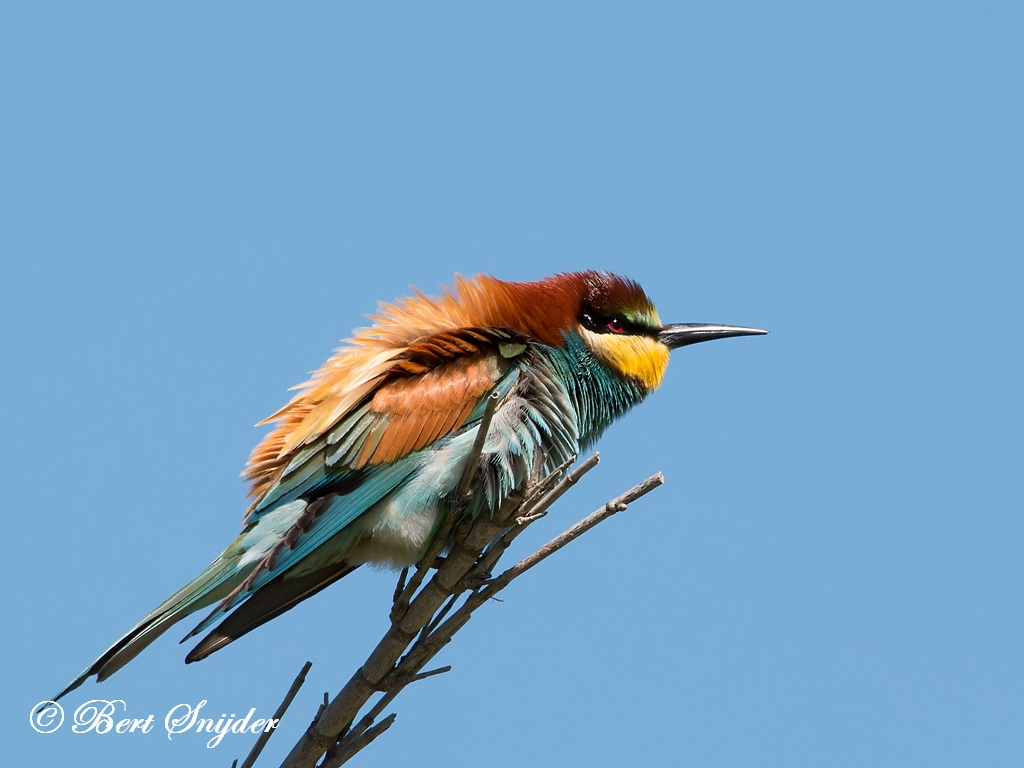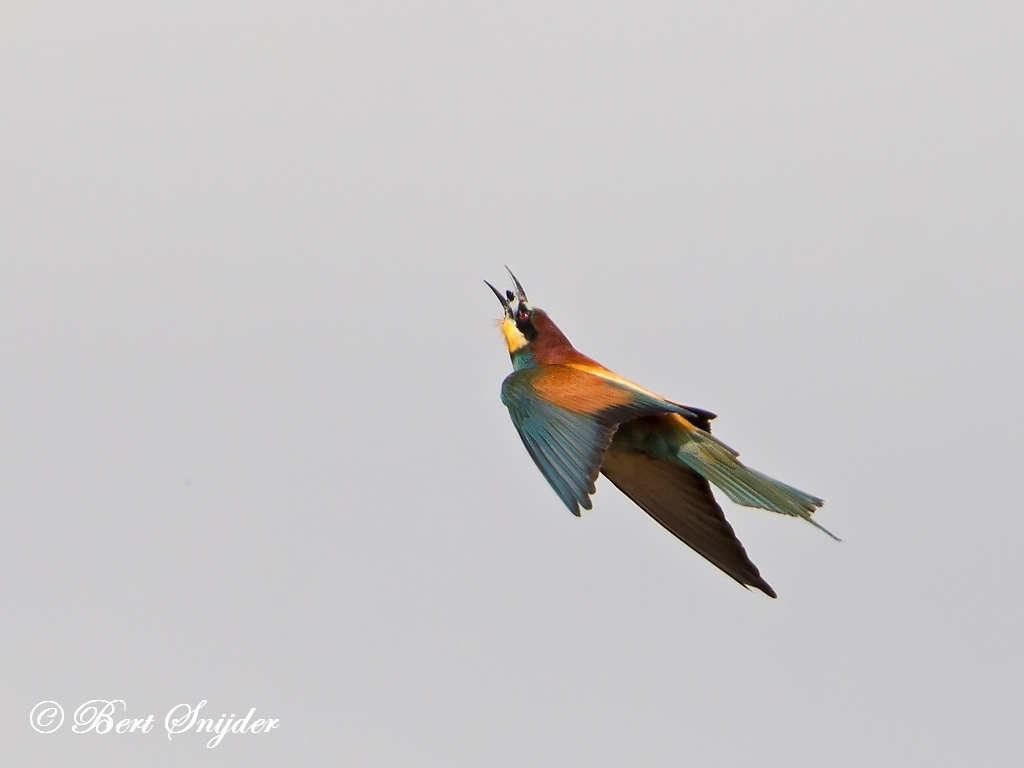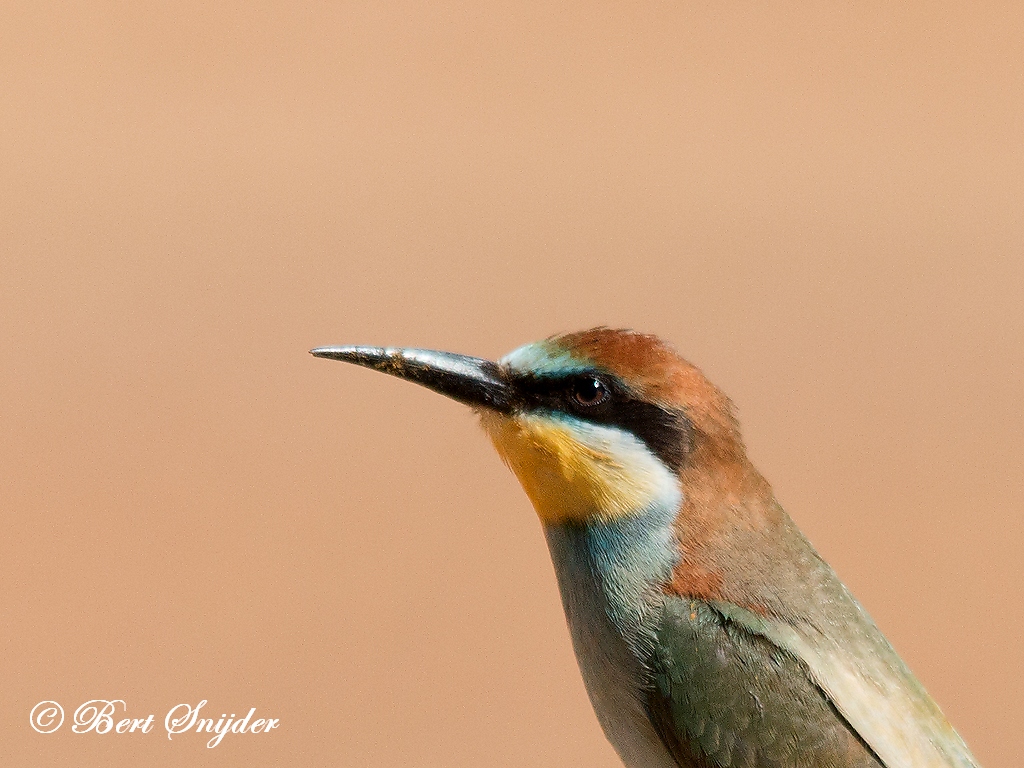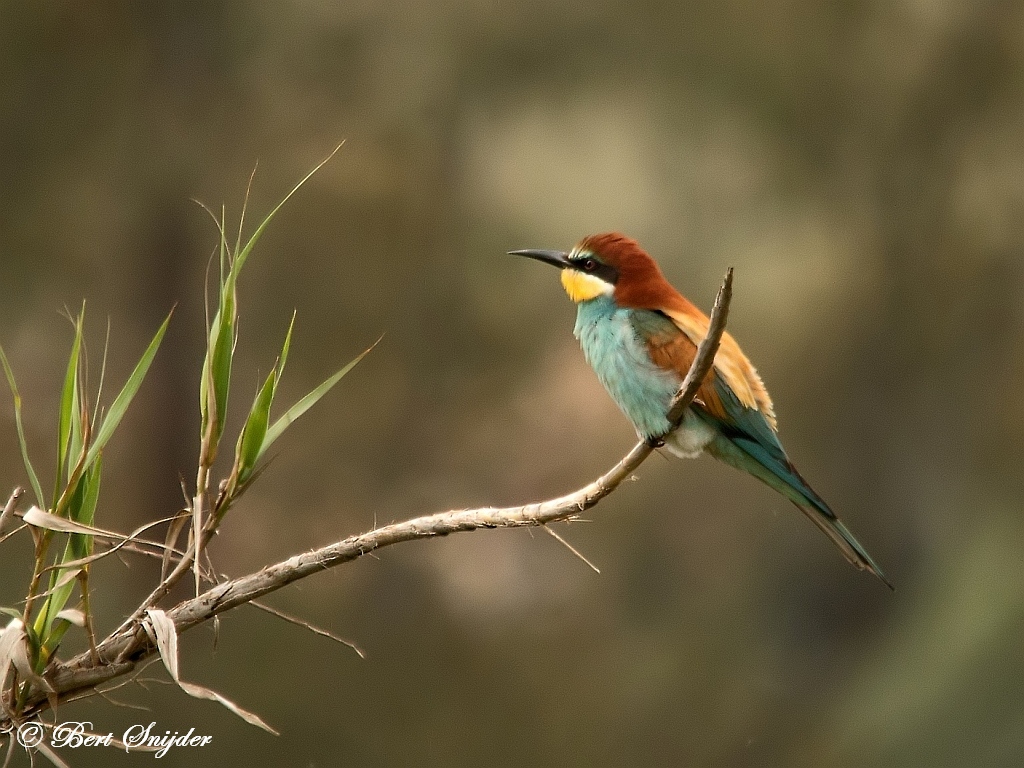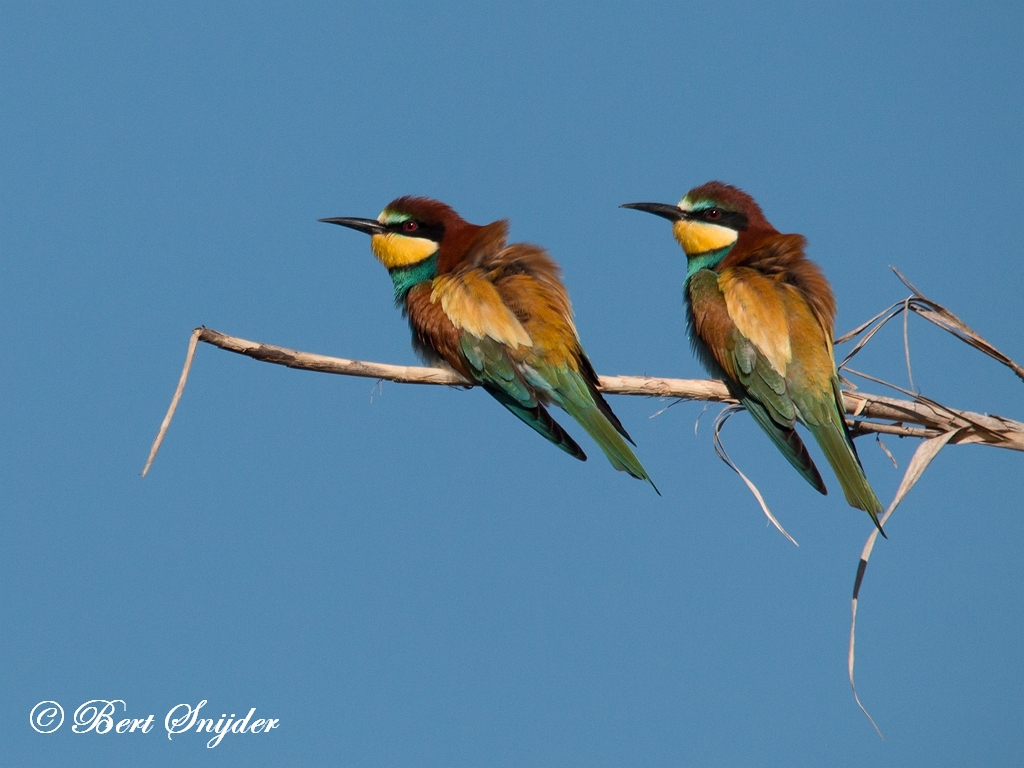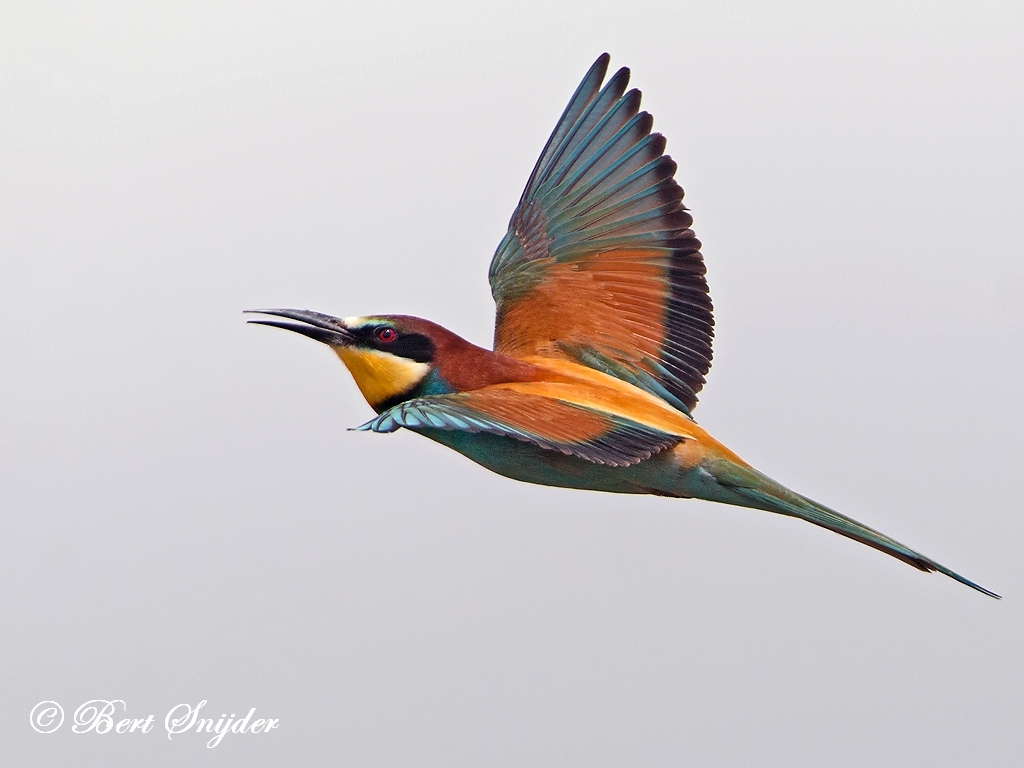 Other synonyms:
Afrikaans: Europese Byvreter
Asturian: Abeyeru
Breton: Ar gwespetaer-boutin
Catalan: Abellerol
Catalan (Balears): Abellerol
Czech: Vlha pestrá
Welsh: Gwybedog y gwenyn
Danish: Biæder
German: Bienenfresser, Europäischer Bienenfresser
English: Bee-eater, Eurasian Bee-eater, European Bee Eater, European Bee-eater, Golden Bee-eater
Spanish: Abejaruco, Abejaruco Comun, Abejaruco Común, Abejaruco Europeo
Estonian: Mesilasenäpp
Basque: Abellerol, Erlatxoria
Finnish: Mehiläissyöjä
Faroese: Býflugubítur
French: Guêpier d'Europe
Irish: Beachadóir Eorpach
Galician: Abellaruco, Abellerol
Croatian: Pcelarica
Hungarian: Gyurgyalag
Icelandic: Býsvelgur
Italian: Gruccione, Gruccione comune, Gruccione europeo
Japanese: yoaroppahachikui, yo-roppahachikui
Cornish: Gwenynessor
Latin: Merops apiaster
Lithuanian: Bitininkas
Latvian: Bišu dzenis
Dutch: Bijeneter
Norwegian: Bieter
Portuguese: Abelharuco, abelharuco comum, Abelharuco-comum, Abelharuco-europeu
Romansh: Magliavieuls
Russian: Zolotisatya Shchurka
Shona: Gamanyuchi
Albanian: Gargulli
Serbian: Pcelarica
Swedish: Biätare
Swahili: Kerem wa Ulaya, Polohoyo
Tswana: Morôkapula
Tsonga: Tinziwolana
Travel Birdwatching Holiday Alentejo, Vacation Portugal for birders to see birds on your tours and trips.