Dunlin, Bonte Strandloper, Alpenstrandläufer, Pilrito-comum, Correlimos Comúm
Spotted in the Alentejo region of Portugal.                                       Dunlin sound
The Dunlin, Calidris alpina, is a small wader, sometimes separated with the other "stints" in Erolia. It is a circumpolar breeder in Arctic or subarctic regions. Birds that breed in northern Europe and Asia are long-distance migrants, wintering south to Africa, southeast Asia and the Middle East. Birds that breed in Alaska and the Canadian Arctic migrate short distances to the Pacific and Atlantic coasts of North America, although those nesting in Northern Alaska overwinter in Asia. Many Dunlins winter along the Iberian south coast.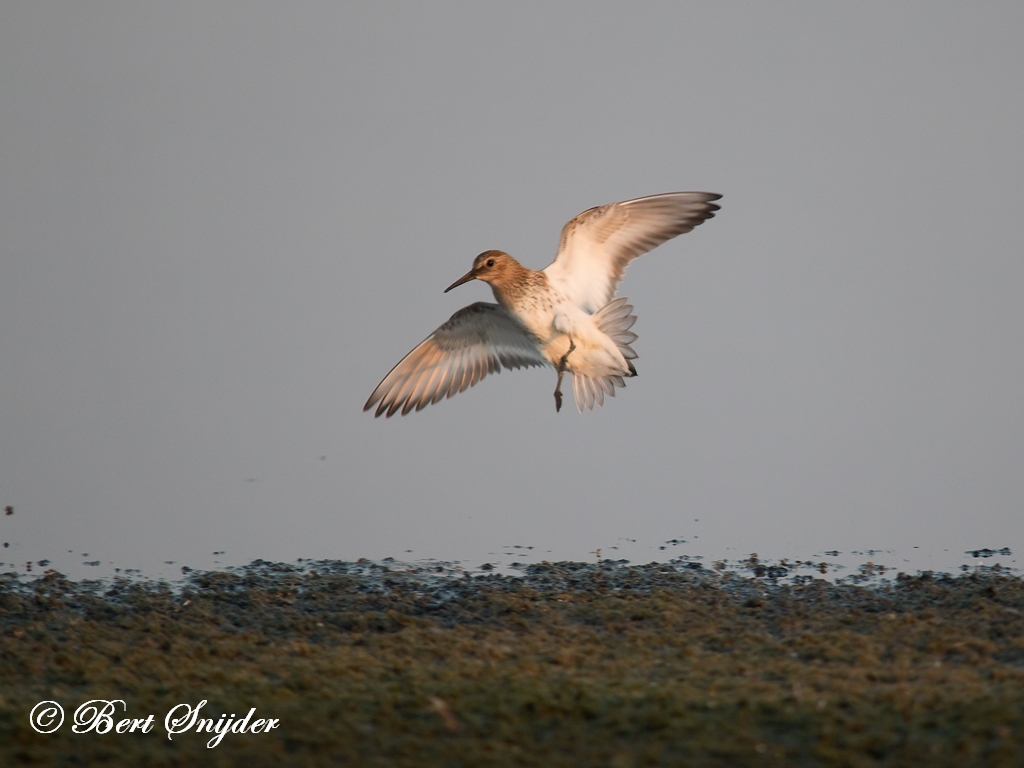 More photos at the bottom of this page:
The Dunlin is highly gregarious in winter, sometimes forming large flocks on coastal mudflats or sandy beaches. Large numbers can often be seen swirling in synchronized flight on stop-overs during migration or on their winter habitat.
This bird is one of the most common and best-known waders throughout its breeding and wintering ranges, and it is the species with which other waders tend to be compared. At 17–21 cm length and a 32–36 cm wingspan, it is similar in size to a Common Starling, but stouter, with a thick bill.
The Dunlin moves along the coastal mudflat beaches it prefers with a characteristic "sewing machine" feeding action, methodically picking small food items. Insects form the main part of the Dunlin's diet on the nesting grounds; it eats mollusks, worms and crustaceans in coastal areas.
An adult Dunlin in breeding plumage shows the distinctive black belly which no other similar-sized wader possesses. The winter Dunlin is basically grey above and white below. Juveniles are brown above with two whitish "V" shapes on the back. They usually have black marks on the flanks or belly and show a strong white wingbar in flight.
The legs and slightly decurved bill are black. There are a number of subspecies differing mainly in the extent of rufous coloration in the breeding plumage and the bill length. It should, however, be noted that bill length varies between sexes, the females having longer bills than the males.
The nest is a shallow scrape on the ground lined with vegetation, into which typically four eggs are laid and incubated by the male and female parents. Chicks are precocial, however are brooded during early development. They start to fly at approximately three weeks of age. The majority of brood care is provided by the male, as the female deserts the brood and often leaves the breeding area.
The call is a typical sandpiper "peep", and the display song a harsh trill.
The Dunlin is one of the species to which the Agreement on the Conservation of African-Eurasian Migratory Waterbirds (AEWA) applies.
Apparent hybrids between this species and the White-rumped Sandpiper as well as with the Purple Sandpiper have been reported from the Atlantic coasts of North America and Europe, respectively.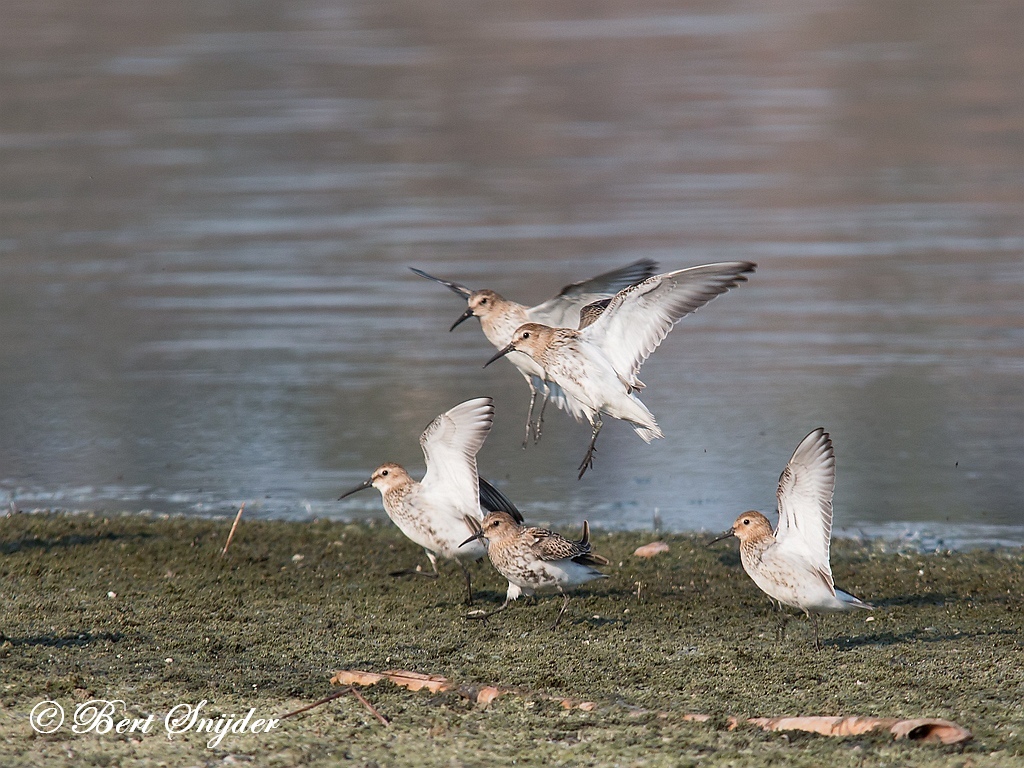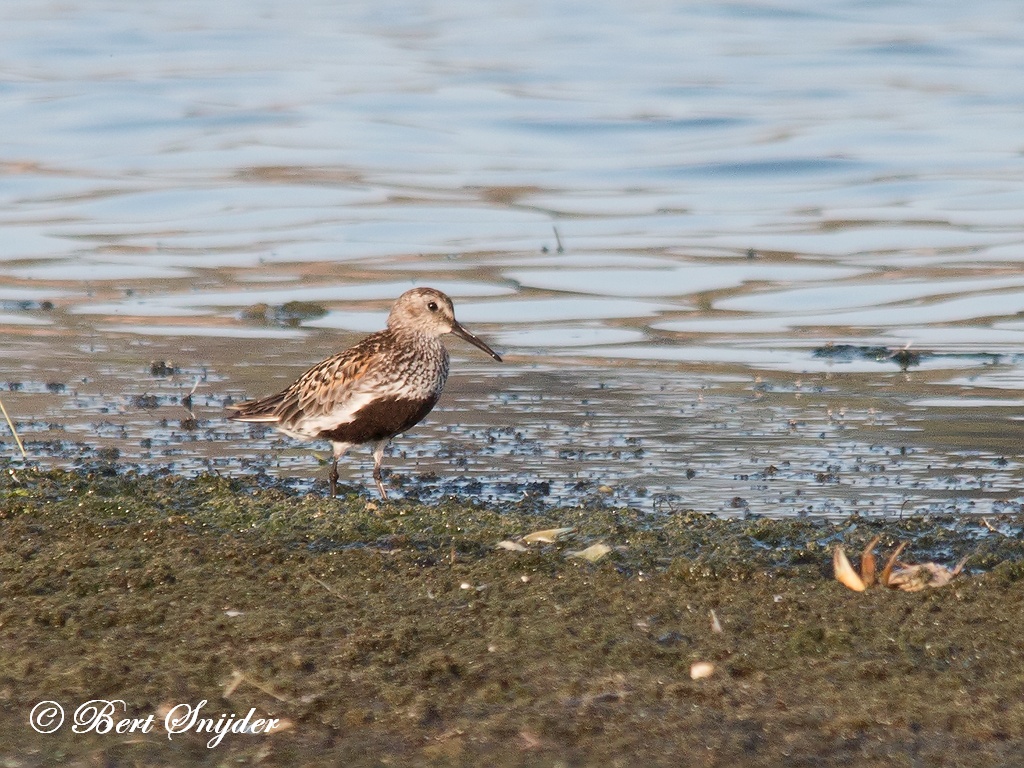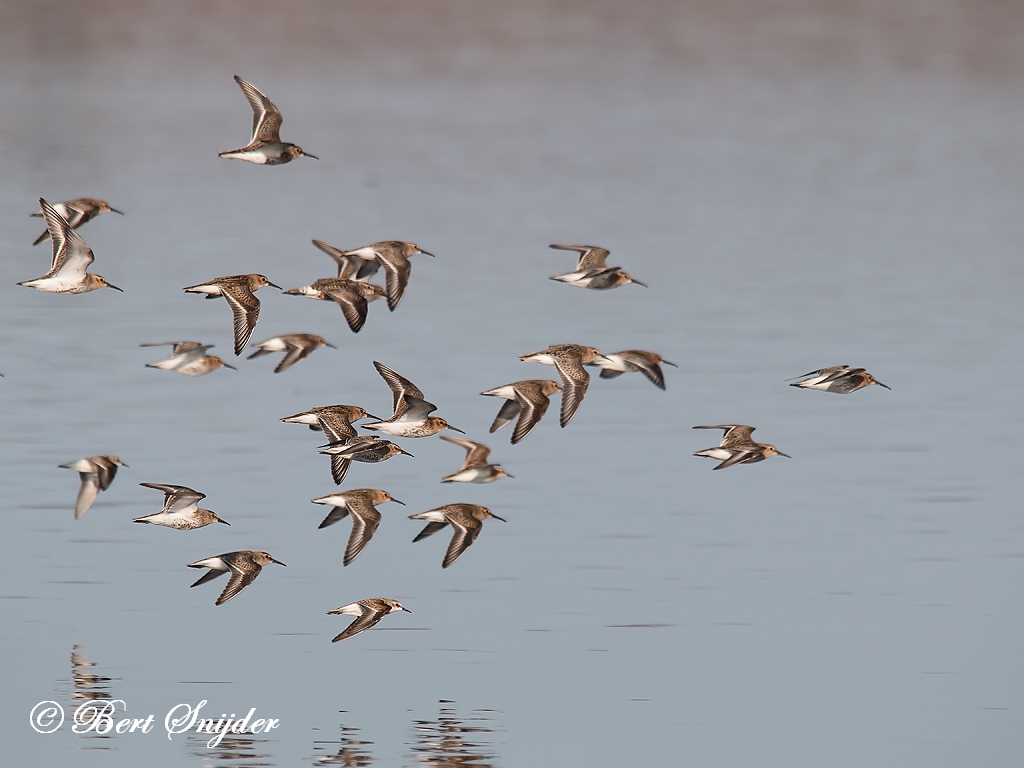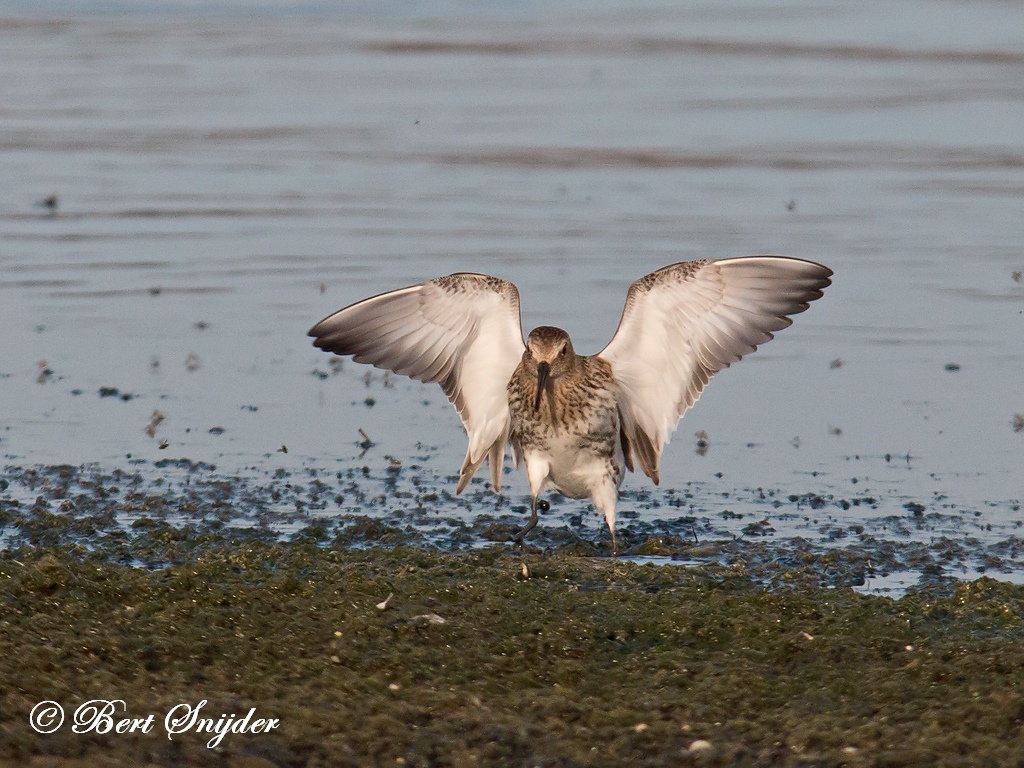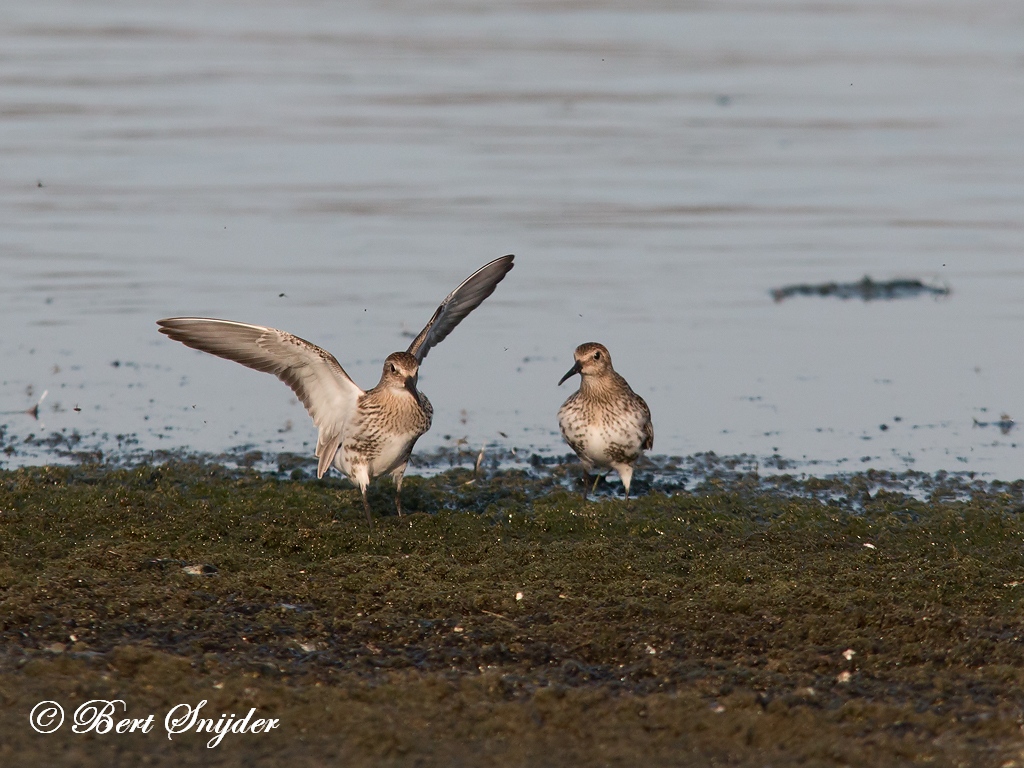 Other synonyms:
Afrikaans: Bontstrandloper
Asturian: Mazaricu
Breton: Ar sourouc'han boutin, Sourouc'han
Catalan: Corriol variant, Territ bec-llarg, Territ variant
Catalan (Balears): Corriol variant
Valencian: Territ bec-llarg
Czech: Jespák obecný
Welsh: Llwyd y tywod, Llygad yr ych, Pibydd rhuddgoch, Pibydd y mawn
Danish: Almindelig ryle
German: Alpenstrandlaeufer, Alpenstrandläufer, Alpenstranläufer
Emiliano-romagnolo: Giurgiol
English: Black-breast, black-breast dunlin, Dunlin, Purre, Red-backed Sandpiper
Esperanto: bunta kalidro
Spanish: Correlimos Comun, Correlimos Común, Correlimos pechinegro, Dunlin, Playerito errante, Playerito vientre negro, Playero Buchinegro, Playero Dorsirrojo, Playero Dorso Rojo, playero dorso-rojo, Playero Espalda Colorada
Spanish (Argentine): Playerito errante
Spanish (Colombia): Playero Buchinegro
Spanish (Costa Rica): Correlimos pechinegro
Spanish (Dominican Rep.): Dunlin
Spanish (Mexico): Playero Dorsirrojo, playero dorso rojo, playero dorso-rojo
Spanish (Paraguay): Playerito vientre negro
Spanish (Venezuela): Correlimos
Estonian: Risla, Risla, rüdi, rüdi, soorüdi (soorisla), Soorüdi e. soorisla
Basque: Territ variant, Txirri arrunt, Txirri arrunta
Finnish: Suosirri
Faroese: Fjalllingur, Fjallmurra, Grælingur
French: Bécasseau à dos roux, Bécasseau variable
Irish: Breacóg
Gaelic: Graillig, Pollaireun, Pollaran
Galician: Pilro común, Territ variant
Guarani: Chululu'i
Manx: Breck ny Traie, Breckag hraie
Haitian Creole French: Bekasin vant nwa
Croatian: Žalar Cirikavac
Hungarian: Havasi partfutó
Icelandic: Lóuþræll
Italian: Piovanello pancianera
Inuktitut: Aiviukak, Saarfaarsuk
Japanese: hamashigi, Hama-shigi
Cornish: Kyogh mor
Latin: Calidris alpina, Ereunetes alpina, Erolia alpina, Pelidna alpina, Tringa alpina
Lithuanian: Juodakrutis begikas
Malay: Kedidi Dunlin
Dutch: Bonte Strandloper, Bonte stranloper
Norwegian: Myrsnipe
Polish: biegus zmienny
Portuguese: pilrito comum, Pilrito-comum
Romansh: Rivarel alpin
Russian: Chernozobik
Scots: Graillig, Pollaireun
Northern Sami: Jeaggecovzoš
Slovenian: spremenljivi prodnik
Albanian: Gjelëza gushëzezë
Swedish: Kärrsnäppa
 
Travel Birdwatching Holiday Alentejo, Vacation Portugal for birders to see birds on your tours and trips.