Black Kite, Zwarte Wouw, Schwarzmilan, Milhafre-preto, Milano negro
Spotted on our property Monte Horizonte in the Alentejo region of Portugal today.          Black Kite sound
The Black Kite (Milvus migrans) is a medium-sized bird of prey in the family Accipitridae, which also includes many other diurnal raptors such as eagles, buzzards and harriers.
This kite is a widespread species throughout the temperate and tropical parts of Eurasia and parts of Australasia. Curiously, it is not found in the Indonesian archipelago between the South East Asian mainland and the Wallace Line. Vagrants, most likely of the Black-eared Kite, on occasion range far into the Pacific, out to the Hawaiian islands.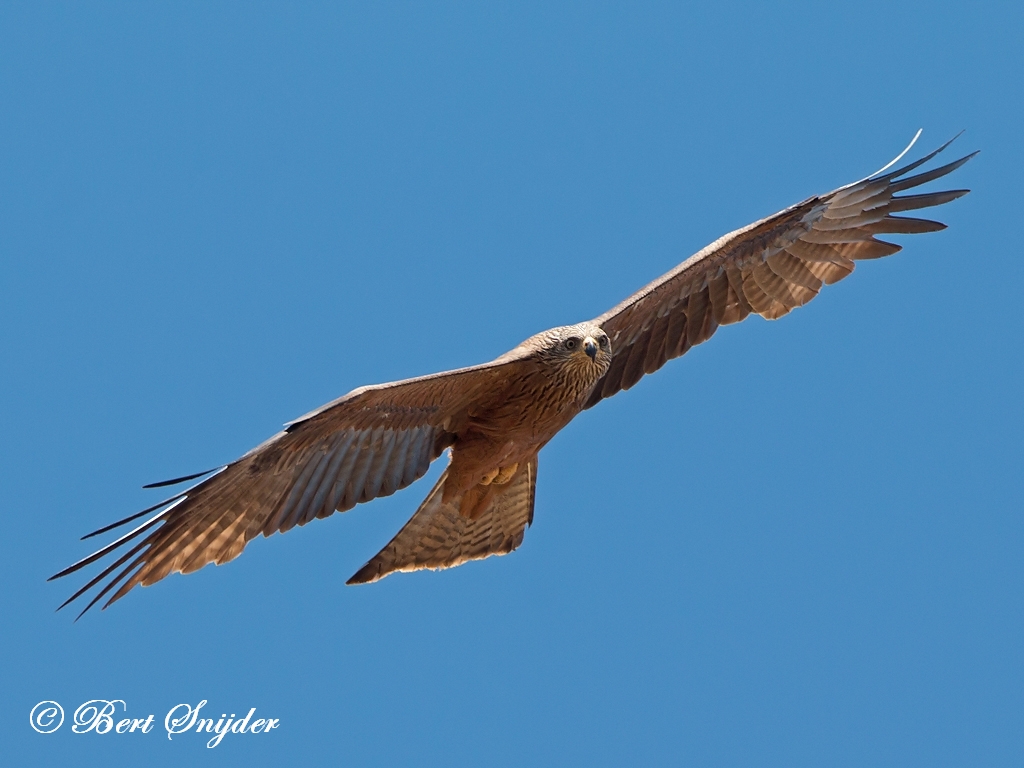 More photos at the bottom of this page:
European and central Asian birds (subspecies M. m. milvus and Black-eared Kite M. m. lineatus, respectively) are migratory, moving to the tropics in winter, but races in warmer regions such as the Indian M. m. govinda (Pariah Kite), or the Australasian M. m. affinis (Fork-tailed Kite), are resident.
In the northern winter, it is therefore common to have a resident race and a distinguishable migrant form present together in these hotter areas.
In the United Kingdom, the Black Kite occurs only as a wanderer on migration. These birds are usually of the nominate race, but in November 2006 a juvenile of the eastern lineatus, not previously recorded in western Europe, was found in Lincolnshire.
Black Kites will take small live prey as well as fish, household refuse and carrion. They are attracted to fires and smoke where they seek escaping insect prey. They are well adapted to living in cities and are found even in densely populated areas. Large numbers may be seen soaring in thermals over cities. In some places they will readily swoop to take to food held by humans, offered or not, and their habit of swooping to pick up dead rodents from roads often leads to them being hit by vehicles. They are also a major nuisance at some airports where they are considered important birdstrike hazards.
The Black Kite can be distinguished from the Red Kite by its slightly smaller size, less forked tail and generally dark plumage without any rufous.
The Black Kite nests in forest trees, often close to other kites. In winter, many kites will roost together.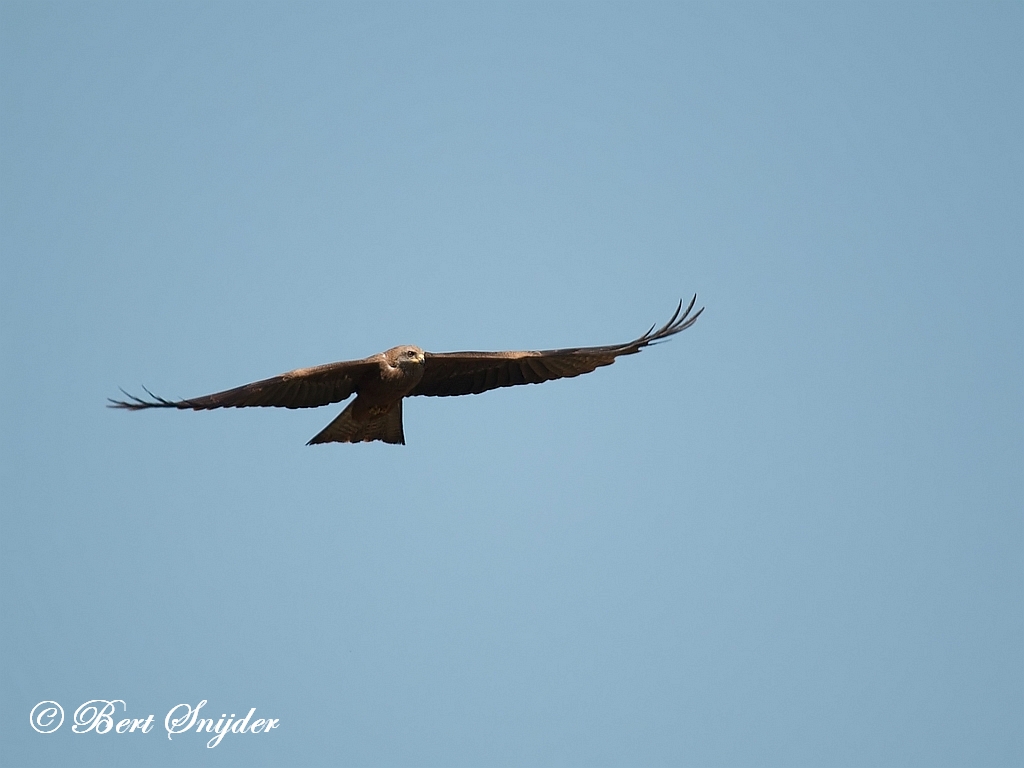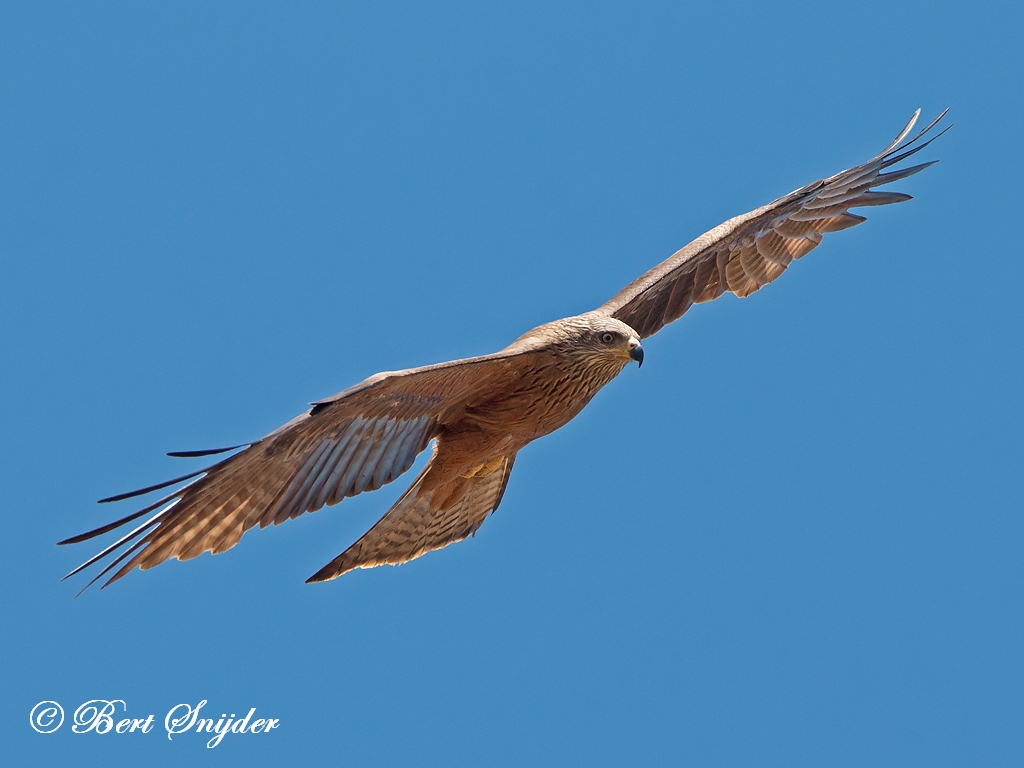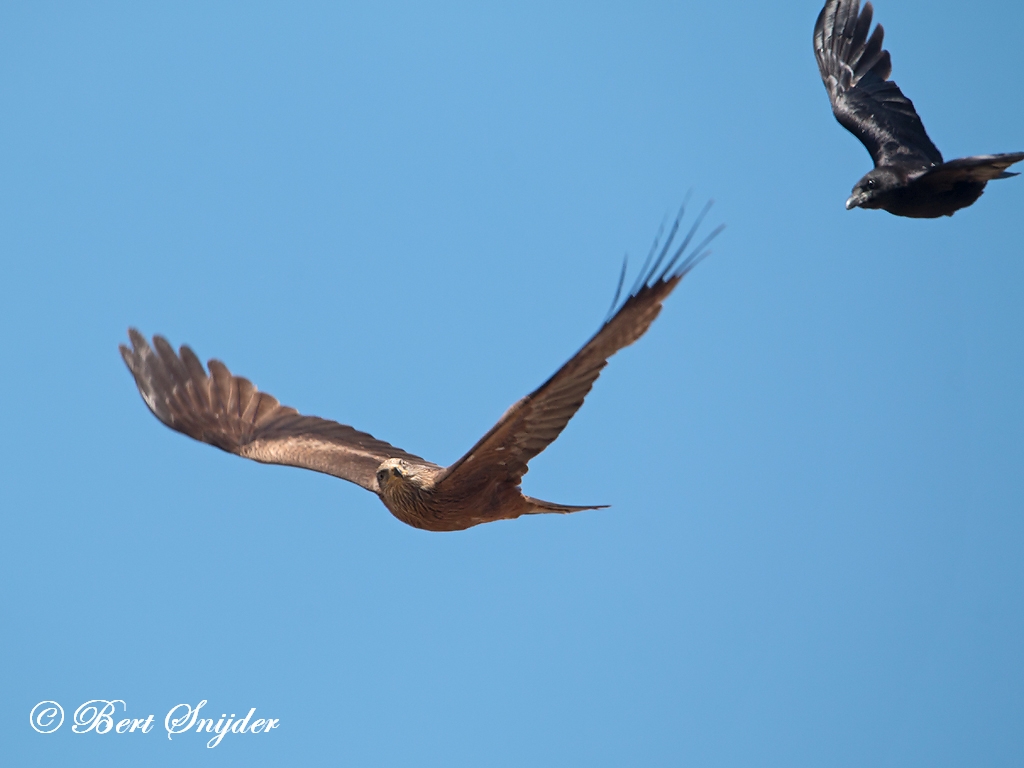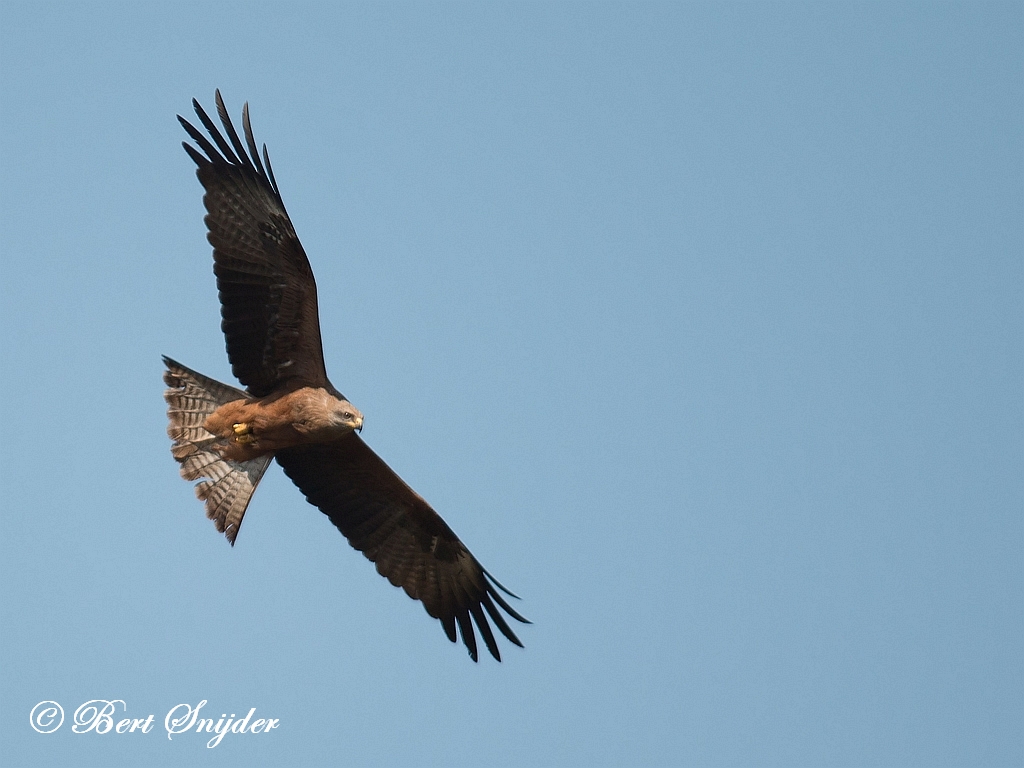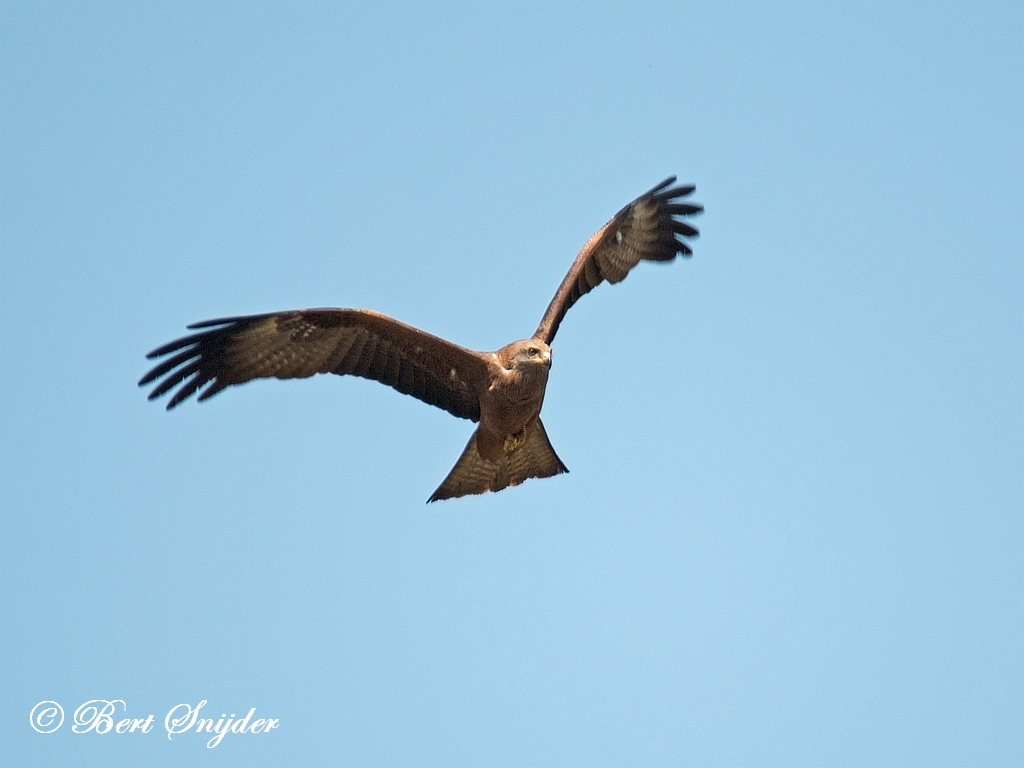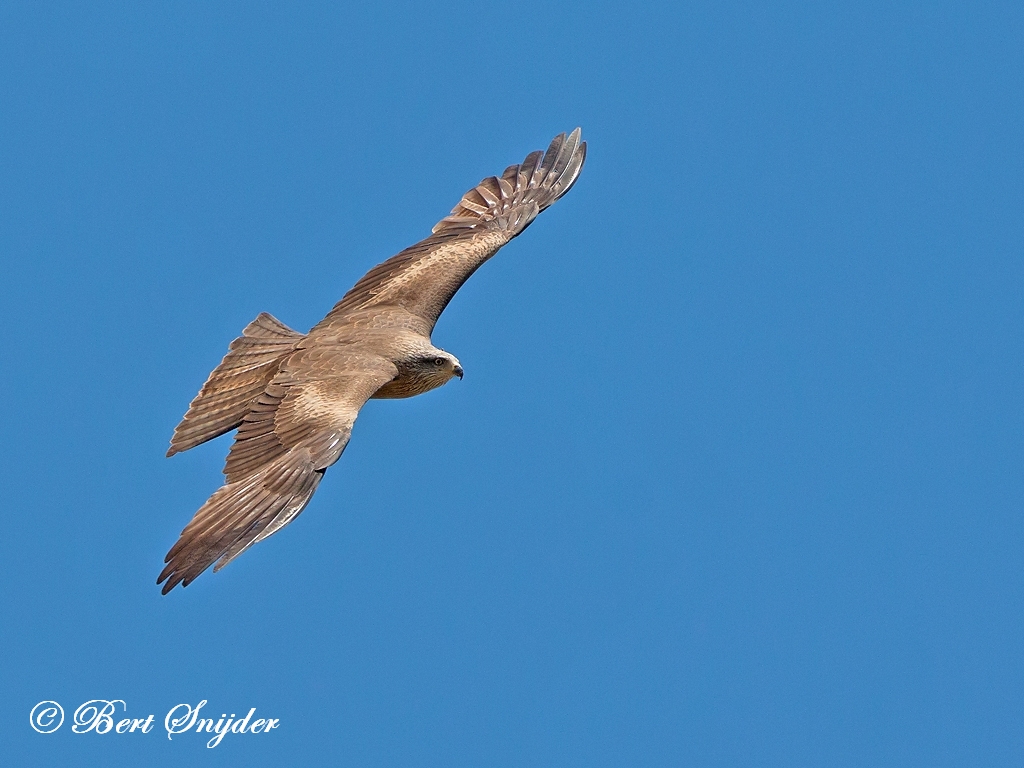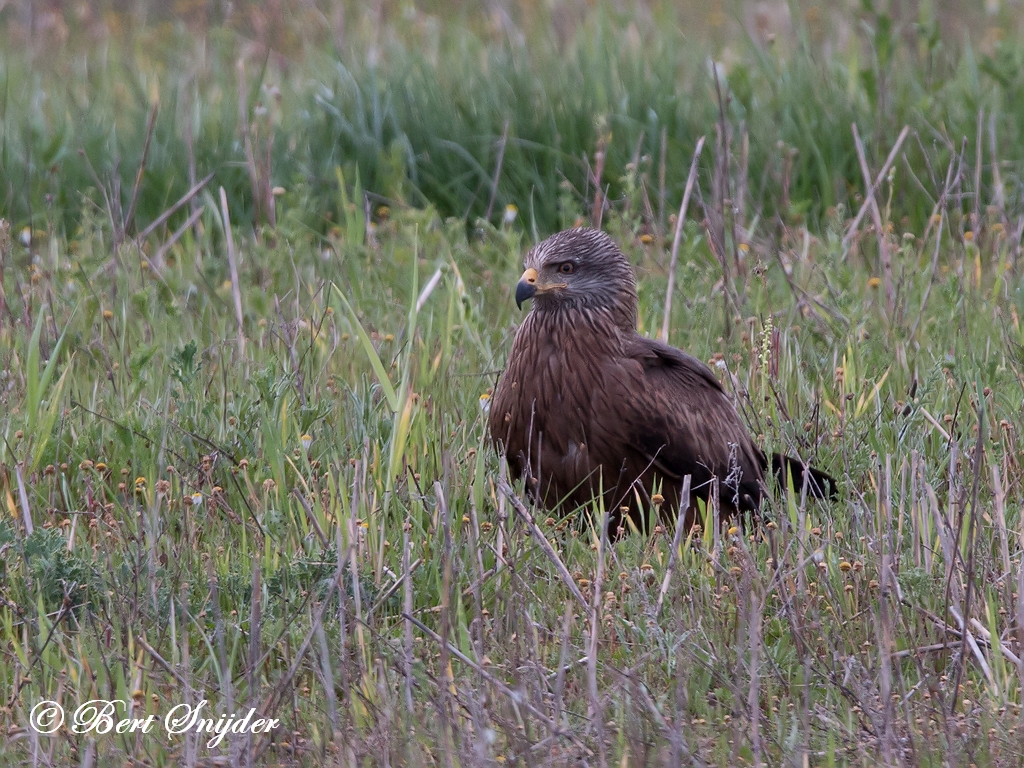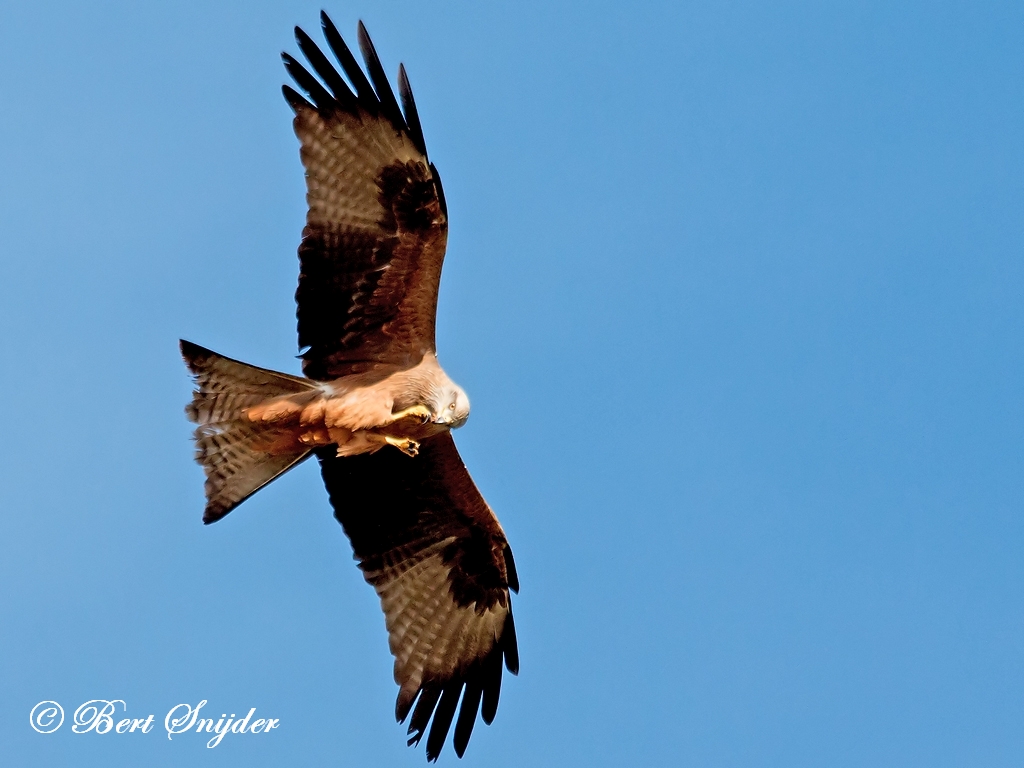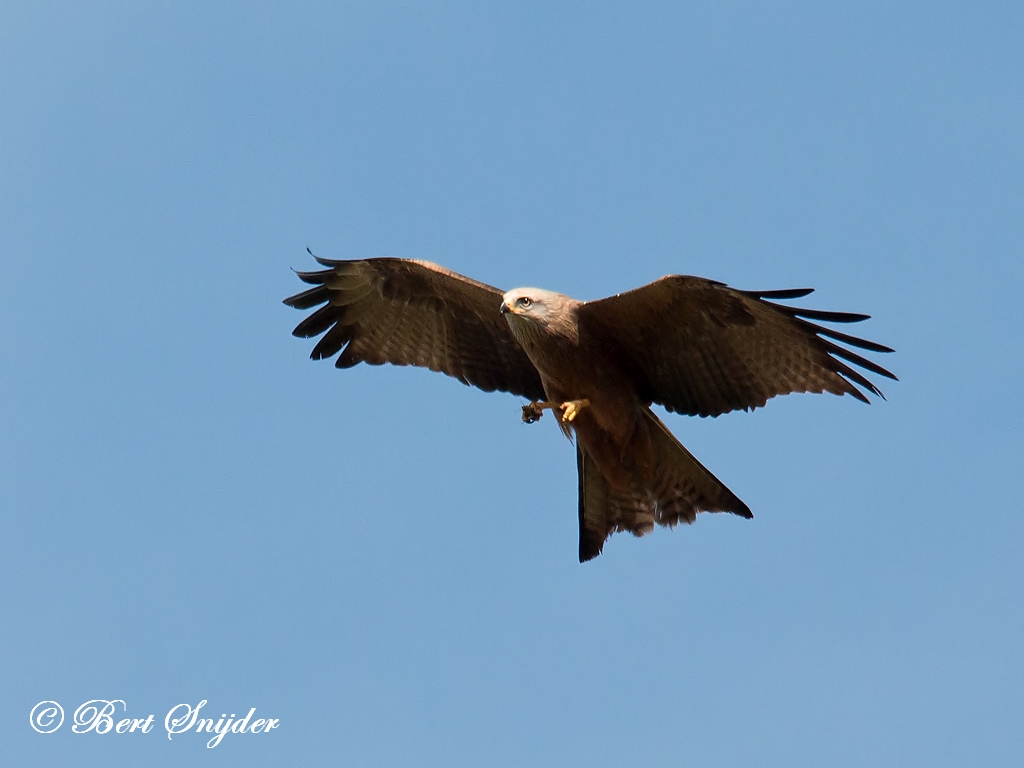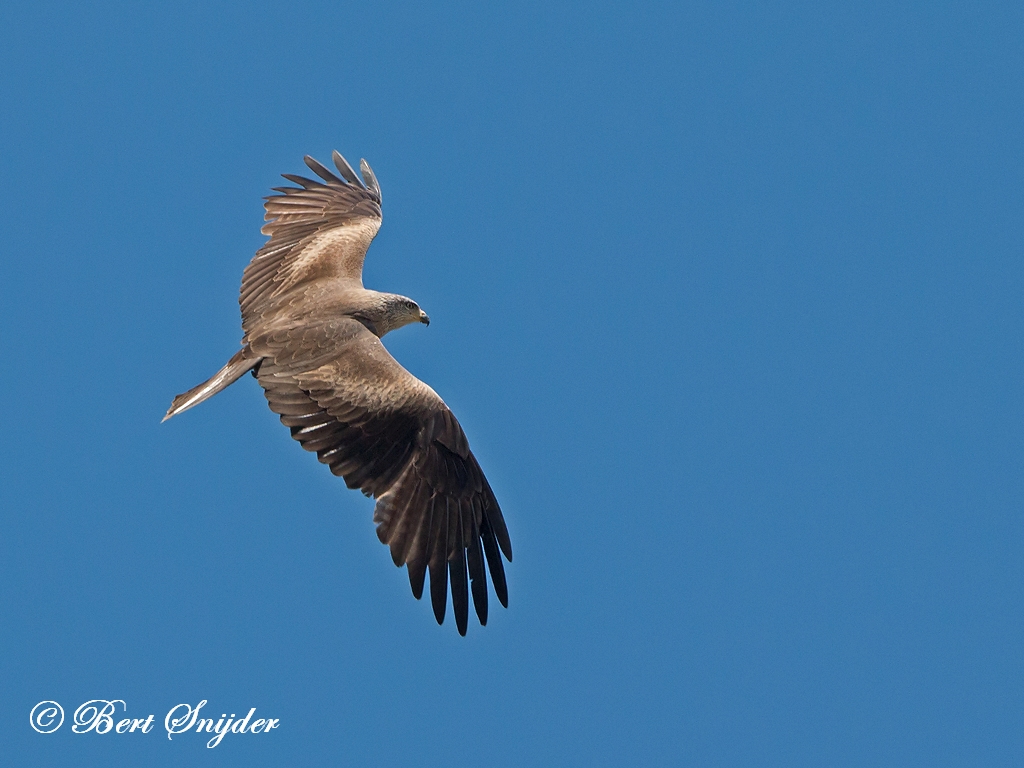 Other synonyms:
Afrikaans: Geelbekwou, Swartwou
Asturian: Milán, Milán Prietu
Breton: Ar barged du
Catalan: Milà negre
Catalan (Balears): Milà negre
Valencian: Milà negre
Welsh: Barcud ddu, Barcud Du, Barcut du
Danish: Sort Glente
German: Schmarotzermilan, Schwarzmilan, Schwarzmilan-migrans
English: Black kite, Black Kite (Black), European Black Kite, Yellowbilled Kite
Esperanto: Nigra milvo
Spanish: Milano Negro
Estonian: Must-harksaba
Basque: Milà negre
Finnish: Haarahaukka
Faroese: Svartgleða
French: Élanion blac, Milan d'Afrique, Milan noir
Frisian: Swarte Glee
Irish: Cúr Dhubh, Cúr Dubh
Galician: Milà negre, Millafre negro
Hindi: Paria parundu
Croatian: Crna lunja, Crnkasta lunja
Hungarian: Barna kánya
Indonesian: Alap-alap hitam, Elang Paria
Icelandic: Vatnagleða
Italian: Nibbio bruno
Japanese: nishitobi, Tobi, Tonbi
Kashmiri: [Gaant] Latin: Milvus korschun, Milvus migrans, Milvus migrans [migrans Group], Milvus migrans migrans, Milvus migrans migrans/govinda
Lithuanian: Juodasis peslys
Malagasy: hitsikitsika, Papango, Tsimalaho
Malay: Helang Kembara Hitam, Helang Merah
Maltese: Astun Iswed
Dutch: Zwarte wouw
Norwegian: Svartglente
Polish: kania czarna
Portuguese: milhafre preto, Milhafre-preto
Romansh: Milan stgir
Slovak: Haja tmavá
Slovenian: crni škarjek, crni škarnik, ?rni škarnik
Albanian: Huta e zezë bishtgërshërë
Serbian: mrka lunja
Swedish: Brun glada, Brunglada
Swahili: Mwewe, Mwewe Domo-jeusi
Tamil: [Paria parundu] Turkish: Kara çaylak, Siyah çaylak
Travel Birdwatching Holiday Alentejo, Vacation Portugal for birders to see birds on your trip.